Gifts to Get Her on Valentine's Day
What to Get Her on Valentine's Day
Valentine's Day is fast approaching and sometimes it can get difficult to find a good gift for a friend or girlfriend. Amazon is a good place to find a variety of great gifts for good prices. Find below some of my top picks for Valentine's presents for her.
1. Cleverfy Aromatherapy Shower Steamers
These shower steamers are so nice for relaxation, stress relief, and help relieving sinuses. The box includes 6 shower bombs that fizz with essential oils and natural aromas. This awesome pick has a 4.5 star rating and only costs $19.99.
2. Knock Knock What I Love About You Fill in the Love Book Fill-in-the-Blank Gift Journal
This cute gift is so thoughtful and affordable. The price varies daily but at the moment it sits at $8.22. This book is packed with fill-in-the-blanks and the present isn't complete until you answer each question about your boo. Nothing says "I love you" more than a thoughtful present that you put time and effort into. Trust me, your girl will hold onto that book forever.
3. Mizoci Women's 2 Piece Outfits Workout Tracksuit Long Sleeve Crop Top Jogger Pants Set
Two piece matching sets are so in! Buy this stylish outfit for your Valentine and she'll surely love it! The outfit is so versatile because it can be used to workout in but also used for outings. It can be made to look "street style" or just a casually cute fit for going to the grocery store. This set comes in multiple colors and ranges from $29.99 to $35.99. I love the cropped feature and how it can be paired with some cute socks and Jordans or Air Forces.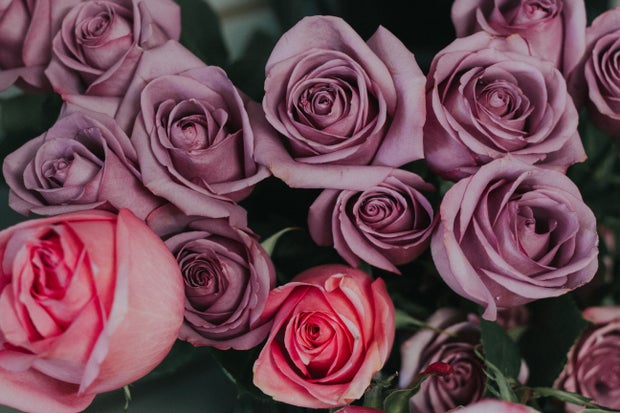 Photo by Sidney Pearce from Unsplash
4. Mevecco Gold Dainty Initial Butterfly Necklace
This adorable necklace is so dainty and can be the perfect accessory for an outfit. It can be personalized with an initial, making it even more special. The butterfly shape is also very appealing as it is not the normal butterfly shape used, it is a bit more intricate. With a 5 star rating, there are good odds your girl will love this piece. It's only $12.95 and well worth the smile on the recipient's face.
5. Original Jade Roller and Gua Sha Set
Recently skincare has been a priority for so many girls! Tiktok has led me to buy so many skincare essentials, one being a jade face roller. This face roller uses rose quartz which matches the Valentine's Day theme of being pink. These facial rollers are so relaxing and help move oxygen and fluid around your facial area promoting less acne, wrinkles and under-eye circles. They also help with lymphatic drainage. The rose quartz is known for remaining cool and having beneficial minerals. Facial rollers also help the skin absorb facial creams and other topical products into the skin. I highly recommend this package that also includes a Gua Sha facial tool and a silicon brush for facial product application. This product is $21.98 at the moment.
6. Fujifilm QuickSnap Flash 400 Disposable 35mm Camera (3 Pack) Bonus Hand Strap + Quality Photo Microfiber Cloth
What's a better gift than the gift of memories? This gift will allow your girlfriend or friend to capture her favorite memories and fun while doing it. This pack of three sits at $49.99, being the most expensive gift on the list but it includes three disposable cameras, a hand strap, and microfiber cloth. There is an option to get a one pack, costing $23.99. Disposable cameras give off such cute 90s vibes and are the perfect gift for her!
I hope everyone has a great Valentine's Day full of love, chocolate, and flowers! I also hope this list helped you find the perfect gift for her.
XOXO Eriika