The sweet season approaches as the children line the streets, waiting for their buckets to be filled with candy and the chance to show off their new costumes. The jack-o-lanterns light the path as the children walk to the doors belonging to familiar faces, and are greeted with warm smiles and hugs. Inside the houses, orange and black decor drape the walls as the children walk through the haunted houses, ready for the annual jump-scares that hide behind the doors. As the children leave they are gifted with a token of appreciation, spooky baskets! A smile leaves with each child as they walk home, sharing and peeking to see the surprises that lurk in the basket, and they know that "this is Halloween."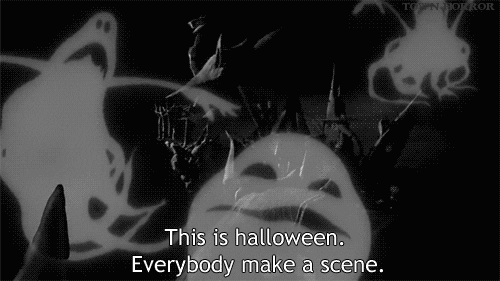 GIF Courtesy of Giphy  
Spooky baskets are a great way to celebrate the Halloween season by gifting them to friends, family, significant others, or anyone your heart desires. Additionally, items in the basket can differ based on the age range and taste of the person. They can be themed from ghouls to ghosts, or just with an overall spooky theme. These baskets can be personalized with the receiver's favorite things, or random things to add more of a twist and surprise effect to your basket. However, if putting together unknown items into a basket can seem daunting, I am here to help. 
1. Candy 
With the trick-or-treat season coming up, candy is a must-have in a spooky basket. Candy or anything simply sweet such as chocolate will suffice in the basket. A great way to package the candy or chocolate is by placing them in a small mason jar or using them to cover the bottom of the basket.
                                                                     Photo Courtesy of Pinterest  
2. Spooky/Horror Movies
Based on the person's taste, the movies can range from classic horrors such as The Shining and Rosemary's Baby to favorites such as Halloween and American Psycho. Other movies could be Disney classics such as Halloweentown and Twitches, and kids choices such as The Nightmare Before Christmas and The Addams Family. The movies can simply be placed in the basket standing up or wrapped with some orange and black ribbon to add extra spookiness.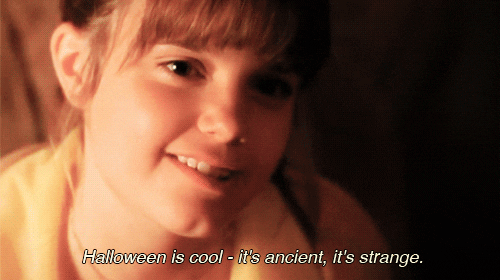 GIF Courtesy of Giphy
3. Fuzzy Socks or Blanket
As October and the autumn months start getting colder, fuzzy socks and/or a blanket are a necessity. Not only are they a must to keep warm, but they are also a must for the Halloween season as they come in different Halloween themed designs from witches to pumpkins. If fuzzy socks are not the move, then fuzzy blankets or simple knitted blankets are the perfect ideas to include in your basket.  Leave the socks and blanket as is and just place them in the basket. 
                                                                     Photo Courtesy of Pinterest 
4. Fall Themed Candles
An essential for the fall season is fall-themed candles, these can be added to any basket as a way to add some more warm things for the season, but they also provide the receiver with a way to relax during the fall season. Candles can be placed in the basket directly or wrapped in the socks for extra cushion.
                                                                     Photo Courtesy of Pinterest  
5. Favorite Snacks/Drinks
Other than candy or chocolate, snacks and drinks are an absolute must. The snacks do not necessarily have to be fall-themed, and neither do the drinks. Snacks can be anything from Hot Cheetos to Oreos. Based on the person's taste, drinks can be anything from Apple Cider to Pumpkin Spice Latte kits. 
                                                                         GIF Courtesy of Giphy 
These are just a couple of ideas for your spooky baskets and remember they don't have to be super extravagant, they just have to be from the heart and however, you want to design it. Also, it wasn't mentioned, but don't forget the actual basket to have something to put everything in, and be sure to have fun with it and keep it super casual.
                                                                     Photo Courtesy of Pinterest
Happy Hauntings
rae