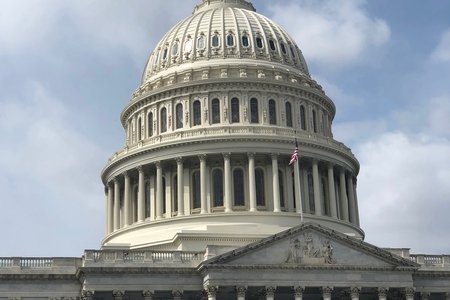 Image Credit: Leslie Madrigal
Being in Office in the 21st Century
Many people who run for office have taken it to social media to get the word out and to become known. All it takes is running a Facebook, Instagram, and/or Twitter account. Making social media accounts to get the word out has helped a lot of elected officials get into office and gain popularity, especially in recent years. In fact, in 2018 there were at least 117 women who were elected into office, 100 were Democrats and 17 Republicans, according to the New York Times. Forty-two of those women are women of color and three are LGBTQ. 
But, social media and media, in general, aren't always on the positive side of things. In late October, reports of alleged sexual relationships with a congressional staffer and a relationship with a campaign aide surfaced as well as nude photos of the Congresswoman being posted by a right-wing political blog. Within a few days, Hill announced her resignation and gave her last speech on the floor of Congress later that week. The House Ethics Committee opened an investigation into whether Hill was in a relationship with staffer, Kelly, due to members of Congress not being allowed under chamber rules from engaging in a sexual relationship with staffers. (Note: this rule was added in the wake of the #MeToo movement.)
Of course, having any sort of relationship with a staffer is wrong and shouldn't be done, but blackmailing someone with revenge porn? For those of you who do not know, revenge porn is a form of online harassment that occurs when an ex-partner or even a hacker posts sexually explicit images of a person online without their consent. As of 2019, forty-one states and D.C. have specific laws outlawing the distribution of revenge porn, although, because these laws are so new, they aren't quite direct. Each state has in own definition of revenge porn and in California, it is defined as the distribution of images where the victim is identifiable, with the intent to cause serious emotional distress to the victim, and if the victim actually suffered such distress. This crime is punishable by being considered a misdemeanor, up to six months in jail, and/or a fine up to $1000.
Once the news of Katie Hill having a relationship with a staffer was released along with her nude pictures, the media took quick action, from one side protecting her/being on her side while the other kept exploiting her. If you were to even just Google the name "Katie Hill," you will see many news articles making her out to be the one who committed the crime, while others support her and see her as being a victim. According to many news articles, her husband was the one who leaked the news as well as her photographs, who had previously been published on an anonymous site where men post naked photos of their wives. (Note: Katie Hill and her husband are currently going through a divorce.) 
By that Sunday afternoon, Katie Hill had announced she would be resigning from her position as a Congresswoman representing California. Hill stated that she would resign following the threats that more explicit photos of her could be released. Her last vote as a Congress member was to proceed with the impeachment of Trump. In her last speech on the House floor, Hill mentioned that she was forced out of office due to double standards and a misogynistic culture, "I'm leaving, but we have men who have been credibly accused of intentional acts of sexual violence and remain in boardrooms, on the Supreme Court, in this very body, and, worst of all, in the Oval Office."
According to a variety of news outlets, Katie Hill plans to combat revenge porn and ensure that other women don't face a similar situation. And in her final message, she stated that she still plans to be involved in public life, ending her speech by saying, "I yield the balance of my time for now, but not forever."