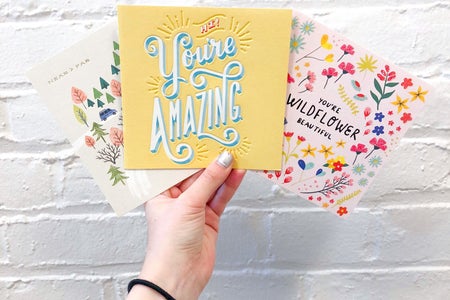 We Wrote to Pen Pals for a Month & Here's What We Learned
This is a sponsored feature. All opinions are 100% our own.
We all know that this has been a semester like no other. As the coronavirus pandemic turned our college experience upside down, we've had to get creative with making new friends. And although technology is awesome, sometimes we want something that feels more special than the now all-too-familiar Zoom screen. What's a girl to do when she wants to build a connection that's meaningful but still safe in the age of COVID-19? Enter Hallmark.
When Her Campus announced a pen pal program sponsored by the iconic card company, my chapter was all in. After being paired with Her Campus at DePauw University, writers here at CofC set out to build a unique friendship with their new pen pals, armed with a set of the most adorable cards (seriously, check these out – how cute are they?!). 
Now, about a month after the connections were first made, we've learned just how much a card can brighten someone's day. Here's what a few of our members had to say about the experience: 
"My pen pal and I have formed an interesting bond. We come from very different backgrounds, but one common factor between us is COVID-19. We have been affected in different ways – she has had family members go through it and I haven't, but we both agreed that our mental health has taken a toll. Being separated from friends and family is harder than we both anticipated. Human interaction with those we love provides us a lot of mental clarity and stability that we didn't realize we needed until now. 
With the pen pal letters, it's like we receive a little hug in the mail once a week. The anticipation while waiting for a letter gives me even more motivation to get through the week. I am thankful to Hallmark for providing me a way to make a new friend, connect, and, most importantly, smile during such an isolated time."
"I've had a lot of fun so far writing with my pen pal! I write a lot of letters to friends, but this is my first time having a pen pal that I've never met in person. It makes each letter that much more exciting because I'm reading to get to know a new friend. So far, we've bonded over the fact that we're both English majors with minors in Psychology, and we also both have two dogs! I can't wait for every new letter!"
"My pen pal experience has been really fun! Zosha and I were both very new to the whole pen pal thing, so it was super exciting to meet each other that way. It definitely helped that the cards were super cute. We bonded over our love for reading (we're both obsessed with The Fault in Our Stars) and how she has gotten to travel abroad to Amsterdam (before COVID-19, of course), which is a place I've always dreamed of visiting. For me, it was definitely good to have a positive distraction from how hectic life has been lately with school and the pandemic." 
"Getting to know someone across the country from me was an experience like no other! This experience taught me that no matter the geographical location, Her Campus members share something deeper. The deep love of writing is shared across states and colleges. I will forever cherish this experience and the understanding of writing and friendship that this program has taught me!"  
Our girls have definitely learned just how special a handwritten card can be – and it's something that's always special, pandemic or no! There's nothing quite like opening up the mail and knowing that someone was thinking of you, and a card is a tangible memory that you can hold onto and look back on. No matter the person or relationship, cards do more to show that you care. 
Hallmark has a card for every style, personality, and occasion, so head over to hallmark.com to spread a little love to the people who matter most!
Responses have been edited for length and clarity.