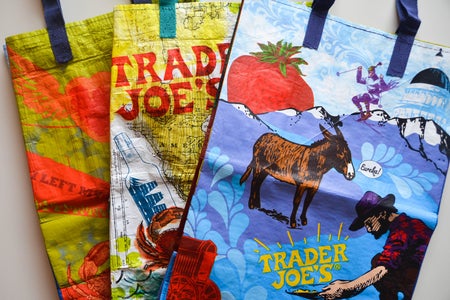 Trader Joe's is the holy land for college students on a budget who are also trying to maintain a relatively healthy diet. This store has everything you could ever want and more as they are consitently getting new items throughout the season. Their stock, even though it changes periodically, is very college student friendly in both price and variety, as they have a wide selection of frozen meals that are all super delicious.
I wanted to recommend some of my current favorite items (in no particular order).
1.

Chicken and Cheese Tamales

This was one of the first few things I tried from Trader Joe's and I have been hooked ever since. These are so easy to make when you are in need of some comfort food. They come still wrapped in corn husks, so they give the effect of homemade tamales. They're super good when you're feeling homesick. For a bit of a kick, pair these with your favorite chips and queso dip.

Now, I am not a huge fan of hummus, but this spicy hummus is so good on everything from chips to crackers to carrots. What I really like about this variety of hummus is that it is not a super intense spice. Even though many things that are marketed as spicy have that "quick burn" effect where as soon as it hits your tongue you're going to need water handy, this hummus has more of a slow burn that you feel in the back of your mouth that is super refreshing.

This dip took me by surprise by how good it was. I had very low expectations, but it instantly reminded me of a variety of spicy pretzels I used to love when I was a kid. So it quickly made it's way up my list of Trader Joe's essentials. 

This one may sound kind of mundane, considering that it's bread, but this sourdough holds up to the task of supporting the heftiest sandwiches. It doesnt crack under pressure from your various toast toppings. You do have to work fast though because it does not have a very long shelf life which is why it is lower on the list but definitely worth a try to spice up your mornings.

Similar to the spicy hummus, I was never a giant fan of avocados. I liked them in recipes but not as a topping, like on toast. It wasn't until I started making avocado toast with these teeny-tiny avocados (sold in packs of six) and their sourdough bread that I finally saw the light. It's like a match made in heaven in the mornings, and topping it all off with a dash of "Everything but the Bagel" seasoning makes for an incredible combo for anyone. These mini avocados are the perfect size for two pieces of toast in the morning without overloading your bread, which I really appreciated. I will definitely be picking more of these up on my next trip to Trader Joe's.

6.

Chicken Soup Dumplings

I saw these and knew I had to try them. These Soup Dumplings are amazing over rice and vegetables. When you bite into them they are filled with warm chicken soup, which is amazing. These are marketed as more of a snack or appetizer, but I tend to mix them with mixed vegetables to make a meal. They're so nice on those colder days that we occasionally get in Charleston.

7.

Sparkling Strawberry Juice

I picked these up on a recent trip to Trader Joe's, not expecting them to be as versatile as they are. You can drink these alone or (my favorite method) mix them with other ingredients for a little "mocktail" (or cocktail if you are of legal age) moment. This adds a wonderful balance of fruit notes and carbonation to spice up your beverage.

8.

Everything but the Bagel Nut Duo

It would not be a trip to Trader Joe's if you didn't pick up something with their iconic "Everything but the Bagel'' flavor profile. My personal favorites are the stand alone seasoning and (more recently) this nut duo of Almonds and Cashews that are tossed in the seasoning. It is the perfect snack for a busy day of zoom calls. The EBTB seasoning really highlights and compliments that natural flavor of the Almonds and Cashews, which I love, without being too intense in flavor. I highly recommend this to anyone who's go-to snack is any kind of nut mix. This is a must-have for my home!

9.

Three Cheese Tomato Sauce

So we all know the basic and versatile jarred tomato sauce.You always have to add something to it to get some more flavor. This Three Cheese Tomato Sauce has all the flavor already in it. I used this sauce to make Chicken Parmessan and it came out better than I could have ever hoped. I've had this alone with some pasta and in various recipes, and it is amazing in both. It makes a really simple dinner that you can spice up with different veggies, and I recommend this to anyone.