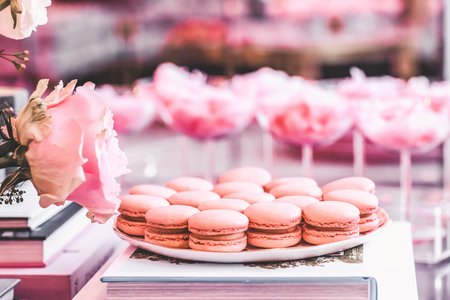 The Best Desserts for This Galentine's Day
Galentine's Day, officially February 13th, was coined by loveable Parks and Recreation character Leselie Knope who explains the holiday as "Only the best day of the year! [when] my lady friends and I leave our husbands and our boyfriends at home, and we just come and kick it, breakfast-style. Ladies celebrating ladies. It's like Lilith Fair, minus the angst. Plus frittata". That being said, any Galentine's Day isn't complete without some truly delicious snacks to munch on while you tell your gals just how much you love them. Below are some of my favorite, super-easy, super-fun and super-delicious treats for some inspiration!
Made with only five simple ingredients, this one gives you lots of options to mix it up between different sodas and it only takes a couple minutes to put together! And c'mon, look at those cute mini milk bottles.

Since popcorn isn't technically a dessert, we can totally have more sweets after this, right?

So this one takes a little bit more work than the others, but who doesn't want to live out their childhood dream of eating raw cookie dough? And it's dipped in chocolate!

4.

Heart-Shaped Cinnamon Rolls

So Leslie mentions frittatas, but we're all about that sweet tooth here. These are absolutely perfect for your gal-pal brunch!

5.

Vegan Frosted Sugar Cookies

Honestly, you don't even have to be vegan because who doesn't love melt-in-your-mouth soft sugar cookies topped with sweet [vegan!] buttery frosting??

6.

Chocolate Covered Oreo Pops

7.

Strawberry Kiss Cookies

Give your best gals a Kiss! On top of a strawberry sugar cookie, of course.

You didn't think I'd leave out THE essential ingredient did you?! I'd never dream of it giving you a list of treats without chocolate. Here's the perfect fudge recipe to finish off your Galentine's celebration.