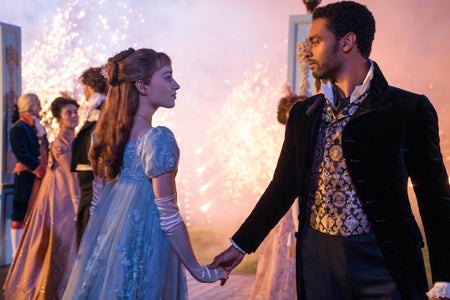 TikTok's "Bridgerton" the Musical
I'm sure many of you have already seen and binge-watched the much-talked-about drama "Bridgerton" but in case you haven't, let me give you the rundown: think "Pride and Prejudice" meets "Gossip Girl." Set in Regency Era London, the show follows the town's most illustrious families as they navigate London's marriage and social scene and of course, the scrutinization of the anonymous Lady Whistledown. Oh, and did I mention that the Queen of Genovia herself, Julia Andrews narrates? Reported to be Netflix's fifth biggest original series launch in history,"Bridgerton" is breaking records and has proven to be a favorite among Netflix fans. 
And while "Bridgerton" is an amazing show in itself, the real showstopper has been all of the recent TikTok videos of "Bridgerton" the musical. The idea began when Abigail Barlow asked the question,"okay, but what if 'Bridgerton' was a musical?" She stated in an interview that when she binged "Bridgerton," she immediately thought that it belonged on a stage so she began writing and posted snippets on TikTok. She then partnered up with fellow writer Emily Bar and began releasing songs related to different characters and scenes. Abigail's pop music skills and Emily's classical style complemented each other well in creating songs that fit the period piece but also had flares of modernization. Their top hit so far is called "Burn for You," a duet between Simon and Daphne Bassett, the Duke and Duchess of Hastings, when they confessed their love for each other. 
After the release and success of the first tik tok video, Barlow and Bear began releasing additional songs for the show, all of which have continued to attract millions of views on TikTok. Several famous Broadway stars have even contributed their own renditions and duets, drawing more attention to the already growing project. The two songwriters recently stated that they are interested in creating a concept album that will have the potential to become something more. Considering that "Hamilton," one of Broadway's smash hits, started as a concept album and later turned into a musical gives us much hope for "Bridgerton." Of course nothing can be done now with theatres shut down due to the Coronavirus, but perhaps 2022 will gift us with "Bridgerton'' the Musical. Just one more thing to look forward to.
Go check out their TikToks and if you haven't already, go binge-watch "Bridgerton" on Netflix!