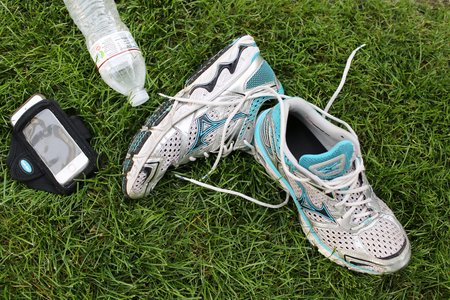 My Honest Review of Target's All in Motion New Workout Line
Online shopping. A blessing? Or a curse? Or both?
Personally, I love shopping in stores. I could spend countless hours in one store going through everything they sell (I never said it was a healthy habit.) Online shopping for me was always more for knickknacks or décor. But recently I have been stuck at home for global health reasons and one of the few things I am able to do is online shop. I went to Target.com to order some new workout clothing from their C9 brand, only to find out most of the items were discontinued…and replaced by a new Target brand called All in Motion. Because I have no self-control when it comes to shopping, I ordered a bunch of items to test them out.
For your benefit, my reviews are below:
This sports bra is nearly all nylon with a bit of stretch to it. Impact-wise, I would say it's true to medium-impact for smaller chests. I will say it is very comfortable! I ordered it in the color green, which I was on the fence about, but when I received it I was happily surprised with the emerald sports bra. I ordered my normal size and was surprised at how tight it was, but won't be retuning it for a bigger size as the material will stretch out with wear. For $16.00, I'm not sure I would purchase another one.

Overall rating: 7/10

My next purchase was a pair of capri leggings to match my new sports bra! The leggings are $30.00 and marketed for high-intensity and cardo workouts. I loved the color for spring time! They are a nice feeling fabric, and they're a bit slick but don't fall down. They have an elastic drawstring waistband, which isn't my favorite, but does allow the legging to fit true-to-size. Without the waistband, I probably would've needed to size down, but the tightness allowed me to enjoy the leggings without constantly needing to pull them up. They have two side pockets, and side pockets make any legging better in my book. I think I would buy another pair when the next binge-buy happens.

Overall rating: 8/10

Love. That's I how described these $32.00 leggings to my friend on Facetime. The colorblocking gives a bit of a pop to the legging while keeping it classy. Again, there are pockets and the waistband is like the capri leggings above. I was ecstatic to find 7/8 leggings that actually fit me! I'm pretty short (5'4" on a good day without heels) so finding 7/8 leggings that aren't bunched at the bottom is difficult. But these ones fit really really well. I will 100% be buying another pair!

Overall rating: 8.5/10

For $12.00, I would say this shirt is worth it. It's breathable, the seam at the bottom is very flattering, and there are a bunch of fun colors. You can lounge around in this shirt or do some home yoga, whatever is more your style. I ordered it in teal to match my colorblock leggings and I don't love the color, but I love the shirt. It fits very true-to-size.

Overall rating: 8/10

This was my favorite purchase of my Target binge. At only $30.00, it has a sleek look that seems structured, but is so soft! The part that is attached to the wrist and the collar is a bit bulky, but other than that, the jacket has a slimming effect and is 10/10 comfortable. You could order true-to0size for a fitted look, but if you don't like tight clothing definitely size up. I've already worn it twice and I got it yesterday!

Overall rating: 9/10
All in Motion is worth trying out to see if it fits your style! It's relatively affordable and I've seen Target running a lot of sales on clothing, which is always a plus!
Want to keep up with HCBU? Make sure to like us on Facebook, follow us on Instagram, check out our Pinterest board, and read our latest Tweets!