My First Week As a BU Tour Guide
My life as a BU tour guide hasn't actually started out by diving in the deep end, and giving family tours just yet, thankfully! The Boston University Ambass (or Admissions Ambassadors) has a program of a full day of listening to information about our school; like when you first visited the campus, but more in-depth! Then followed by two practice tours called MenTours, where you're mentored on how to give the best tour possible and, most importantly, make the whole tour route and information you say your very own! I started out last Sunday taking vigorous notes about whatever I didn't know about each individual school and college on campus to be as prepared as possible for my first MenTour the very next day. Truth be told, I'm in the College of Communications and will soon be minoring in the College of Arts and Sciences however, my knowledge about the Wheelock College of Human Development was nothing more than generic before heading into a very extended information session. 
As a little behind the scenes too, the BU Ambass program gets T Anthony's mozzarella stick pizza for every lunchtime and monthly meeting we have, so that really made Sunday lunchtime great!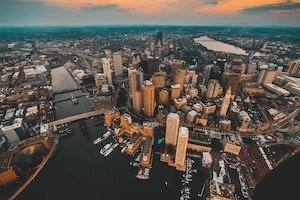 Image Credit: Osman Rana Unsplash
Moving on to the MenTours, I had my first ,of hopefully two, the day after the actual information session event. Naturally, not being able to fill my brain with all of the information in less than a day, I was extremely nervous I was going to not know what to say at all and completely embarrass myself. Even worse, I was scared about tripping myself up and falling while walking backward around campus. Although, when I arrived to the secret basement section of 233 Bay State Road, also known as the Admissions Building, there were two other girls there, my fellow admissions ambassadors in training. We got to know each other in the 20 minutes we had before tour preparation, and having people alongside me giving helpful hints of information if I ever got stuck not knowing what to say made the entire experience incredibly less stressful.
Additionally, through both of my MenTours, I was led by the two nicest tour leaders ever, who were super understanding and helpful with what else we could talk about if anyone ever got stuck or confused about what they should say in a specific 'transition' location. My second MenTour happened just yesterday afternoon, from 2 pm to 3:30 pm! Again, I was with two amazing other people—one of them I already know from my floor, so it was great going in with a friend—and a great tour leader as well! Ahead of this tour, we got the privilege of getting the actual tour guides' mics and speakers in the mic room with loads of positive affirmations on a whiteboard attached to the wall ahead of our tour! Since it was the second tour of the MenTour process, I felt a lot more prepared than I did for the last one and I really feel like that's just a timing thing. Now, I'm just waiting for my decision this week about whether I passed this MenTour process the first time or if I'll have to do another MenTour, but until then I'm not letting the whole decision scare me!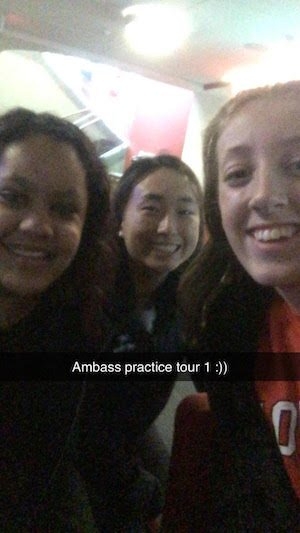 One of the most oddly fun things I've found on these tours is standing on all the benches and other platforms to speak to the group, but other than that, I can't recommend the admissions ambassador program enough! The community that BU always describes this to have is genuinely really felt with all the people you go on your practice tours with, and I can't wait to continue the whole process for many more years! The things I was worried about ahead of the entire training process never came true, thankfully, and I love the whole thing just as much as I expected to! Also, it's a lot harder to fall when walking backward than you would think it would be!
Want to keep up with HCBU? Make sure to like us on Facebook, follow us on Instagram, check out our Pinterest board, and read our latest Tweets!