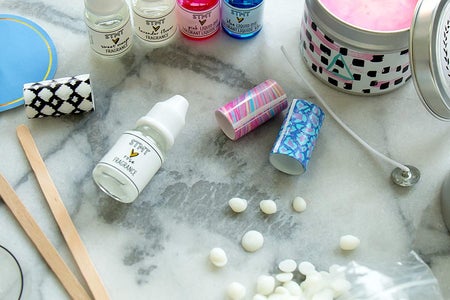 Five Fun and Easy DIYs and Activities That Got Me Through Quarantine
When in-person classes were canceled during spring break, I was hit with so much new free time that I didn't know what to do with myself. But eventually, I decided to test my boredom and make crafts I could be proud of. While I've always loved anything DIY, recently, I've really expanded my horizons and used quarantine as an opportunity to branch out across multiple artistic disciplines. The best part is that I've gotten to share my crafts with friends and family, helping them get through these tough times too. Along the way, I've discovered some great options for anyone looking to hunker down and connect with their creative side.
1.

Sculpt Away Your Days With Clay

You can make practically anything with clay! You can use either air-dry clay or oven-bake, your preference; they both come in a variety of colors, but painting over just plain clay is another option. Personally, I started out making small clay figurines of animals— including some turtles, an armadillo, and a chicken the size of a penny. If you want to use your clay to enhance your wardrobe, grab some sturdy pin backings, a glue gun, and paint pens to create detailed, customized pins. Again, the options are limitless— I couldn't resist making a mini Appa pin for myself during the height of the Avatar: The Last Airbender craze this spring. After accessorizing your outfits with pins, get adhesive magnets and deck out your fridge with some clay decorations too!

2.

Take A Break and Learn To Bake

Quarantine has made bakers of seemingly all of us, which certainly isn't a bad thing! I've really enjoyed learning some of my mom's old recipes. For instance, we once spent a whole night making dozens of Italian rosette and pizzelle cookies, which she hadn't made for years. I've been able to slowly begin accumulating my own favorites. By far, my best find has been these adorable chocolate-dipped hedgehog cookies sprinkled with chopped walnuts. Now is also the time to work on refining classic recipes— making the perfect chocolate chip cookie is harder than it looks! The best chocolate chip cookie I've made so far was a dupe of the famous, and slightly complicated, Neiman Marcus version.

3.

Find Your Flow and Start to Sew

Prior to this summer, I had no experience sewing except for some incredibly rudimentary hand-stitching when I made a sock monkey for Christmas four years ago. But after falling in love with handmade bean frog toys I saw online, I was determined to learn how to sew my own frog. If you have the sudden urge to create a bean frog (or any other animal for that matter), there are a few things you should know. Firstly, you'll need fabric. I opted for fleece to make them extra soft to the touch. You'll also have to get some filling— poly pellets help to give the frogs their satisfying texture inside. Then, just trace out your pattern and start to sew everything together! For anyone who doesn't have a sewing machine, this is a great tutorial on how to make the frogs by hand; if you do have a machine, check out this video instead. As much as I love bean frogs, they certainly aren't the only sewing craft you can try— also test out making scrunchies, drawstring bags, or even a bucket hat!

4.

Bead by Bead, Make Bracelets You'll Love, Guaranteed

Surprisingly enough, becoming a bracelet-making fiend wasn't my idea. One day, my quarantine buddy (aka my mom) brought home a bag of letter beads and colorful string and proclaimed that we were going to make personalized bracelets to pass the time. Since then, I have made dozens upon dozens of them for myself, my friends, and my family. You can customize the bracelets to say anything you want— rep your school, a favorite catchphrase, or even an important date on your wrist. Not to mention, making bracelets for the friends you can't see in person is a great way to stay connected and show you care.

5.

Instead of Fainting, Pick Up Painting

My cheesy rhyming aside, times are stressful right now and we all need something to distract ourselves. Luckily, painting is a hobby that consumes tons of time and requires focus and attention. Plus, it gives you an abundance of time to catch up on your favorite podcasts, albums, or audiobooks while you work. There are so many ways to start your journey into the world of paint. You could try watercolors, acrylics, oil, or even gouache, and just as with all of the other options I've mentioned, you can truly explore whatever you want to. You could use your paint to decorate old bland boxes with exciting new designs, or you could even try to paint the likeness of someone you love. I painted my first portrait during quarantine this year for my mom as a Mother's Day gift. Although it wasn't perfect, it made her happy, and I learned a lot in the process.
As quarantine continues, DIY side projects can help you to ease stress and feel a sense of accomplishment even when you're stuck inside. In case these options weren't your cup of tea, check out Pinterest— the established creativity hub of the Internet— for something else that inspires you.
Take advantage of this time and create something you'll cherish forever!
Want to keep up with HCBU? Make sure to like us on Facebook, follow us on Instagram, check out our Pinterest board, and read our latest Tweets!