Black Suits in the Office— Should You Ever Wear Them?
I bought my first blazer during freshman year. I remember it vividly—I speed-walked to my local H&M between class and a club meeting, didn't elect to try anything on, and immediately checked out with the first one I liked, a black number with thin white stripes. About thirty minutes later, I read that business formal dictates no patterns. Instead of returning it, I decided I could make it work. And, I mean, I did. I landed my first two on-campus jobs while interviewing in that blazer.
During my sophomore year, I had applied to and was selected for a one-day externship at a consulting firm. The night before, I walked to Marshall's and picked out a solid black blazer. This one was a higher quality Anne Klein piece, in a smaller, more fitted cut. During the event, save for a few country-club style sweater combos, every other college student sported the same kind of black blazer-and-slacks ensemble. We were all over-dressed for the business casual workplace, but nothing seemed especially out of the ordinary. It was the suit that was too formal, not the black, right? 
But according to many, black suits specifically have no place in the office. The Helm, a menswear brand, says black suits are too formal and should be saved for weddings and galas. Various internet communities have weighed in on this discussion too, ranging from style advice columns to Wall Street Oasis, a hub for the financial community. The latter's "definitive" thread on the black suits controversy features some disagreements, but the general consensus is no to the black suit. Those who don't protest against it generally opt for a "no one cares," while others are adamant about their disdain for them. 
It's a sad rule, because black suits are just so buyable. They're in every store, in so many different styles and cuts, and just look good on everyone. Plus, I've pulled off a black blazer with a pair of leggings and my secret has gone unnoticed...could I do the same for gray?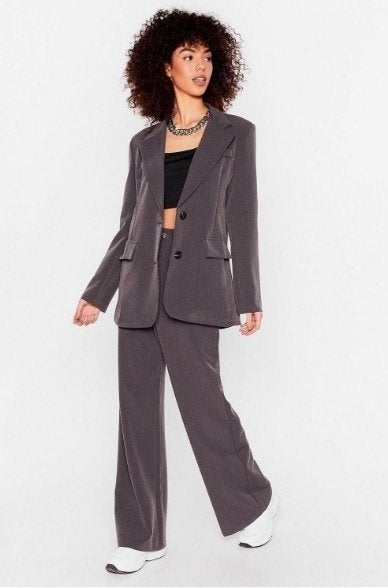 Photo via Nasty Gal
The apparent trade-off is between convenience and professional judgment/confusion—beware of interviewers or co-workers who might mistake you for a limo driver/funeral director/wedding attendee. 
To be safe, you might want to opt for navy blue or gray. Some say that even pinstripe on black helps lighten it up a little, but that gets into the whole solid/stripes controversy. Of course, this is heavily dependent on your industry and specific workplace.
Personally, I'll probably keep wearing black to interviews and to my future job until my very own Rishi-and-Greg duo (from HBO's "Industry") call me gauche and ask me if I'm going to a funeral. At that point, maybe charcoal is the new black. 
Want to keep up with HCBU? Make sure to like us on Facebook, follow us on Instagram, check out our Pinterest board, and read our latest Tweets!