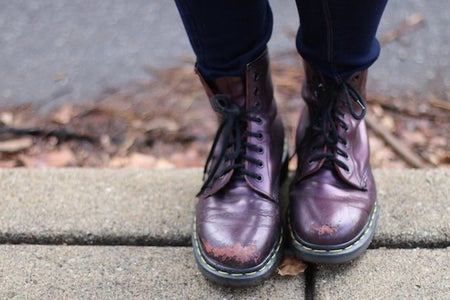 5 Ways to Wear Dr. Martens
The one pair of boots that will forever be a fashion staple are Dr. Martens. Ever since I discovered my sense of style, a pair of Dr. Martens was on the top of my list as the statement piece that would take my wardrobe over the top. The classic 1460 boot was my favorite because of how much personality it can add to an outfit.
Now that I have a pair, I wear them almost every day because they match so many styles and other pieces of clothing. So, here are five ways that you can wear your Dr. Martens or any chunky boots.
An easy way to spice up an outfit with Docs is to switch out the shoelaces. There are so many different colors or patterns that you can find on Amazon or at shoe stores. You could use some ribbon for a change in texture too.

Chunky boots with a dress is a great pairing that I love to wear. It adds both a girly and frilly touch to something structured. You can also add a pair of tights now that it's getting colder to get the same effect.

For a business casual look, wearing a blazer and pants with Dr. Martens dresses the outfit down. It'll definitely bring in the dark, academic aesthetic that I, at least, want to emulate.

4.

With a Pair of Fun Socks

Going along with the more minor changes to an outfit, wearing ruffled socks with the boots also gives a frilly touch. There are so many funky socks that you can wear with Dr. Martens!

There's something so chic about midi skirts with Docs because, like the dresses, they make a great juxtaposition. If you want a fun variation, pick a skirt with a colorful floral print.