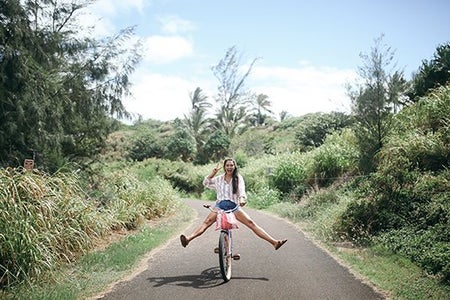 Tessa Pesicka / Her Campus
Top Three Places To Run Near Brown
When running on a treadmill at the Nelson gets repetitive and boring, a change of scenery can be nice. It can be fun to switch things up and explore outdoor running spots. Going to school in Providence, we are lucky to have so many parks and trails nearby. Even if you aren't into running, these three locations provide the perfect place for an off-campus walk as well. 
Blackstone Park
Blackstone Boulevard Park, which runs in the middle of two roadways, is a paved path perfect for running and walking. On any given day, the path is filled with many people walking their dogs, running, or simply taking in the beautiful scenery from the park's benches. Adding to the appeal, it is easily accessible from Brown: you can start your run down Lloyd Avenue and keep going until you hit Blackstone. If you turn left into Blackstone Park and follow the path to the end, you can then turn left on Hope Street and take it all the way back to campus. 
India Point Park
India Point Park is about a mile from Brown, so you can get a nice start to your run on the way there. Once you arrive, there are plenty of paved paths for running. This park has a similar feel to Blackstone in that there are lots of people walking their dogs and hanging out with their kids. Located right on the waterfront, the park offers beautiful views. Running along the water makes the experience even better. If you prefer running later in the day, try to get to India Point Park around sunset. The sun setting on the water is the perfect backdrop for your exercise. 
East Bay Bike Path
The East Bay Bike Path begins at India Point Park. To get there from Brown, you follow the same route you would take if you were going to the park, but when you arrive, follow the bike path instead. The bike path stretches 14.5 miles one way, so you can choose to go as far as you're comfortable. This is a great place to run if you are training for a long race or just looking to increase your stamina as a runner. The East Bay Bike Path also offers some nice views of the water. Depending on how far you go, this path gives you the chance to explore new parts of Rhode Island.
Although the weather at this time of year isn't perfect for spending time outdoors running can keep you warm. February is nice because the trails are quieter than they will be in the coming spring months. Whether you choose to check one of these places out now or wait until it gets a little warmer, you will definitely enjoy your time. All three locations are perfect for exploring the beautiful outdoors in Providence, allowing you to clear your mind and get some exercise.