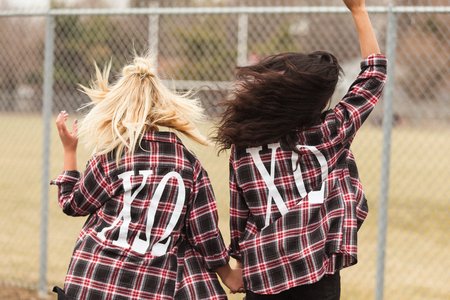 Cassie Howard / Her Campus
Demystifying Sorority Rush at Brown
During each and every Brown campus tour, prospective students will hear their tour guides proclaim, "We do have sororities and fraternities! But, they're not prominent… only about 10% of undergrads are involved." Like everyone else, I wondered what this mysterious section of student life was all about and if it could be something for me. My Greek life knowledge stemmed from the stories of friends and family, usually commiserating about the trials and tribulations of rush or the bonding events that take place within the sisterhoods and brotherhoods. Personally, I looked at colleges that offered Greek life, but I was honestly scared away when schools like Vanderbilt proudly proclaimed that over 50% of the student body went Greek, encompassing much of the social scene at the university. Once I got to Brown, I still knew relatively little about rushing, and virtually everything about Greek life was still a mystery to me. However, having successfully completed the hectic and tiring process, I hope to demystify sorority rush at Brown for pledge classes to come! 
A week before rush: About one week before the official rush begins, Brown Panhellenic (the committee that runs Greek life on campus) holds an informational meeting regarding the scheduling and logistics for the upcoming week. You learn about the dress codes (yes, we have those) for each day of the three-day affairs and general information about how the process works. You will also hear brief presentations by each of the chapters on campus: Kappa Alpha Theta, Kappa Delta, Alpha Chi Omega, and Delta Gamma. Representatives from each house mention their philanthropy, sisterhood events, and location. A few days after this meeting, schedules for the first day of rush will be emailed to participants from Brown Panhellenic. 
Round One: The first round of rush is split between two nights (with half of the rush groups randomly assigned to each night), since every Potential New Member visits all 4 sororities for 30 minutes each. The dress code is "dressy casual" which is loosely defined as something that could be worn to a "nice dinner" or an "Instagrammable brunch." There is usually a lot of stress before this first interaction. HOWEVER, there is truly nothing to be worried about. The members of each and every sorority are incredibly enthusiastic and curious about who you are, what you stand for, and why you want to participate in their sisterhood. At each house, around 4 "sisters" are required to talk to you; you will never have to scour the crowd to find someone for a conversation. The chatting is relatively short and light-hearted during this round. However, despite the brevity, the myths of judgemental sorority girls and cut-throat competition can immediately be dispelled. 
Round Two: After round one, potential new members (PNMs) input their "selections" for which houses they would like to visit during round two, which is known as the Philanthropy Round. Brown Panhellenic uses a mutual selection process, which accounts for both your preferences and those of the sororities. At the start of round 2, for which the dress code is "business casual," printed schedules are dispersed that detail which parties you will attend and when they occur. PNMs can attend up to 3 parties during this day, all of which will run for 45 minutes each. At the houses, more short conversations occur, again with various members of the sorority. During the parties you are given a house tour, in which various dorm rooms are displayed to give PNMs an idea of what in-house living would look like. At the end of the day, the mutual selection process occurs once more, where you will input your preferences with the help of Panhellenic representatives once again. 
Round Three: Round three is the last day of rush, and by the time you get to this point you'll be so thankful that it is. Everything that occurs during this four-day-time-frame is very fun, but also completely draining. The dress code for this day is "cocktail" which means a dressy, homecoming-type look. Round three is referred to as "Pref Day," since for each sorority listed on your assigned schedule, there was a particular member who you had connected with in the previous days that requested you come back. At the houses, you will meet the sister whom you made this connection with and talk to her for the entire one-hour time frame. In between the conversations, the houses have their leadership give speeches about their time in the sorority and the opportunities and happiness it has brought them. After this day, you again input a preference about which sorority from which you would like to receive a bid of membership. 
Bid Day: The very last day of recruitment is bid day, where all PNMs receive a wrapped t-shirt from their new chapter. After the big reveal, the new sisters are invited back to the house for a party - this time free from the stress of small talk. You are officially part of Greek life at Brown! 
Having just gone through rush myself, I can honestly say that some level of stress and anxiety are inherent to a process like this. On top of it, having lively conversations for nearly three hours straight is exhausting. However, joining a sorority offers a wonderful and empowering community of women on Brown's campus. My experience with rush here completely dispelled the preconceived notions I had of sorority women. The bottom line is that every chapter is looking for authentic, driven, and kind women that will contribute to their sorority and to Brown, at large. So be yourself, don't panic, and enjoy an opportunity to meet and learn from other people! For rush tips and advice, read this article by fellow HerCampus Brown writer, Maddie Savage.