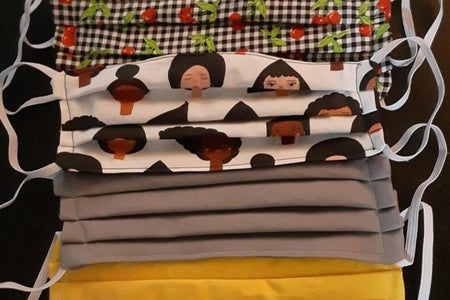 Photo Courtesy of Alexcea Monaye
You Can Find The Cutest Masks at These Three Stores
Masks are more than a safety precaution nowadays. They are a fashion statement, and retail companies recognize this when they sell facial coverings with unique patterns, designs, and shapes. 
At first, I struggled to find masks to lay appropriately on my face. Either they were too snug where I could not breathe or too loose where I repeatedly repositioned the mask over my nose. Because of this experience, I went on a hunt for businesses providing quality masks at reasonable prices. I receive compliments from my friends and family to this day, so I figured I would share three stores that sell unique facial coverings! 
Etsy 
Etsy is an American E-commerce website that focuses its products on vintage items. I rank them at the top of my recommendation list because most of the masks are crafty and inexpensive, starting at three dollars. Small business owners specialize in a particular artistic skill and sell their work on this website, making each item unique and individualized in its style.
Missguided
Missguided is a multi-channel retail clothing store specializing in selling clothes catered to all body types of regular, tall, petite, plus, and maternity wear. Missguided produces several designs of masks in small, medium, and large sizes at low prices. I enjoy the feature where customers can purchase multipack sets. 
Uncommon Goods
Uncommon Goods is a privately owned American retail store specializing in unique gift sets for all age ranges. The masks they sell are uniquely designed, like the "bandana face mask with filter" that lays on your face like a long handkerchief. For some of the masks, you can customize the color and design to your preference, which is a unique feature that I like about Uncommon Goods. 
It is crucial to be proactive with wearing our masks in public to maintain our health and safety. Although the risk is lower for us healthy college students, as Falcons, we must collectively be mindful of those at higher risk, such as those who have critical health conditions and our elders who are dearest to us. Together, we can contribute to helping our society, while also doing so in a fun and stylish manner!