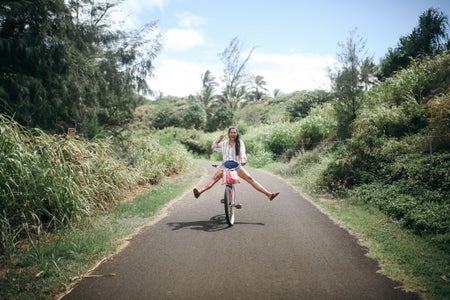 Tessa Pesicka / Her Campus
Stop Checking Your Phone: Go Outside!
The weather is getting warmer, and yet everyone still seems to be sitting inside using their phones or laptops to waste time. That's not to say there is anything wrong with watching Netflix or checking social media - so long as it is limited. Getting lost in an endless array of YouTube videos is not good for your physical or mental health, so go soak up some sunshine!
Before you know it, you will have a real career and will likely be stuck indoors all day. Take advantage of your flexible college schedule and go outside while you can.
Getting enough sunshine can help you feel happier and reduce stress, and too often we forget to do so because we don't have a "reason" to be outside. Who says you need a reason? There's nothing wrong with sitting outside for no reason at all! If you need some suggestions of things to do outside, see below. Otherwise, stop reading this article, and go outside immediately.
Idea #1: Play spikeball with friends
Spikeball nets are not expensive, and lots of college students already have them. Grab some friends, go outside, and start a game!
Idea #2: Go for a walk
Maybe avoid the Smith Stairs, but taking a nice walk around campus can help you relax and destress. It's also good to exercise at least thirty minutes a day, and although walking won't burn a lot of calories, at least it's something.
Idea #3: Take a nap on the green space
Get your vitamin D by simply laying on the green space and doing nothing. College students always need extra sleep, go take a quick cat nap while enjoying the sunshine.
Idea #4: Read a book outside
To clarify, preferably not a textbook. Grab a book for pleasure reading, pick your favorite outdoor spot on campus, and curl up for an hour or two to read.
Finally, note that if you really feel like you HAVE to use social media or watch Netflix, at least take your phone or laptop outside!