Image by Loredana Pizzuti
My Experience at the 2019 New York City Marathon
Let me start this off by saying not many people in my family would call themselves "runners". That's why we were all shocked when my brother told us he planned to run in the 2019 New York City Marathon, the largest marathon in the world. 
A whopping 26.2 miles. That's how far my brother, along with 50,000 other runners, would train months to run on November 3, 2019. Running for hours at once, without any breaks, with nothing but the finish line to motivate you. Sounds crazy, right? Well, at least it did to me, someone who never really ran much myself. 
When I first stepped onto the streets of NYC on that brisk and beautiful November 3rd, I realized the finish line was definitely not the only thing motivating these runners. Initially, I figured all of the participants came here with one goal in mind – to finish the 26.2-mile course. I quickly realized the New York City marathon was much more than that, much more than just thousands of people running. 
The New York City Marathon was a way of uniting people from all over the world. It was an event full of passion, and excitement, triumph, and accomplishment. These people weren't just here to run, they were all here for different purposes – whether that be to raise awareness for a cause that meant a lot to them, or even just to accomplish something within themselves.
Although many of the runners were from different parts of the globe, they all entered one giant community when signing up for the marathon. A community that became clear to spectators. The community of the runners at the NYC marathon was an extremely supportive one, consisting of people who encouraged one another and helped each other out. This energy was unlike no other. 
Whether over half-way through at mile 16, or 2 miles away from completion at mile 24, many of the runners had smiles on their faces, and cheered with the crowd. Each runner was extremely passionate and determined to finish what they had started, as they ran past the crowd with smiles on their faces. Although this was mainly attributed to the energy and determination of the runners themselves, I have to say, the crowd had to have had something to do with it as well. 
Walking onto the corner of 1st Avenue and West 59th Street, I was immediately hit with the electric energy of the crowd of spectators, family, and friends of the participants of the marathon. Signs, fat heads, confetti – these are just some of the things that decorated the crowd on that sunny fall day. Fans cheered for their runners and a band played uplifting beats to propel the runners closer to the finish line. My family and I shoved our way through to the front of the crowd at mile 16 to cheer on my brother and give him a few high fives to get him through his last ten miles of the race. 
Needless to say, I'm proud of my brother for accomplishing such an incredible goal. It was so much fun watching him get closer and closer to the finish line and cheering him on. Being a part of the crowd at the New York City Marathon is something I would recommend to anyone. You will definitely leave feeling inspired, and who knows? Maybe one day, that runner you're cheering on could be you.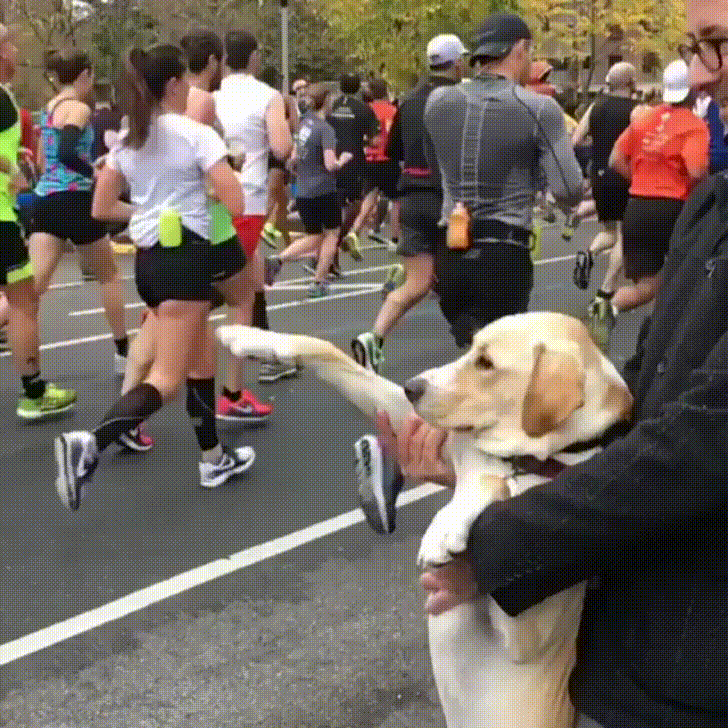 Gif from: Giphy