Collins Corner: Pasta with Cheese, Onions, Peppers
Another school year has started, and we have recently rebranded Orso's Corner to Collins Corner. So come cook with us!
Ingredients:
Box of pasta

2 Chicken breasts

1 can mushrooms

Garlic Powder

Crushed Red Pepper

Whole Oregano

Basil

Parsley

1 Onion

1 Pepper

1 Zucchini 

1 Summer squash

Grated Parmesan cheese
Steps:
1. Boil the water
2. Once the water is boiling, pour the box of pasta in the water. We picked bow-shaped pasta, but feel free to mix it up!
3. While the pasta is cooking, chop up the squash, zucchini, peppers, chicken, and onions. If you like any other veggies add them! 
4. How to cut the onion like a pro:
Cut the onion in half
Make sure it is peeled
Cut the ends off of the onion
Begin to slice the onion along the half cut mark in even cuts
Continue until you have sliced the onion entirely
Separate the pieces of the onion
Ta-da! You have a perfectly sliced onion 
5. Add vegetable oil to the frying pan and heat the pan up 
6. Add chicken to the pan and cook the chicken. You can substitute chicken with any other meat or just add more veggies if you are a vegetarian
7. Remember to check on the pasta, and once it is done, strain the pasta and put the pasta back in the pan 
8. When the chicken is cooked, combine it with the pasta. Make sure to season! We used whole oregano, basil leaves, parsley flakes, garlic powder, and crushed red pepper. Feel free to let your creativity shine when it comes to seasoning.
9. Add a tablespoon of water at a time to the chicken and pasta. Pour your desired amount of cheese in the pasta and stir
10. Cook the vegetables while you are adding the cheese to the pasta. Add salt and pepper to taste. Don't forget the can of mushrooms since you didn't need to chop them!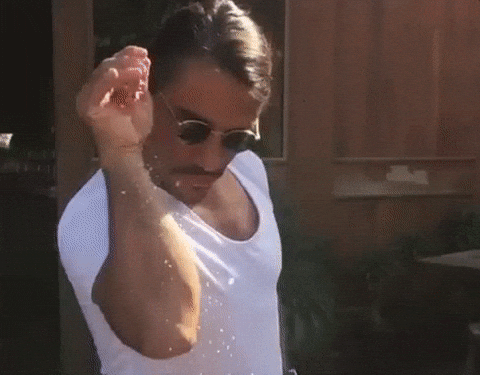 11. Once the vegetables are done, add them to the pasta
12. Add another tablespoon of water (and of course more cheese) and don't forget to keep stirring
13. Enjoy :) 
Did you enjoy this meal? Pair it with a dessert that can be found here! Make sure to check out our next article!
Images: 1 and courtesy of the authors