Baking With Leftover Halloween Candy
Halloween is arguably the best holiday of the year. Dressing up with your friends and getting free candy—what could be better than that?! After the festivities are over, the question remains: what should I do with all my leftover candy? Luckily for you, there are tons of sweet treats to make with your favorite candies. Here are some of our favorites—some of which don't even require an oven!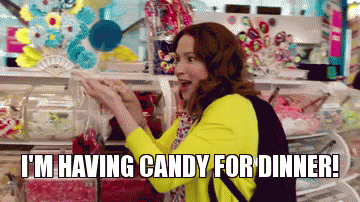 Chocolate Bark
There are so many possibilities with chocolate bark. Pick your chocolate of choice, along with your favorite candies and sweets to add to it! My favorite Halloween bark has milk chocolate with M&Ms, Kit-Kats, pretzels, and candy corn. Find 12 Halloween chocolate bark ideas here!
Rice Crispy Treats
Use your favorite Rice Crispy treat recipe (or the one on the box) and mix in your Halloween candy! Candy Corn, M&Ms, Hershey bars, Oreos, and even Reese's Pieces all taste delicious!
Using pretzels, Hershey Kisses, and either M&Ms or Candy Corn, you can create a Halloween pretzel hug! They are super easy to make, and are the perfect balance of sweet and salty.
Sugar Cookies
Add candy to sugar cookies! (Trust me, it's amazing.) You can use M&Ms, Skittles, Candy Corn, Gum Drops, or Jelly Beans!
Make loaded chocolate brownies with your go-to chocolate candy. Add M&Ms, Hershey's, Twix, Kit-Kats, or even Reese's Pieces!
Ice Cream
Using your favorite ice cream flavor, add your leftover Halloween candy in the ice cream mix or as toppings! 
Or, of course, you could always share your leftover candy with your friends!