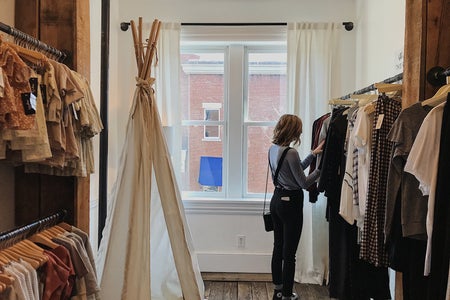 Edited by Janani Mahadevan
1. What inspired you to launch Ashoka Thrifts? Why is it relevant to Ashoka?
After a semester abroad, the inspiration for Ashoka Thrifts came to Karishma on seeing thrift stores in America, where she realized it was possible to find sustainable clothing even on a budget. The desire to develop a thrifting culture in Ashoka grew in us as we considered the limited budgets of college students. Students are, as it turns out, incredibly receptive to buying and selling secondhand clothes, which made our first pop-up thrift store a success! Motivated by our initial, overwhelming response, we decided to take Ashoka Thrifts online and set up an Instagram account. Gradually, we began realising our goal of granting a second life to used clothing through these drives and stores.
Initially, the collection drives were not inclusive of the original owner of the item beyond their role as a donator. Since the aim of Ashoka Thrifts isn't profit, but to promote sustainable living, we brought about changes in the system to make it an enjoyable experience for both the sellers as well as the owners. With this initiative, the selling of an item would result in the original owner getting 50% of the selling price. By doing so, we made drives a pleasurable experience for everyone involved, and successfully stood by our fundamental principles. We also love the benefit of being able to develop a more interactive, communal environment for the student body. Creating a community within Ashoka around clothing sustainability gave us more purpose. 
2. How did you build your team?
The initiative originates from the Environment Ministry of Ashoka, Tarang. Karishma, the Minister at that time, started ideating on the project and introduced it to a few members. On hearing the idea, we (Yasmine, Paroma, and Niharika) agreed to come on board immediately. Because of our mutual passion for supporting and promoting a culture of sustainable fashion, none of us could contain our excitement and we decided to launch it as soon as possible. Our plan of inducting new members has been hindered due to our current pandemic situation; however, we intend on resuming once we return to campus and have a lot of exciting ideas in store!
3. Do you exist independently from the Ministry as a startup/company?
Although it stems from the Environment Ministry, we eventually decided to break away from it and grow as our own individual organisation. We started in February, just before the mid-term, and due to the pandemic, everything came to a halt after the break. Even though we haven't been able to execute the several changes that we have ideated on, we have constantly been considering our alternatives independently. From February to March, we posted clothes online and received an overwhelmingly positive response. It reminded us of how receptive the Ashokan population really is toward the idea of sustainable fashion. 
4. What are the problems you are primarily trying to address through Ashoka Thrifts?
 As many of us know, the environmental impact of fast fashion is massive. The fundamental idea of Ashoka Thrifts is to promote reusing clothes, and in turn, reduce that impact. We are also aware of the stigma associated with using secondhand clothing; given the economic backgrounds that several of us come from, some might not support it. We want to move away from the traditional ideas associated with secondhand clothing and assist in focusing on and promoting the joy that people derive from them instead. Although the student body at Ashoka has generally been welcoming, thrifting has been difficult to explain to the older generations. Hopefully, through the many positive experiences we've helped create so far, we might see understanding and appreciation in them, too. 
When clothes are mass-produced, the quality falters at the sake of price. However, we still fall prey to the vicious cycle of consumption as we retain the urge to buy brand-new clothing, due in part to pre-existing stigmas. By stocking novel collections every season, brands promote the idea that we always need new clothes, when we obviously don't. For example, in the sales we've had until now, the number of new, never-worn clothes we received was mind-blowing! It reminded us of the fact that, more often than not, people tend to buy marked-down clothes and immediately forget about their existence. Our mission is to connect people who have clothes that they no longer want to someone who might want them, and, in the process, keep both parties away from continuing the cycle of buying into fast fashion. We hope that one day, people will look at old clothes as an asset rather than a liability. 
5. What is the price range of the clothes you sell?
Everything ranges from 50-300 INR. By keeping our prices closer to the lower end, we hope to encourage more people to buy sustainably. It has been slightly difficult to find a middle ground, but we were able to reach some amount of consensus after a lot of reconsideration. Affordability is definitely one of our core principles!
6. What has been your approach to marketing?
Initially, as we mentioned before, we opened with a pop-up thrift store, where everything was priced non-negotiably. We decided to apply the 50-50 price split here first, hoping to incentivise people, and it worked like a charm! We desperately wanted to move away from the idea of a transaction being only a transaction, and instead as something that builds a larger connection with the student body. We always try to make the process fun, especially when it comes to shoots, so that we end up with a fun product as well. Ultimately, we didn't want a disconnected, engineered marketing style so we focused more on building grassroots relationships that lead to recommendations-- one happy and satisfied buyer often leads to many more. As a result, the buyer and seller's happiness is one of our biggest priorities. 
7. How has the pandemic affected Ashoka Thrifts?
The pandemic has negatively impacted the entire organisation, just as it has many others. The process of transferring clothes from the buyer to the seller has become extremely tedious now. Since all clothes are on campus, we can't send them over mail either. If we consider mailing clothes, we have to account for packaging and mailing costs in the final amount, and naturally, the prices go up. This is something we're currently working on maneuvering around. However, despite these recent setbacks, we've been closely watching the exponential growth of several other thrift stores over Instagram, which is constantly giving us hope. The fact that people are more and more often choosing to thrift is a sign of a larger, inspiring movement, and it only makes us work harder towards boosting this culture in Ashoka as best as we can in the circumstances. 
8. Is Ashoka Thrifts primarily female driven?
Barring one exception, we haven't reached the male community at Ashoka. We plan to overcome this back on campus by initiating collection drives in each Residence Hall to target a broader variety of demographics. The dip in engagement from that particular group at Ashoka is not, of course, due to a lack of interest but a matter of more intentionally making everyone feel included. We want everyone to thrift-- sustainability has no gender!
9. What direction do you see Thrifts taking in the future?
We are planning on expanding the team since we want exclusive teams for various departments-- social media, marketing, shoots, styling, to name a few. We look forward to moving forward with inductions once we're back on campus. Otherwise, we hope to begin to branch out and have been working on a potential collaboration with Allure, Ashoka's Fashion Club. As we have several other ideas we currently can't execute given the circumstances, we've also worked to try and create a change remotely-- a great example of this is how, inspired by Ashoka Thrifts, St. Xavier's College started their own collegiate thrifting initiative! We were extremely happy to know that we managed to inspire a change and hope that we are able to continue doing so, both on a larger scale as well as on an individual level!
(The interview was taken by Diya Isha)