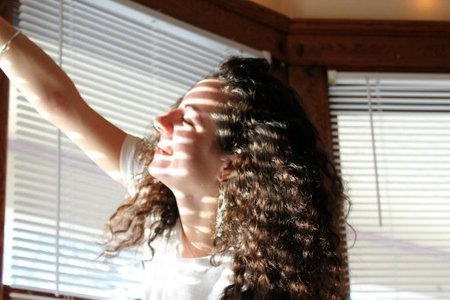 Charlotte Reader / Her Campus
I Am Actually Enjoying Quarantine. Here's Why:
Like the rest of the us, I have been home, quarantined, self-isolated, and meeting many (if not, all) responsibilities virtually for about a month now. The outbreak of COVID-19 undoubtedly holds heavy over the entire world - many people are dealing with the heartbreak of losing loved ones and others are getting terribly sick themselves. The rest of us are faced with the challenge of finding gratitude as we cope with losing our "freedom". During this time, I've found that sticking to my routine and staying busy at home is benefiting me. Actually,  I needed this! This mental break from reality is a great opportunity for us to prepare for reaching goals we didn't even know we had. These are some of the things I've proudly accomplished during quarantine:
Now that everything's online, my commute consists of a hop, skip, and a jump from my bed to my desk (and sometimes my bed functions as a workspace too). Before this shift in routine, I commuted an hour and a half via public transportation to work and a 30-45 minute car ride to school. I've caught up with much needed rest for my body and brain, allowing me to be more productive and alert when I wake up. According to the Sleep Foundation, young adults ages 18-25 should be getting 7-9 hours of sleep each night - I definitely wasn't getting that before!

Staying home is letting me accomplish one of my most challenging goals: saving all that hard-earned cash! By eliminating commuting costs, social gatherings, and spur of the moment shopping trips, my bank account is getting a well deserved break from me. Sure, I placed a couple of online orders, but it doesn't compare to the damage I would normally do out in the world. Also, I have been using Fetch Rewards App which credits you money in exchange for points you receive after scanning grocery receipts. All of those essential item purchases are adding up, and I am almost at a $50 gift card - not bad for hanging at home!

Being in the house all day can result in two things: hunger and boredom. Many quesadillas later, I found myself living on Pinterest for new things to try in the kitchen. Each week, I experiment with fun recipes using whatever we already have in the refrigerator. I try to bake at least one treat and snack per week. Last week, I made a killer artichoke dip that my whole family enjoyed. It's safe to say that my weekday lunches will be getting a much needed upgrade after all of this.

Shockingly enough, I haven't been binging as much Netflix as I thought I would. After I finish my school and work to-do lists, sometimes I still crave productivity. Whenever I feel up to it, I watch LinkedIn Learning videos that I have been meaning to get to. I made a list of valuable videos related to my field, and I finally have the time to go through it. Also, I am about to start a new book recommended by influencer @veryharryhill - it's called My Year of Rest and Relaxation… ironic?

Throughout times like these, I am grateful to be safe with my family. We definitely get on each other's nerves a little more lately, but I wouldn't want to be with anyone else during times of such uncertainty. We have been going on much needed outdoor walks around the neighborhood, cooking together, and having movie nights. Our daily routines are often so busy that we don't spend nearly enough quality time with each other. Up next: family tik toks!
Positivity during a crisis isn't easy but it's keeping me sane. Hope you try these activities during your quarantine and stay safe!