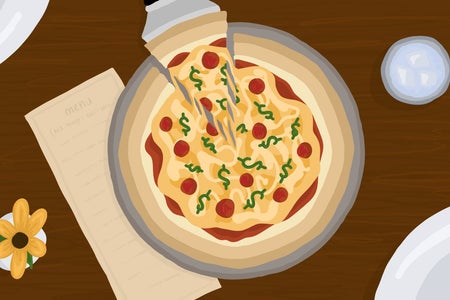 Her Campus / Megan Charles
10 Super Smart Ways to Save Your Money While Eating Out
Dealing with finances in college can be just as stressful as balancing your coursework, student organizations, and a social life. It's important to keep spending, especially on menial things, to a minimum. But every once in a while it's important to get your girl gang together and go out to a nice dinner. So we rounded up 10 student-approved ways to save major cash when you're dining out without sacrificing your bougie AF taste, so you can savor more and worry less.
1. Do your research
Before you even step foot in the restaurant, do some precautionary research. The internet is your oyster––search for menus, prices and reviews on Google or Yelp to see where you can get the best bang for your buck. Plus, you'll stress less once you're actually at the restaurant and will know what to expect.
2. Share everything
When going out to eat, find friends with a similar palate and you'll save big just because you can share everything. If apps are your jam, find three that you and your friends can all share and make that your meal. Or, pair up and split entrees––they're usually big enough for two people. If your gals all have very different tastes in food, get your own food, but make sure you take the leftovers home so you can make another meal out of it.
3. Don't be tempted by fancy drinks
Once you hit 21, it's easy to be drawn in by the drink menu. Everything sounds so ~boozy~ and delicious. We get it, but honestly, the price tag for that sugar-loaded Long Island is not worth it. "I just order water because, like #HydrationNation, and I don't usually order alcohol or soda or juice," says Amity Wood, a senior at Temple University. At nice restaurants, one drink can increase your bill by $12-$18. If you really want a boozy brunch, have your group share a pitcher of sangria, magaritas or mimosas. Pro tip: you can take a photo of the drink menu and try your hand at bartending in the comfort of your own home.
4. The simpler, the better
Picky eaters, rejoice! This tip should be easy for you. When you're dining out, steer clear of ornate entrees, because they likely have an ornate price tag, too. Do you really need that 12oz filet mignon with smashed garlic potatoes, pan-fried green beans with slivered almonds, all topped with a red wine reduction? Probs not. Go for something simpler, like a blackened fish with corn salsa, or a seasonal salad. They tote a smaller price tag, and they won't leave you feeling as heavy for the rest of the night. And if all else fails, get chicken fingers.
5. Find out when your city's Restaurant Week is
If you go to a school near a large city or town, chances are, it has an annual or seasonal restaurant week. During these weeks, typically expensive restaurants offer daily drink and meal specials, making it a perfect time to check out to that super bougie restaurant you've been dying to try. Go to your town's website or do a simple Google search to find out more info. And be sure to make reservations early––restaurant weeks are popular (and for good reason).
6. Fill up on the free bread
This advice? Financially sound, but nutritionally shaky. But heck, you're eating out at a restaurant pretty rarely, so do you really need to eat as healthy as you normally do? Ball out a little––treat yourself! If you munch on a dinner roll, you're less likely to get an appetizer and an entree, thus saving a pretty penny. Try not deciding on your meal until you've had your bread (and eaten it, too). And if you're still worried about health, swap the butter for olive oil and pick the heartiest/seediest slice of the bunch.
7. Eat something small before you leave
You're in college, you've heard of pregaming. Here's a concept: pregaming with food before you leave for the restaurant (this can also apply to alcohol, see tip #3). "Eat a little before, it keeps your temptation low," says Taylor Allen, a senior at Temple University. We can get behind this. Snacking on something small like a handful of nuts or even guzzling down a big glass of water can keep hunger pangs––and temptation to order a five-course meal––at bay.
8. Find out what their discounts are on each day
Wednesday wing night? Monday dollar margs? Chain restaurants and bars usually have weekly and nightly specials for food and drinks, and they often give you a lot for a little. If you're okay opting for a less classy dining establishment, take your group to one of these places to grab a beer, watch a game, and share a huge platter of wings for around $10. Friday night = made.
9. Actually listen when the waiter tells you the daily specials
It's easy to ignore the waiter's daily special spiel when you already know what you want. But next time, stop dreaming about your kale salad and pay attention. The specials usually give you a healthy portion of food for less than the normal cost. 
10. Find your Chinatown
Do you go to college in the city? We have good news for you. If you haven't explored your city's Chinatown or Koreatown, now is the time. "When I go out with friends, I love going to Chinatown in NYC and Philly because the portions are big, cheap, and enough to share," says Amanda Brown, a senior at Temple University. "Plus it gives you the option of trying new cuisine that you may not have gotten if it was just you." 
Dining out on a budget doesn't have to be so hard. Next time your friends are looking for something new to do, try some of these tips for a guaranteed good time without buyer's remorse!