Summer is the ultimate festival season. Along with reading the best summer romances, building your resume through an internship, or even preparing for recruitment season, attending a festival should *definitely* be on your summer bucket list — because it was totally on mine. 
I was lucky enough to get the opportunity to travel to Miami from Chicago for Rolling Loud: a hip-hop, rap, and R&B festival headlined by some pretty incredible Gen Z faves. Although I was going alone, I was determined to stay safe and make the most of my experience: It's not every day you get to listen to live music, in a dope outfit, surrounded by fellow festival lovers. 
So, I knew I had to dress to impress. Fortunately, Forever 21's collaboration with Rolling Loud and social media superstar Bunny Zingler — wife of CEO & co-founder of the festival, Matt Zingler — afforded me the coolest Miami-inspired pieces from their limited edition Rolling Loud collection. Detailed with rhinestones, tropical patterns (because Miami, duh), and trendy silhouettes, this collaboration had all of the music festival vibes, and I knew my 'fit was about to be poppin'. (Oh, and did I mention the collection has a lot of pink? Perfect for my Barbie era, TBH).
Morning
FINISH UP WORK & GET READY TO GO!
I started off my day awoken by the gorgeous Miami sunlight streaming through my hotel window. Anxiously anticipating the day's events, I refrained from pressing snooze, even though it was tempting AF. In true Social Media Editor fashion, I did spend a few hours of the morning getting my work for the day done, and building out social posts (to keep y'all fed on the 'gram). 
After completing all my tasks, I started getting ready — and I had to film a cute lip-syncing, GRWM TikTok, of course (it's only my entire brand). Before I left, I made sure to pack my bags with some filming equipment, because I was about to capture content like my life depended on it.
My ride to the fest left at 3:00 PM, so I ran down to the hotel lobby right after getting ready — I was not about to be late for this event. After a smooth ride to the Hard Rock Stadium in Miami, I went straight to Bunny's Bae Bar to get bejeweled. Alexa, cue Taylor Swift.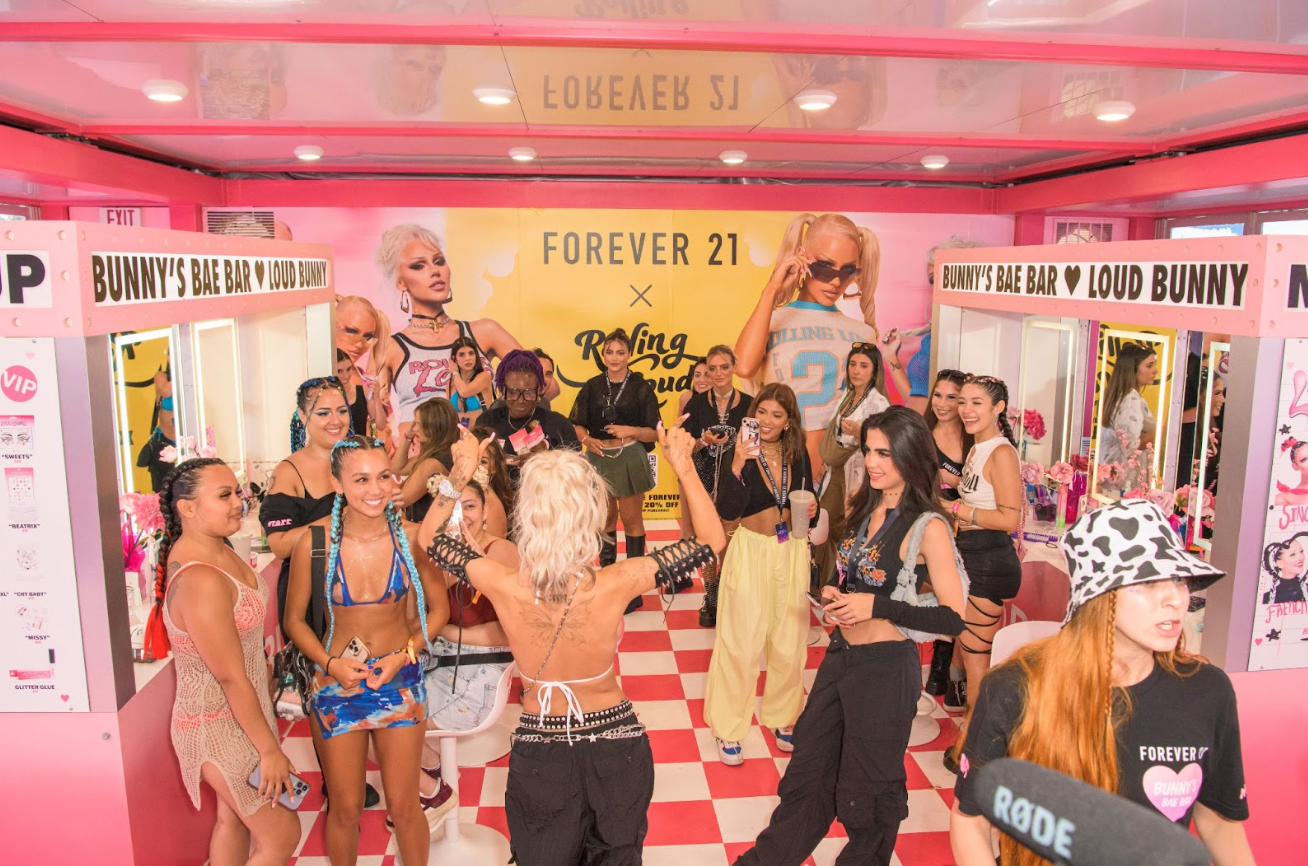 Afternoon
Get glam at Bunny's Bae Bar.
This activation was definitely the highlight of my day. Along with the Forever 21 clothing collection, Bunny Zingler's Bunny's Bae Bar has become an integral part of the Rolling Loud festival since it launched this year. 
The activation, available with both GA & VIP festival passes, offers a chance for anyone to get glam, shop the Forever 21 x Rolling Loud collection, grab pics in the most Instagrammable photo spots, and just hang out in a relaxed environment. Bunny's own beauty collection, Loud Bunny Beauty, is featured at the bar and includes the cutest products to add to your festival look.
I decided on adding some face and body jewels, then sat down at the glam bar to get them applied by an expert beauty assistant. It added the perfect touch of sparkle to my look, leaving me feeling refreshed despite the insane Miami humidity. The bar also offers colorful hair extensions for braiding, biodegradable glitter, and treats — like "sorbaes," which were deliciously dairy-free and provided by Wow Ice.
Socialize.
Another pro of visiting the Bae Bar is the sense of community that you feel while you're there. Since I was attending alone, I was hoping to meet new people and (fingers crossed) make some friends. My wish came true the second I met the CEO of Forever 21, Winne Park, and Bunny Zingler herself, who both spoke to me about the collection and how it came to life.
It didn't take long for Bunny to express her excitement about the collaboration. "As Rolling Loud's original and flagship festival, I know how our Miami fans turn out their looks, so we wanted to pay homage to the city," Bunny told me. "Keeping it bright and fun, while still being able to keep cool in the heat!"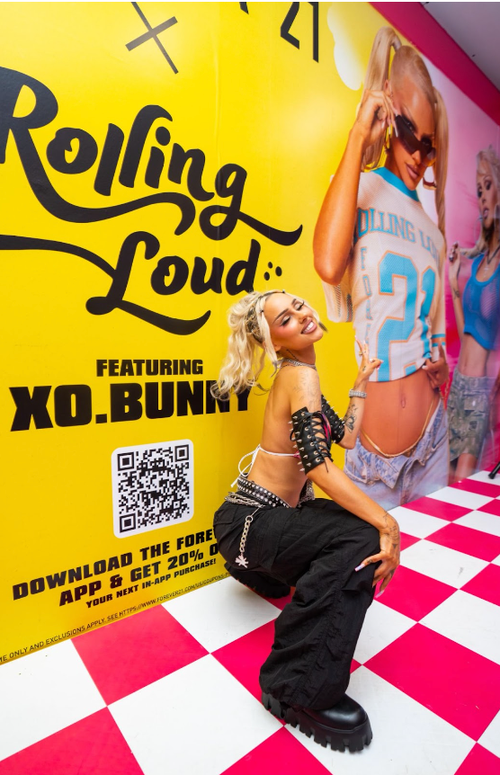 Bunny also told me about the purpose of the collection, to "inspire others to be bold, have fun, and express themselves through fashion." I remember shopping at Forever 21 as a teen and feeling empowered to buy dresses, tops, and pants completely outside of my comfort zone — something I also felt while shopping this Rolling Loud collection. Bunny's Bae Bar is adding to that mission IRL by making everyone who sits in the glam chair feel fabulous AF.
Winnie Park, also shared more info about the collection, more specifically, why Gen Z might connect with the collaboration. "We want to be part of your lives and be co-creating with you," Park said in regard to Gen Z. "Fashion is about self-expression, no brand should tell you how to look or how to dress!" 
NIght
Time for some music, oFC.
I wrapped up conversations with my new Forever 21 besties at the bar and decided to stay for the night's headliner: Playboicarti. ICYMI, he's the artist behind viral hits like "Magnolia" and most recently was featured on the song "Popular" with The Weeknd and Maddona. Along with Carti, I snagged spots at Lil Yachty, Polo G, and Ice Spice's sets. It's safe to say that none of them disappointed!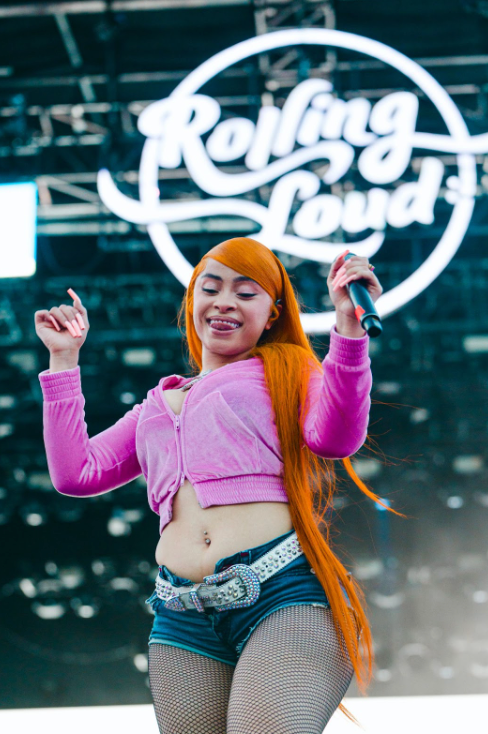 The day was long and hot, but I had the best time dancing the night away in my Forever 21 outfit & Bunny's Bae Bar glam. IMHO, every festival needs something like this. Now that I'm back in Chicago, I can safely check Rolling Loud Miami off of my summer bucket list. So, if you need me, I'll be hydrating, shopping more Forever 21 looks, and counting down the days until next year.