Now that Halloween festivities are over and Thanksgiving rolls around the corner, so do new festive flavors from our favorite dessert shops. Buckle up for this limited edition November Flavor of the Month from Baskin-Robbins. And when I say buckle up, I really mean it, because what we're about to talk about is comparable to the unique ranch ice cream from a couple of months ago. 
On Nov. 1, the ice cream shop is launching its new Flavor of the Month, "Turkey Day Fixin's." Don't be fooled by the name — it's not a turkey-flavored ice cream, so don't worry. Instead, this flavorful ice cream features a combination of autumn spice ice cream and sweet potato, all entangled with sweet honey cornbread pieces and swirls of Ocean Spray® cranberry sauce. This is the perfect creative dessert for this Thanksgiving, as it makes for a post-turkey dinner treat, or a sweet accompaniment if you're reminiscing about your Friendsgiving dinner. 
By honoring the festivities of this new flavor, Baskin-Robbins has partnered with Bachelor stars Hannah Godwin and Dylan Barbour to serve up a memorable Turkey Day Fixin's at their first Friendsgiving feast as newlyweds. You might remember Godwin and Barbour from the sixth season of Bachelor in Paradise, where they got engaged at the end of the season. Before that, Godwin was a contestant on the 23rd season of The Bachelor, where she was eliminated in week nine. For Barbour, he was a contestant on the 15th season of The Bachelorette, where he was eliminated in week six.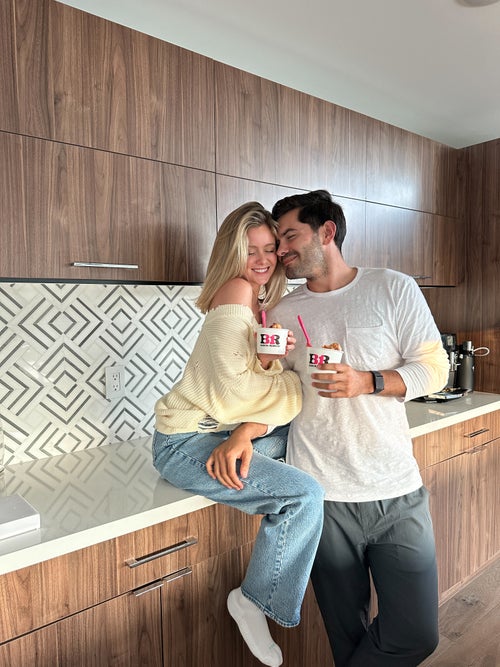 Also, Baskin-Robbins is bringing back their iconic Turkey Cake, first introduced in 2008. This semi-realistic creation is designed to resemble a roasted turkey fresh out of the oven. It's filled with your choice of ice cream, decorated with sugar cone legs and covered in a caramel praline glaze. Godwin and Barbour will be serving both of these at their Friendsgiving as newlyweds. 
But when it comes to your own Thanksgiving feasts, there are so many different ways you can serve up the Turkey Cake and Turkey Day Fixin's to your friends and family this Thanksgiving season. Here are just a couple:
The Friendsgiving of a Lifetime: Serve up the returning Turkey Cake in the middle of your dinner platter and surprise your friends with the deliciousness that awaits. 
Post-Thanksgiving Cravings: If you find yourself longing for Thanksgiving dinner after the holiday, don't sweat it — Turkey Day Fixin's has you covered. The excitement doesn't end with your Thanksgiving dinner, because you can satisfy your cravings all within one scoop of ice cream. Talk about bringing you back to the festivities you missed. It's the perfect solution for those moments when you want to relive the joy of the season, and all of November for that matter.
Make sure you stop by your nearest Baskin-Robbins to pick up the best Thanksgiving desserts.