It's hard to describe what it feels like to be a college senior graduating in 2020. So many students have worked hard to get to where we are today, only to have important final moments taken away so quickly with the spread of COVID-19 and campuses shutting down.
If you're like me, you started this semester with some major senioritis, but also with the mindset to take advantage of the rest of your time in college. One last party? Sure. An all-nighter to finish your final essay? Absolutely. I had my entire spring semester planned out. I was excited to finish my last class, wear an iconic graduation gown, and actually walk across a stage in front of all my friends and family. 
There are lots of memories that I looked forward to making as a graduating senior, but I still plan on creating as many of them as possible while we're social distancing. Who says you can't celebrate this huge accomplishment from the comfort of your own home?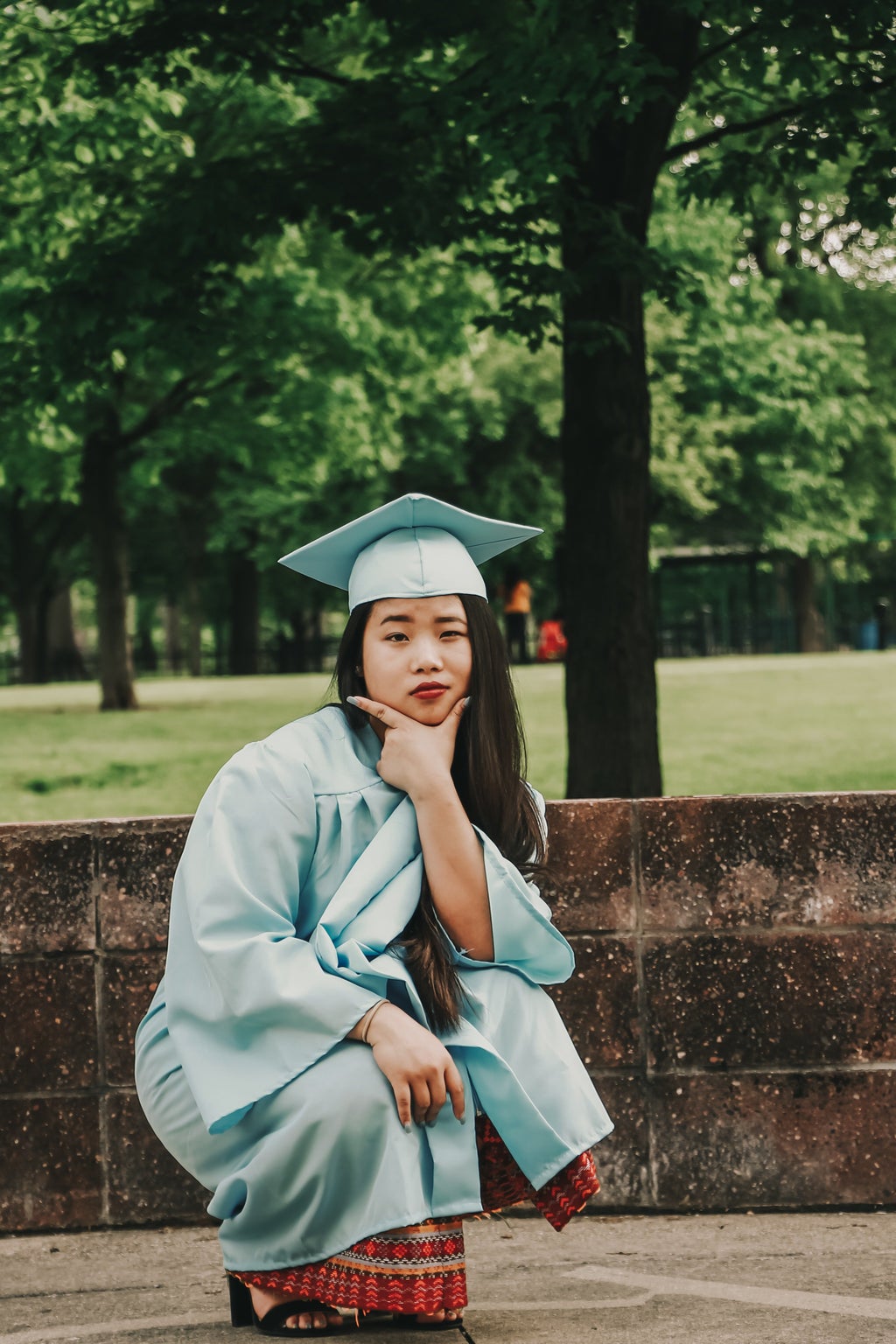 1. Take graduation photos in your yard.
A big moment during senior spring is getting dressed up in your cap and gown to take graduation photos. Good news — you can still get those pics! I did a quick photo session in my backyard with my dad as the photographer, and it felt so good to do my hair and makeup again. Get outside to breathe in some fresh air and ask your family or roommates to take some killer pics. You can use them to make grad announcements to send out. I used Canva to make mine, but you can either mail them by hand or you can send them virtually. 
2. Host a makeshift party.
As large social gatherings are no longer an option, my graduation party plans have shifted slightly. While my grad party might not be the same as I originally planned, I'm going to keep an open mind and still create a night to celebrate my success. Have everyone in your fam dress up to celebrate, then order food from your favorite local restaurants and have a fancy dinner. Pop the champagne too, you deserve it.
3. Collage your memories.
If you're feeling nostalgic, get crafty and make a photo collage of all of your favorite college moments. A college collage, if you will! Take some time—because you have plenty of it now—to go through all of your pics from the last four years (or five if you're like me). You are bound to have some pictures that capture the amazing memories that sum up your college experience. 
4. Walk through campus once it's safe to.
If your school is like mine, all classes were moved online right after spring break. One of the biggest realities hitting me is knowing I will never walk into another classroom on my college campus. I'm lucky enough to live in the same city as my college campus during self-isolation, and I want to give it a proper goodbye at some point. Once it's safe to spend time outside, I plan to walk around campus again—that way I can see everything one last time and feel a little more complete. 
5. Email your professors.
To complete your closure, try sending emails to your favorite professors or advisors. Thank them for their time and for their impact on your undergrad education. These people were vital to your growth during college, and they often don't get the thanks they deserve. I know it's been fun for me to do this, and has helped me prepare to move on. 
Coming to terms with finishing my college experience in this weird and unexpected way has been hard. In situations like this, however, we need to make the most of everything we can. I'm still going to celebrate this important time in these special and unorthodox ways, and I hope you do too.
Her Campus is hosting a virtual graduation on May 15th. Learn more here.