On November 7, 2020, Joe Biden was projected to be the President-elect of the United States, four days after Election Day. But even though Biden is expected to enter the White House this January, about half the country still voted for Donald Trump. In fact, throughout "Election Week" and even the days following Biden's win, President Trump has been tweeting about voter fraud and outright accusing Democrats of "stealing" the election, even though that's been refuted by many reputable media outlets. His constant emphasis on this "stolen" election prompted its own Facebook group and organization of protestors who call themselves Stop the Steal. The group was quickly taken down by the Facebook team, but this, along with Twitter's constant and almost instantaneous warning labels on Trump and Trump's supporters' tweets, there's been an uproar about "free speech" and tech companies' supposed war against it. 
Many conservatives, Trump supporters and members of President Trump's team have been waging many wars over social media companies over violations of, what they believe to be, freedom of speech. Rudy Giuliani, Trump's lawyer who was recently seen at the infamous Four Seasons Total Landscaping press-conference, recently said in an interview with a Russan outlet, "They [social media platforms] don't do any censorship to favor Trump. The censorship is against Trump and to elect the guy they control, Joe Biden." This follows a senate hearing where the heads of Twitter, Google and Facebook were accused of censoring Republican voices in favor of Democrats, so it should be no surprise that in the days following the election a new app called Parler, hailed as a Conservative "free speech" haven, has been downloaded over 1,000,000 times. 
The Parler developers describe the app as " a non-biased, free speech social media focused on protecting user's rights." The description also encourages users to "empower [themselves] to control [their] social experience and be a verified member of the community!" When consumers visit the download link in the App Store, they'll also be given other suggestions, including the Breitbart app, the Trump 2020 app, and the BlazeTV app to name a few. Then when users download the app (which, yes, I did), they're given a list of suggested users to follow. This list includes a variety of Conservative politicians, celebrities and media personalities such as Ted Cruz, Sean Hannity and Kirstie Alley. The feed layout is similar to that of Twitter, but mainly consists of shared articles or video clips like Facebook. The interaction system is then similar to Reddit, where users can comment, upvote or "echo," the Parler version of a repost.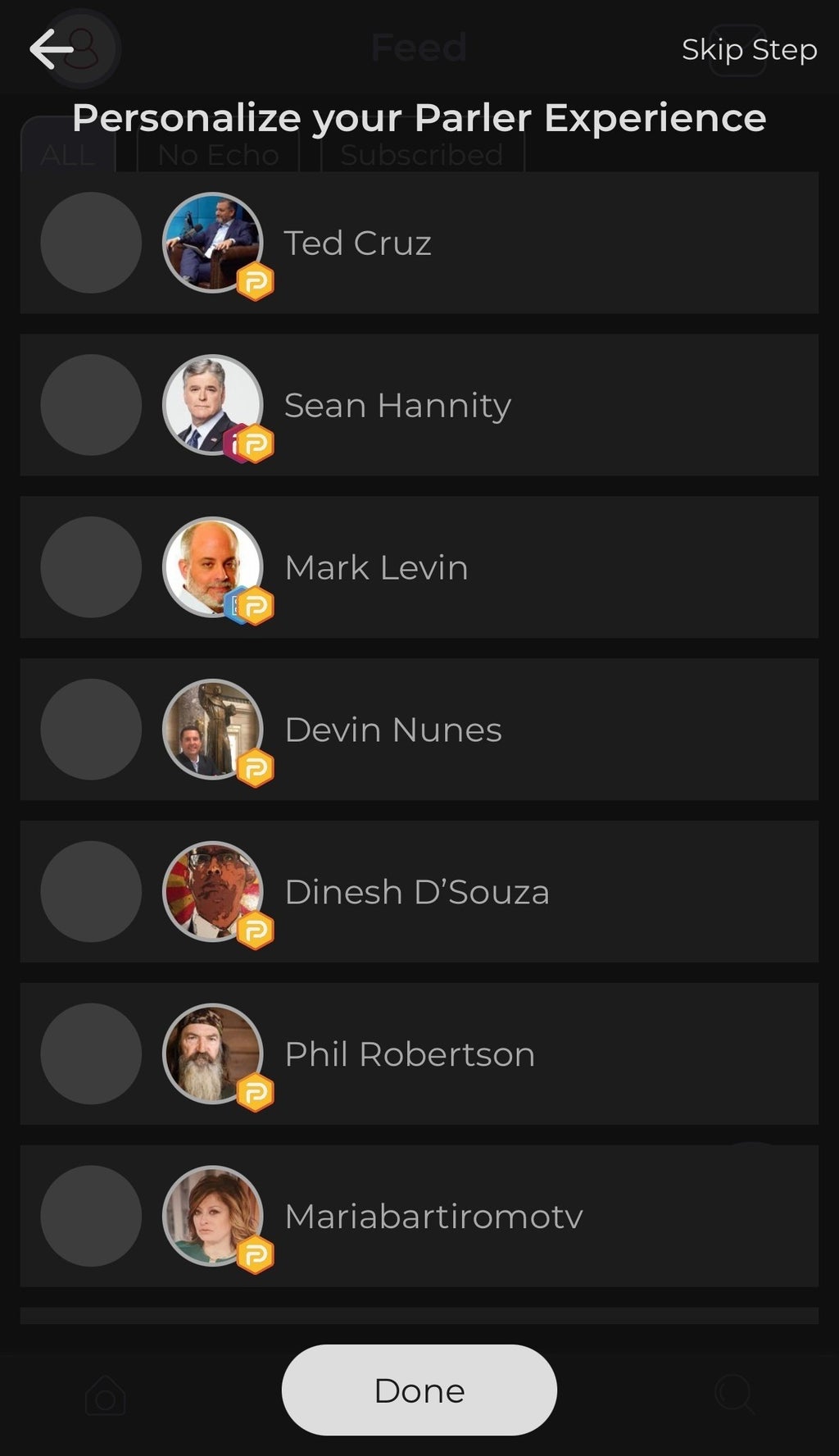 This app doesn't exist in a vacuum, and neither should our response to it. Even though the rush of users didn't occur until after Election Day, the Trump campaign had previously stated that they were considering moving all their social media efforts to the conservative app. After climbing app store charts, going from 1,023th most downloaded to #1 in a week, it's clear that the users the developers were searching for have been found. This is made even more obvious when looking at the public reviews in the Apple App Store. One reviewer states they found Parler as a way "to get away from communist Facebook," another claiming that "your identity in the matrix won't be destroyed simply because it doesn't fall in line with a one-sided narrative" should you use the app, as opposed to other social media apps. One review sums the app up well: "It has been a pleasure to meet so many other patriotic people who just want to be able to continue to advance….You have full control over your comments, and can finally speak without fear of people harassing you as a conservative person, a patriot, a god fearing human, an ALL LIVES MATTER person!"
Parler is dangerous for a variety of reasons. Not only is it an almost unregulated home to a racist and violent fanbase, the founder himself has said there are no fact-checkers. That's not a typo. In an interview with Forbes, John Matze, founder of Parler, stated, "There are going to be no fact checkers. You're not going to be told what to think and what to say. A police officer isn't going to arrest you if you say the wrong opinion. I think that's all people want. That's what they like." This can lead to a myriad of consequences, one of them being an increase in the spread of conspirary theories much like the ones spread by QAnon, and even theories more underground than that. 
We've long been weary of the rejection of facts the Trump fanbase has partaken in and the Facebook and YouTube rabbit holes that have lead moderate Republicans into alt-right groups. But the Parler app has the ability to surpass all of this by far; there's now a literal conservative echo-chamber that's unregulated and growing massively in popularity. This isn't something we can turn a blind eye to, this is something we need to actively fight against. The question now, is how?