2023 should just be recognized as the year of Taylor Swift at this point. It's hard to scroll on social media or go on the internet these days without seeing her name or face appear, whether for her ongoing Eras Tour, the trailer for her film about the tour that will come to theaters nationwide in October, or for her rumored relationship with NFL Kansas City Chiefs tight end, Travis Kelce. 
While nothing has been confirmed officially, over the past few months, fans have gathered numerous instances and sightings that might support any suspicions. With an updated moment from Sept. 24 where Swift attended Kelce's game against the Chicago Bears, let's go back and review some of the previous moments that led people to believe the two are actually together. Her Campus has reached out to Swift's and Kelce's teams for comment on the dating rumors, but did not hear back by the time of publication.
July 2023: Swift performs in Missouri, and Kelce tries to shoot his shot. 
Back in July, the New York Post reported that Kelce had a plan to get Swift's attention while attending her show in Kansas City. Kelce mentioned to his brother on an episode of his podcast New Heights that he made a friendship bracelet for Swift with his phone number on it and planned to give it to her before the show, but revealed he didn't get the chance to give it to her. 
Sept. 21, 2023: Kelce addresses the rumors on ESPN's The Pat McAfee Show.
On Sept. 21, Kelce made an appearance on The PatMcAfee Show and was asked about the dating rumors between him and Swift. He compared the entire situation to a game of telephone and even brought up his brother, Jason, being asked about their relationship on live television and giving mixed responses on whether or not it's in fact true. Kelce ended the interview by stating that he "threw the ball in her court… I've seen you rock the stage in Arrowhead, you might have to come see me rock a stage in Arrowhead."
Sept. 24, 2023: Swift sees Kelce "rock a stage" at a Chiefs game.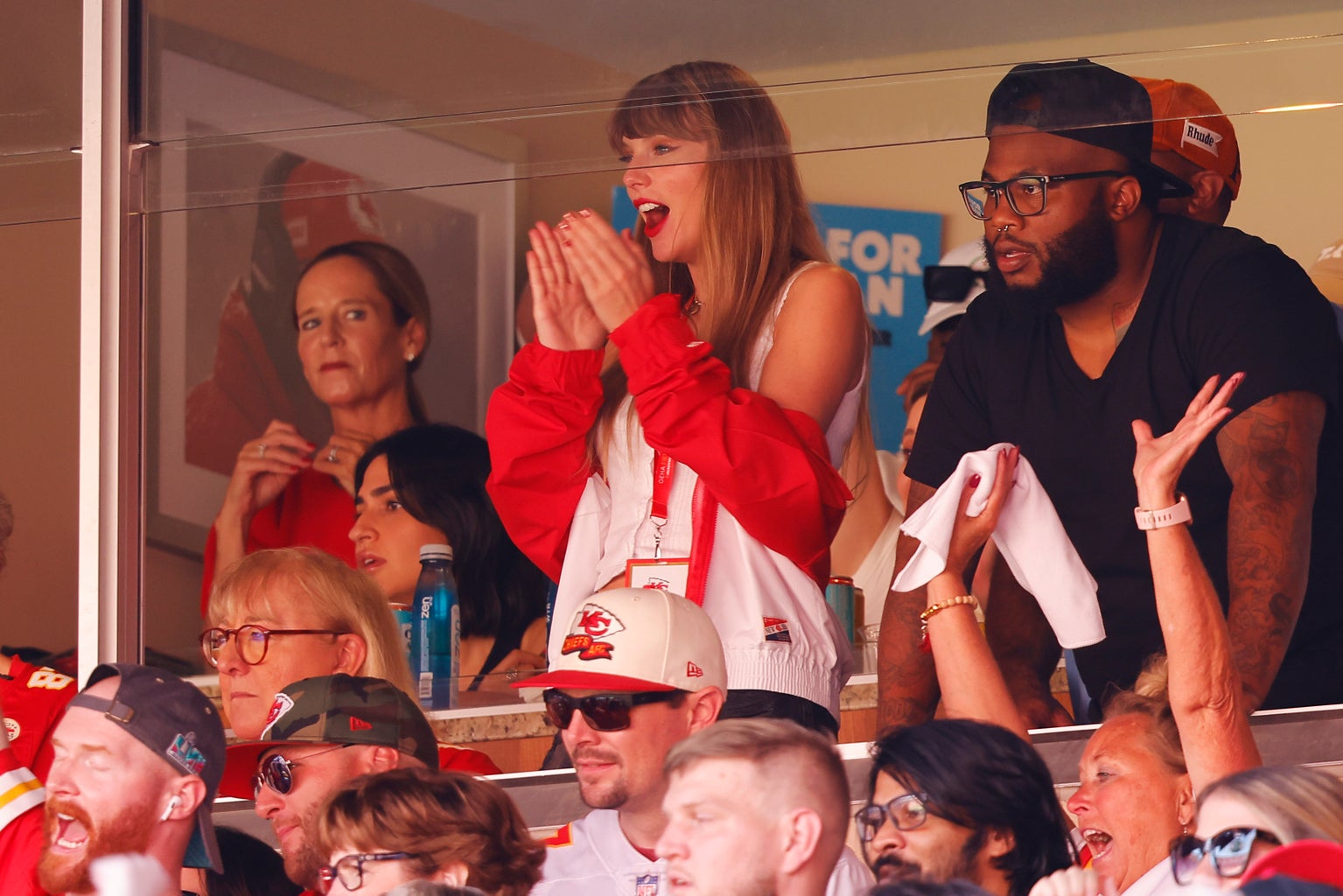 Just this past weekend, Swift was spotted sitting with Kelce's mother in a video posted by FOX Sports: NFL on X, formerly known as Twitter. She is seen in the video wearing red and white and cheering on the Chiefs. 
The NFL's official Tiktok account posted a video showing Swift and Kelce leaving the stadium together after the game was over. 
Sept. 24, 2023: Kelce reportedly rents out a restaurant for Swift and the team.
According to an exclusive Entertainment Tonight report, Kelce rented out an entire restaurant for Swift and the team for a private party after the game. Apparently they dined at Prime Social Rooftop in Kansas City and diners at the establishment were told they had to leave by 8 p.m. — but the restaurant did offer free drinks at the sister restaurant a few floors down, as mentioned in the ET report. 
Some fans are still speculating the validity of their rumored romance, but all the excitement is definitely keeping people wondering whether or not the pop sensation and athlete truly are an official couple.