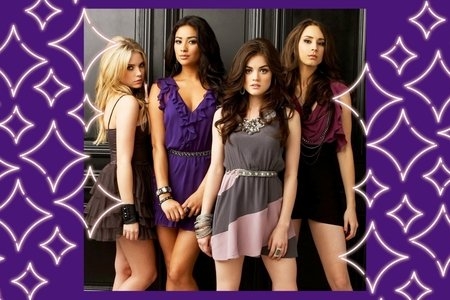 ABC Family / Freeform / Canva
It's Been 3 Years & I Still Look to 'Pretty Little Liars' for Fashion Inspo
Pretty Little Liars was one of those shows that I loved for its drama and intense storylines, but I was equally fascinated by the amazing wardrobe. I'd spend as much time per episode wondering who A was as I did frantically googling the liars' outfits. In high school, I even attempted to recreate some of their outfits IRL. It's safe to say, I loved PLL.
Maybe it's the fashion major in me but, in my opinion, one of the best parts of a good tv show is its amazing style. Costume brings characters to life and tells a story that goes deeper than the allotted episode time. What we wear is such a personal expression of self that tells the world who we are without having to speak. In television, a good wardrobe tells the audience more about the characters they are watching. Costume designer Mandi Line nailed it when it came to styling the cast. 
From Hanna's glam it-girl style to Spencer's preppy hipster vibes, Pretty Little Liars spanned a wide range of styles to inspire a myriad of girls' personal wardrobes. I know I'm not the only one who rocked my feather earrings in middle school a la Aria Montgomery, so here's some new wardrobe inspo, plus how you can get the look in 2020!
Hanna
If I could raid one liar's closet, it would be Hanna's. A fashion mogul, she was always ahead of the curve when it came to new trends. Cheetah print? Hanna was rocking it first. Killer high heels? Hanna has a seemingly endless supply. To steal Hanna's it girl look today, pair a flirty mini dress with your favorite heels and a pink moto jacket. 
Aria
Aria always looks straight out of an Urban Outfitters catalog. Her bold accessories and mixed prints would look perfectly boho chic today. It's always fall in Rosewood, so it comes as no surprise that the girls have killer jacket collections. Aria's in particular is full of edgy leather jackets that are just as trendy today. Pair yours with a cool velvet dress to channel Aria's girly meets edgy style. Don't forget the feather earrings!
Spencer
Spencer's preppy style is always given a quirky twist. She loves classic pieces with a modern twist. Her wardrobe is basically your guide to looking polished at your internship. To steal Spencer's style, top a preppy shirt dress with a drapey trench coat and give it a personal wist with your favorite accessories. Consider it your go-to fall look. 
Emily
Emily is the queen of looking cool and casual at the same time - and her denim collection is unmatched. Truly the style icon for college students everywhere who want to look cute while staying comfortable. Channel Emily in a pair of ripped jeans, a slouchy tee, and a cool bomber. 
Alison
Alison's closet is filled with bright colors and ultra feminine pieces. Her ladylike style is perfect for all the girly girls out there. For the 2020 take on her style, rock a floral maxi dress in soft, pastel hues. Top it with a matching cardigan when fall temps drop. 
If anyone needs me, I'll be simultaneously binge-watching Pretty Little Liars and shopping online indefinitely.
The Her Campus National Editors write about products we love and think you'll love too. Her Campus has affiliate partnerships, so we get a share of the revenue from your purchase. All products are in stock and all prices are accurate as of publication.