In Her Campus' series Next Question, we rapid-fire interview emerging talent about what it's like to rule over the internet. This month, actress Leah Lewis is in the hot seat to answer our burning questions. 
Leah Lewis is a girl's girl. And, as a girl's girl, the Elemental actress is a massive supporter of female friendships and women-led spaces. (I mean, aren't we all?) "I love my girlfriends and I know how different we are and how much work it's taken to respect, support, and love each other through everything," Lewis tells Her Campus.
So, with the upcoming release of her most recent project, Tripped Up, which has been approved for an interim agreement by SAG-AFTRA and will hit On Demand on Oct. 27, Lewis is ready to dish up a serving of some good ol' girl power.
Directed by Shruti Ganguly, Tripped Up is a road-trip comedy movie that focuses on fun, food, and female friendships. Joined by stars like Ariel Winter, Ashley Moore, and Sasha Fox, Lewis plays the film's protagonist, Lizzie — a headstrong, aspiring chef who heads off to compete in the prestigious Saucy Food Festival with her three best friends in tow.
"The moment Tripped Up was pitched to me, I was already really excited," Lewis says. "The fact that I was able to be a part of a film that also displays female friendships is like a life-mirroring-art-mirroring-life kind of thing."
Lewis' official status as a girl's girl is something that shines through on-screen — especially when it comes to her interactions with her costars, which came naturally to her on the predominantly female set. "When you have so many strong, lovely, powerful women in one room, I could feel that everyone was like, 'OK, at what point are we going to really show who we are and give ourselves to each other?' And it happened pretty quickly. Once the seal was off? Pop."
Above all else — even more so than being a girl's girl — Lewis is a worker. Having acted since her teens, the 26-year-old multi-hyphenate has been chasing her dreams her entire life. Portraying her character Lizzie was also an instance of life mirroring art for Lewis. "I really relate to this aspect of [Lizzie] always being hard on herself — I think it's something that is kind of a double-edged sword, where it can propel you to where you need to go and to do better, but it's also something that can hold you back," Lewis says. "Her dream of becoming a chef definitely mirrored the way that I have focused on my career [as an actress]."
Below, get to know the Tripped Up star as Lewis takes us on her dream road trip, dishes out servings of wisdom, and gives us a bite into her life as a creative (and a food lover, too).
This interview has been edited for length and clarity.
You and I just started a road trip: What's the first song you put on?
"Wasting Time" by Nathaniel Rateliff or "Bathroom Light" by Mt. Joy.
Where do you want to take a dream road trip?
I would want to do the Ha Giang Loop in Vietnam. I just got back from Vietnam, and that was a road trip that we could not do at the time and I really, really want to do that. The first thing that came to my mind was "Yosemite," and I was like, "You can do better, girl. Don't do that."
What's your favorite adventure you've been on with your besties?
I had a four-part adventure with one of my best friends, Alexia. We went to these sand dunes in California at 6:00 in the morning and then we went to the Salton Sea. Right after that, we hopped over to Joshua Tree. It felt like five days in one day. She's one of the only people in my life who would do something like that with me — well, except for Sasha [Fox]. 
You're a photographer — would you rather capture road trip memories on film or digital?
Film. But I'm getting to a point where it's so expensive that it's pushing me out. I'm having to get my film developed in Orlando lately because it's so expensive anywhere else. But, the colors are so deep. There's not much that you really have to do with it. Film for sure.
Skip a hot dog eating contest: What's one food you can eat and never get tired of?
Hot pot. Hot pot all day. Beef broth, beef, salt, and MSG. We love it.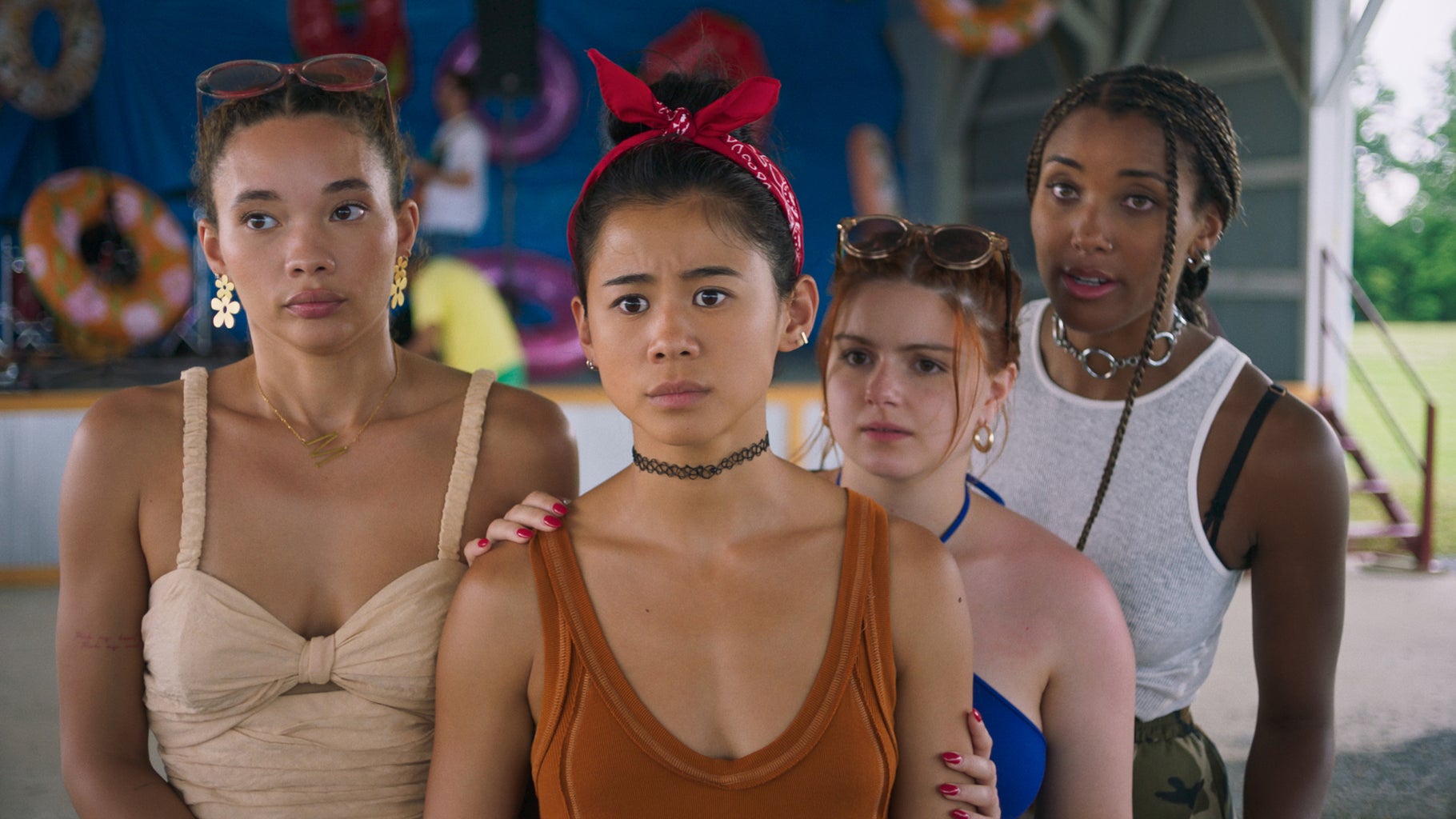 You're a foodie: What are you ordering for the table at dim sum?
I'm getting the steamed pork ribs. I'm getting chicken feet, for sure. I'm getting the egg bao bun, I'm getting the barbecue bao bun — steamed and baked. I'm getting shrimp shumai, but I'm also getting xiaolongbao. And sticky rice. I love a good sticky rice. God, that's the entire menu.
Any advice for following your dream, even when you're struggling to?
I think consistency, persistence, and persistence, and persistence. Your dream is going to look different as you age. You are going to be different as you age as well. But I think with consistency, persistence, and hard work, there's nothing you can't accomplish. If I had given up on my dream of acting, I wouldn't have been able to live with myself. Even if I had never, ever booked a role, I could have been proud of the fact that I had worked my ass off and did the best that I absolutely could. All you can do when it comes to giving honor to your dreams is working your ass off for it.