It's not always easy to practice self-love. In fact, it's often one of the hardest things to do. Both external forces and internal thoughts can get in the way, reminding us that practicing self-love is a mindful endeavor. It causes us to slow down and take a step back from life's daily noise. For those whose careers center around media and pop culture, taking that step back is arguably a bit more difficult. Being on camera or on-air and offering insight on the latest news and trends is exciting, but it doesn't always leave room for self-reflection or personal creativity. And when there's little space for those things, we experience burnout. But one thing's for sure: media and entertainment creatives are some of the brightest and most resilient people out there, because they know well that building and recognizing personal identity is at the core of who we are.
Meet Hannah Rad, a Los-Angeles-based on-air talent, DJ, TV/radio host, and content producer — someone whose line of work thrives on the pulse of pop culture. With 15+ years in the media and entertainment industry, Rad practically eats, sleeps, and breathes it. She's been a music and lifestyle host for ESPN X Games, Twitch x Grammy's "Sessions" Series, and E! Daily Pop, among others. She hosted the launch of Cardi B's first collab with Fashion Nova (2018), the MTV game show 'Crash Karaoke' (2018), the inaugural Electronic Music Awards (2017), and more. As a DJ, she's spun events for Apple Music, Beats by Dre, and Topshop, to name a few. Not to mention, she keeps up with a strong fitness regimen and absolutely rocks her personal style (to which her Instagram feed can attest).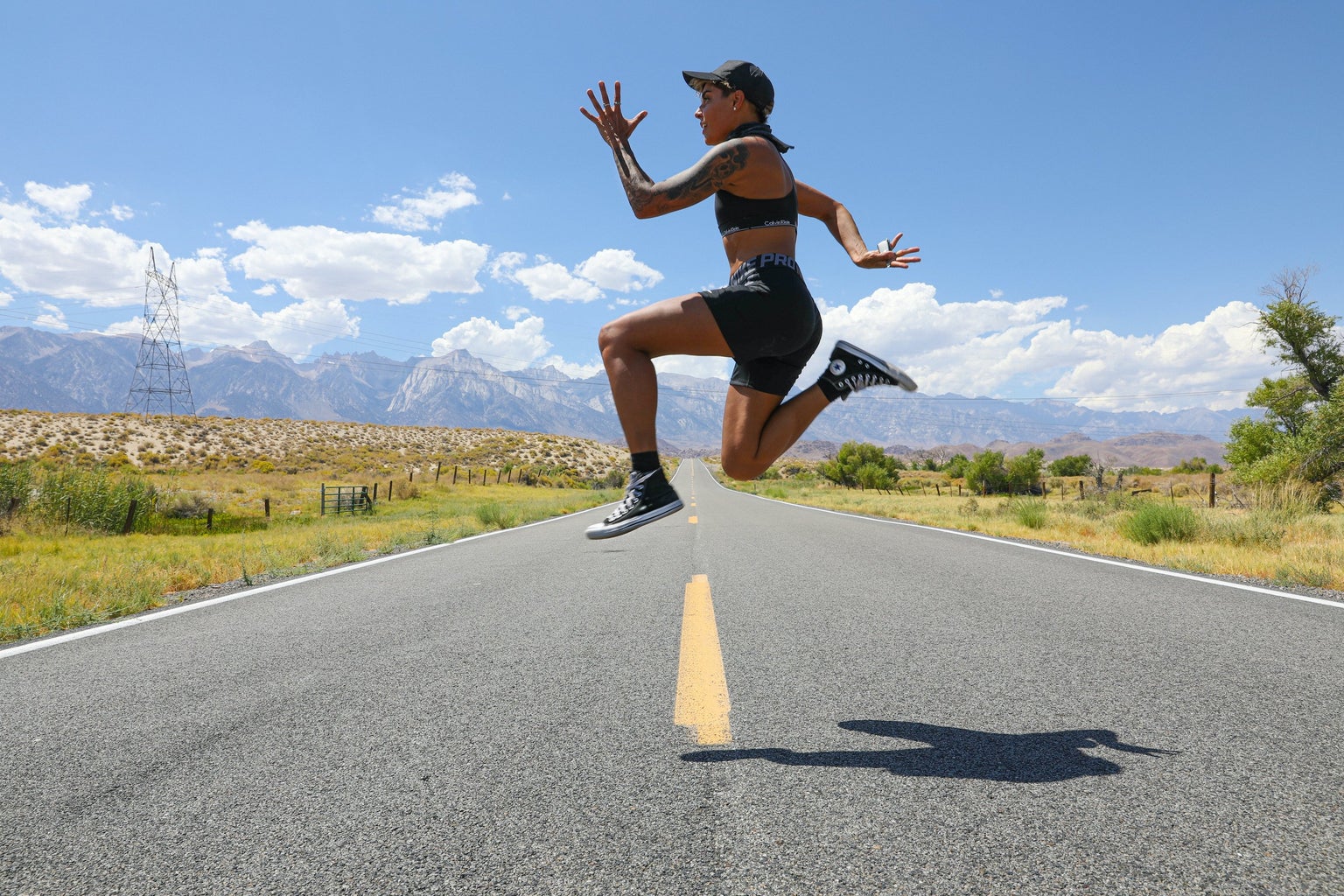 But this past summer, Rad took time to step back from the ever-changing landscape of media and entertainment to focus on a different type of movement: her mental health journey. She embarked on a solo road trip to seven locations in California, filming herself sharing vulnerable stories at each location as a form of healing and self-love. She compiled this footage into a YouTube series called Sorry to Keep You Waiting. The crowdfunded series, which has been greenlit for a second season, is up close and personal, aiming to destigmatize conversations surrounding mental health. Rad opened up to Her Campus about the process of creating the series, her thoughts on mental health, and what's up next in her career.
Writing a self-love letter
In the series' launch trailer, Rad describes Sorry to Keep You Waiting as a "self-love letter." She tells viewers about her struggles with intense active anxiety and how, in addition to continuing her work with a licensed clinical therapist, the solo road trip will help her break down the mental barriers that keep her from moving forward on her personal journey of self-rediscovery.
Rad arrived at the idea for creating the series in the midst of her anxiety, when she realized that sharing her vulnerable experiences out loud could help her work through them. Once she made that realization, she knew that giving herself over to the project was the best way to make it happen. "The word 'surrender' kept me going through the whole process, from crowdfunding to planning the journey to the actual drives and filming itself," she says. "Even afterwards, while watching all the footage and editing it myself, I had to fully give myself over to the process with no holds barred and being fully vulnerable. It was definitely a new way of operating for me!"
Adopting a mindset of embracing being lost (rather than shying away from it) is a key theme in the first episode that's strung through the entire series. With each vulnerable experience that Rad shares out loud, she makes this mindset tangible. She tells her stories, confronts the emotions that come with them, and leaves behind any weight or negativity at each destination. This is the act of writing the self-love letter.
Finding healing through therapy and nature
As a mental health advocate, Rad is open about the methods she uses to cope with anxiety, but emphasizes that taking care of your mental health is going to be specific to you and your needs. "There are so many resources for anyone to ask for help, either through a counselor, therapist, or online outlet," she says. "No one way that works for me will necessarily work for everyone. The best thing I can do is reveal how, what, and who helps me to stay motivated and in a great mental state. Therapy, along with a great fitness routine and dedicated time in nature, are the spaces I utilize best."
For Rad, spending time in nature was especially healing during this past year, as it was for many. "2020 was strange," she says, "but I felt my best when I was near or in water. I went out of my way before the project started to go on hikes and find lakes, waterfalls, etc. (especially when beaches were closed) because I've been drawn to the water ever since I was a kid. I do my best thinking, learning, and manifesting when I'm in those places."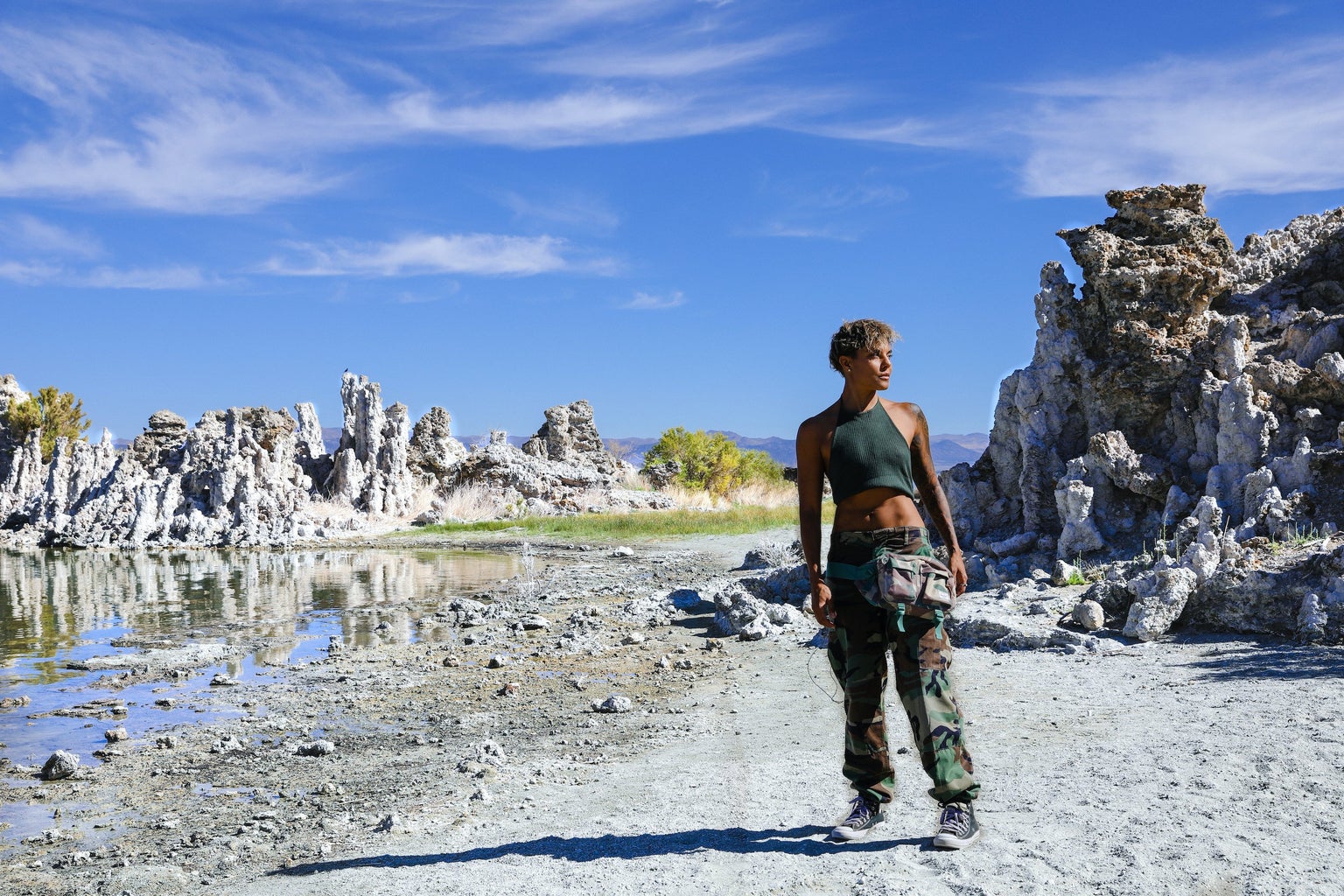 The places Rad ended up choosing for her seven destinations are truly awe-inspiring. She starts her trip in the desert landscapes of Joshua Tree and Death Valley; heads to the shining waters and mountainous regions of Mammoth Lakes, Mono Lake, and Lake Tahoe; and concludes with the beaches of San Francisco and Big Sur. Covering the trifecta of California terrain, Rad's backdrops are as serene as they are powerful. It's almost as if her surroundings are listening as she voices her past experiences, and they echo back with hope and peace.
Putting the "pop" in pop culture
After taking a break from her typical work schedule to produce Sorry to Keep You Waiting, Rad decided to jump right back in. Last fall she signed on as a co-host for Complex Networks' new pop-culture-minded Twitch series The Daily Drift. The digital talk show, which airs Tuesday through Friday from 3-5 p.m. EST, is designed so that viewers can catch up on the pop culture news they might have missed earlier in the week. The hosts cover everything from food and music to fashion and art. What's more, viewers can weigh in on topics and trends through Twitch Chat, an aspect of the show Rad finds meaningful and exciting. "Twitch has been invaluable in forming a community and having immediate viewer feedback and responses," she says. "They'll let ya know real quick if they're feeling a headline or not, and we have the flexibility to change the show up on the fly, which is incredible." The Daily Drift is one of only three of Complex Networks' interactive series on Twitch, potentially paving the way for more virtual shows with real-time audience interaction.
In addition to the interactive format, Rad was drawn to the show because of the storytelling opportunities it offers both the guests and the hosts. "I've always dreamed of having a space to help tell others' stories while also allowing my unique personality and opinions to shine," she says. "I'm so grateful for the platform via both Complex and Twitch to speak on pertinent/trending topics while also conducting interviews and special segments." Rad has hosted a variety of stars, including Netflix's Grand Army actor Maliq Johnson, singer-songwriter and Grammy nominee Tayla Parx, Milwaukee-born rapper Lakeyah, and 15-year-old twin DJs Amira and Kayla. After watching these interviews, it's easy to tell how much Rad truly loves interacting with anyone and everyone. She not only asks about people's work but also how they're doing, a simple but powerful example of how she genuinely cares about having conversations surrounding mental health and wellness.
Then, of course, there's the pop culture aspect. And when it comes to pop culture, Rad is all in. "I love the word 'pop' when it comes to any form of culture or entertainment," she says. "Not so much that it means a certain style, look, or sound, but that it's legitimately the shortened way of saying 'popular'. And that's the cool thing about it — what's cool one day may not be what's hot tomorrow, regardless of genre, person, vibe, follower count, etc. We're in a quick-changing landscape where anyone or anything can be 'pop' culture." When Rad is on-air, she lights up, always ready to dive into the latest topics that are making waves in the sea of news and media.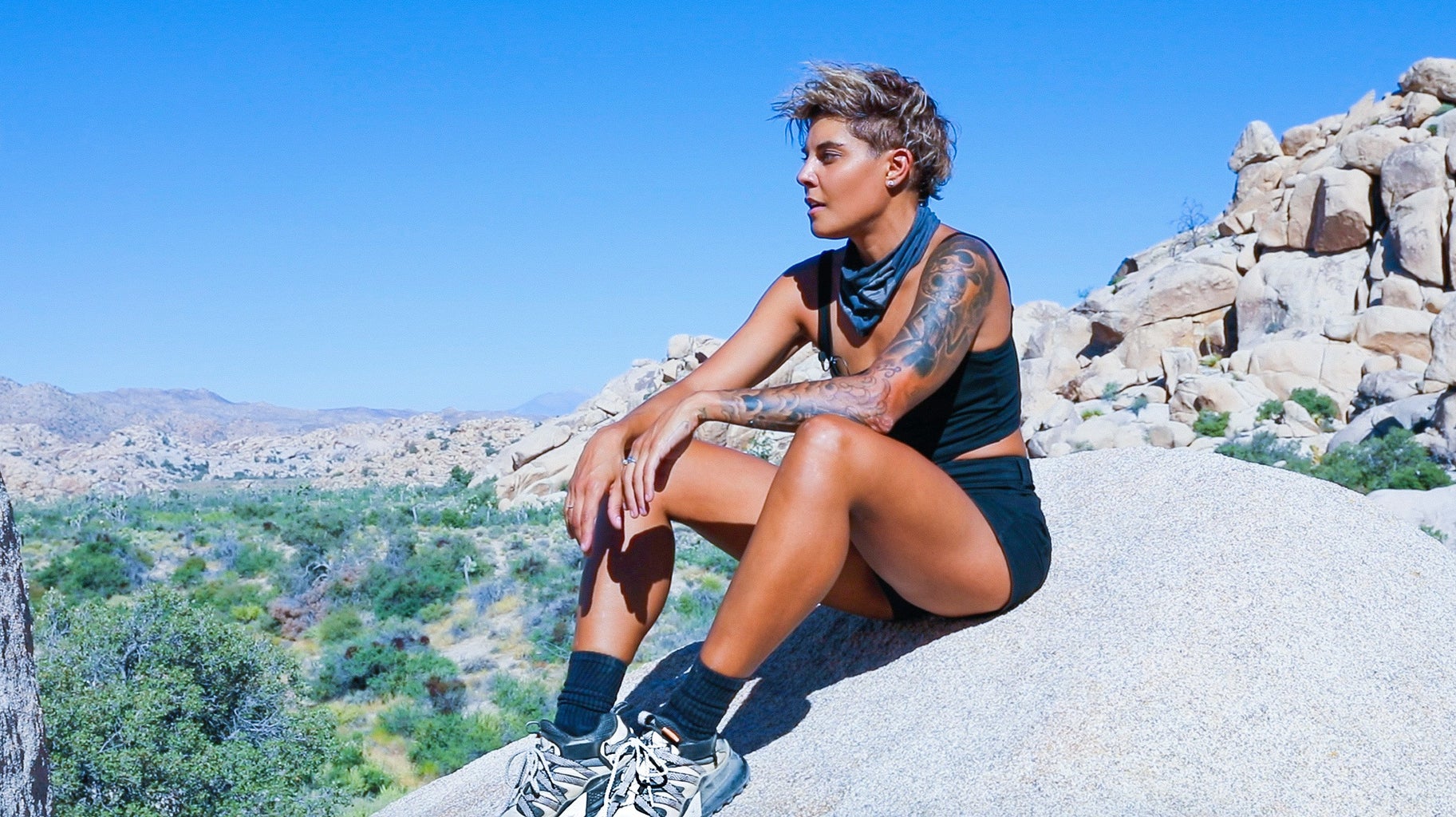 In both Sorry to Keep You Waiting and The Daily Drift, Rad shows viewers her authentic self. The Rad we see in the former is more intimate and vulnerable, and in the latter more outgoing and self-assured. Both are undeniably her. And as someone who has a love for life, people, and making new discoveries, she champions the value of living authentically. "Our authenticity is the most valuable form of social currency and self-awareness. We're living in unprecedented times and if we can't be our true selves now — well, if not now, then when?"
Learn more about Hannah Rad at hannahrad.com, or find her on Instagram and Twitter. Catch her on The Daily Drift on Tuesday through Friday from 3-5 p.m. EST. Check out the first season of Sorry to Keep You Waiting, and be on the lookout for season 2!