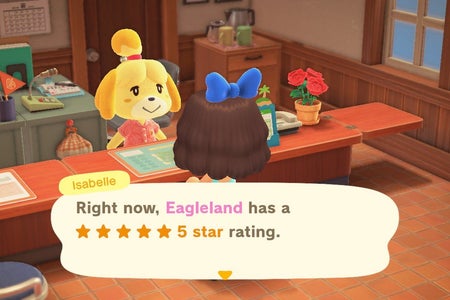 So You've Got a 5-Star Island in 'Animal Crossing: New Horizons' – What Now?
One of the biggest milestones to hit in Animal Crossing: New Horizons is a 5-star island rating, but for players who think there's no purpose in playing after this coveted achievement, think again! From exciting events like bug-offs, new summer updates – Nintendo has a flurry that will release throughout the year – and milestones yet to be completed, there's a lot more to do after you achieve a 5-star rating. 
1.

Embark on island tours

Use Nintendo's online play feature to visit your friends' islands. My sister and I live on two different continents, but we try to visit each other's island as often as possible and play together. That's her in the picture showing off her playground! I get a lot of ideas for decorating my island from doing island tours, because everyone has different styles. It's also fun to do activities like bug catching or deep-sea diving with a friend. Besides, everyone loves to show their island off, so you'll be able to embark on a new tour every day and marvel at your friends' island design. 

2.

Acquire every golden tool

There are a total of six golden tools you can obtain throughout your gameplay. The golden watering can recipe is the easiest to obtain, as Isabelle hands it to you once you get a 5-star island rating. The others are a little harder. You can get the golden slingshot recipe when you pop 300 balloons, the golden ax recipe when you break a 100 axes, the golden fishing rod when you complete the fishing section of the museum, the golden net after you collect every bug-type critter, and the golden shovel once you help Gulliver 30 times over. Bear in mind that these tools are still breakable, although they last a lot longer than regular tools. My golden watering can has been functioning for weeks! 

Donate all of your critter and art finds to Blathers till you have a full museum. This is one of the most time-consuming tasks, as Redd only visits your island once in a blue moon, but you'll achieve a great amount of satisfaction once you have a complete museum. The great part about playing this game in real-time, though, is that you'll always have critters to donate –at least for the foreseeable future, as new seasons bring new creatures.

4.

Discover new ways to style your island

There's always new stuff packs being released. Last month we had the wedding season, and players had the opportunity to style their island as a destination wedding vista. This month, we have special mermaid furniture you can obtain from Pascal when you go deep-sea diving. Who knows what's to come next as we enter fall? The new recipes and items allow you to redecorate your island or change up your styling technique almost every month, so if you're not sure exactly how to style your island yet, keep an eye out for new item drops in the coming months. 

Initially, I paused on updating my house so I could focus on my island, but now I've been spending a lot of time decorating indoors. You can update your house for a total of five rooms, including a second floor and a basement. Some players use themes to decorate their homes, while others change their rooms seasonally with new furniture styles. Either way, completing your home can be engaging and fun! You can also win trophies and furniture items for your artistic abilities. And, it's always fun to show your decorating style off to your friends. 

6.

Hunt for rare villagers

One of my favorite parts of playing Anima Crossing: New Horizons is meeting new villagers and seeing how they decorate their homes. I have a few villagers I'm not very attached to, so I don't mind having them leave my island and then replacing them with someone new. This way I get to meet tons of new villagers with different personality types. Sometimes you can even get really lucky and meet a fan favorite villager like Audie, Raymond or Stitches!

7.

Keep track of new updates 

The new summer update came after much anticipation, and certainly lived up to its expectations. Now, island dwellers can dive, swim and collect critters in the ocean. Nintendo also teased that there would be a second summer update coming out in August. The new updates definitely boost the quality of your gameplay and keep you from getting bored with your Animal Crossing routine. The best way to keep track of new updates is to follow Nintendo on YouTube, or to check out their official site for gaming news. 

8.

Participate in seasonal events

Summer is the best time for events ,as every other week your island will host either a bug-off or a fishing tourney. You can invite your friends over and participate with them, and even redeem your points for prizes and trophies. You'll also make a decent amount of bells selling your critters for premium value. It's a win-win-win situation!
With the above pointers, your island getaway will never get boring, no matter how many times you play Animal Crossing: New Horizons.