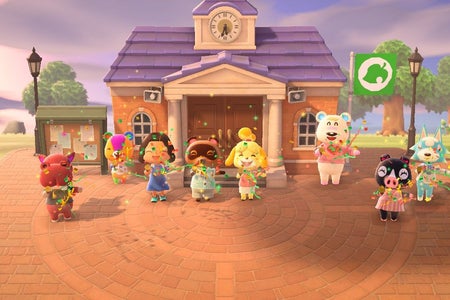 Here's How I Got A 5-Star Rated Island In 'Animal Crossing: New Horizons' (Without Time Travel)
If you're like me, you're spending countless hours playing Animal Crossing: New Horizons during this endless quarantine. The game's popularity has catapulted during the last few months, and many players have taken to YouTube to showcase their elaborately decorated 5-star islands. But there are still gamers out there struggling to gain that perfect rating from Isabelle. If you're one of them and need a few tips to help you reach the coveted 5-star milestone, look no further; here's how I was able to achieve 5-stars, without any time travel! 
1.

Increase your villager count    

Since you can only get three stars once you have at least seven villagers, it makes sense that adding more villagers will help you get an even higher rating. I had 10 villagers at the time of gaining five stars, though there are some gamers that reportedly received a 5-star rating with as few as 8 villagers. To play it safe, try to make sure every plot is filled. 

This one isn't compulsory, but it will help you reach a 5-star rating faster. Upgrading Nook's Cranny and adding Able's Sisters to your island will give you additional development points, which will boost your rating – especially if you're right at the cusp of getting five stars. Once I had Nook's Cranny upgraded, it took me about two days to hit a perfect rating.

3.

Plant a ton of flowers

Besides gaining the satisfaction of watching flower hybrids spawn, fully bloomed flowers add to your island rating. I made a small flower garden surrounded by fencing so I could keep track of my hybrids and flower count, but it's up to you where you decide to plant your flowers. Some gamers even plant their flowers on the beach for added scenery! 

4.

Know that fencing is your friend

Back when I was first trying to get a 4-star island rating, Isabelle kept nagging me to use fencing. I eventually caved and really enjoyed building little fenced areas. You can fence your neighbor's homes or even get more creative and create fenced off venues. I created a fun concert hall using rope fencing, and was pretty satisfied with the finished product!

5.

Purchase Nook Mile items

Spend those hard-earned miles on furniture and DIY recipes. Make sure to get a variety of items as well, instead of creating the same DIY recipe over and over. I had about 20 Nook mile items when I reached five-star island status, but the more the merrier. Bigger items also generate more points, so grab those lighthouses and light up robots. 

Create small, decorated areas like a playground or a gym using multiple furniture items. Adding a variety of items in close vicinity will multiply your points faster, rather than one lone item. You can get new items every day through Nook's Cranny and Nook shopping, so be sure to check their selection daily. Popping balloons also gives you cool, new items not yet available in the store. I was able to get drum sets, diner furniture, and slot machines though balloons. What you make is entirely up to your imagination. Create a cafe, an arcade, or even a UFO base! 

7.

Don't forget about the beach

All of your island needs to be decorated, and this includes the beach. Create campfires, picnic areas, or even put out fishing equipment. If your creativity is running low, add some flowers and palm trees and you can call it a day. Just make sure not to leave it bare!

8.

Make every part of your island accessible

This means adding ramps and bridges through Tom Nook's construction counter. Accessibility adds to development points, which are necessary to get a perfect rating. It doesn't matter if you add the cheapest or most expensive bridges and ramps to your island, as long as you can get around easily. I added a total of nine bridges and inclines to my island, but you can definitely add more. The more platforms, the better!

Bear in mind that overplanting can knock down your rating. The sweet spot is around 100 trees, but you can go as high as 200. Also, make sure to add a combination of different fruit trees instead of cedar or hardwood saplings. 

10.

Keep your island clean

Grab those pesky weeds and keep your island clutter-free. A few weeds won't harm you as long as their growth doesn't get out of hand – I had about four weeds on my island when I hit five stars – but if you let them overgrow, you won't make it very far!
If you're still looking for ideas, try visiting your friends' islands for inspiration. There are also a lot of 5-star island video tours out there that you can watch. Also, keep in mind that it did take me a little more than a month to hit the 5-star milestone, so if you're a new player, don't fret! When in doubt, check in with Isabelle – she'll let you know what you're missing!