This year, traveling back to my HBCU for homecoming is not just about touchdowns and cheering crowds. For vendors, and especially young entrepreneurs like myself, setting up shop at HBCU football games is a one-of-a-kind experience. Tapping into this vibrant market during football season positively impacts both the campus community and my entrepreneurial journey.
A year after starting my online shop, HBCU Campus Baddies, in 2021, I ventured into selling in person. HBCU football games hold immense cultural importance. These events bring together students, alumni, families, and communities, fostering a sense of unity and pride. By participating as a vendor, I became a part of this cultural tapestry, contributing to the festive atmosphere and building connections within the HBCU community.
My business resonates with students because it is a unique cross between HBCU merchandise and recent fashion trends that students can't get in their bookstore. The merchandise on my site ranges from dorm essentials, like slippers and notebooks, to clothing pieces like graphic t-shirts and crop tops that use Gen Z slang to highlight HBCUs. I build more loyal customers every time I vend on campus — the best feeling is meeting girls in person who already follow the brand!
It is nerve-racking to engage your peers and talk to new people in such a large setting. I started my business as a senior in college, and in just a year since graduating, I already feel like I've changed as a person so much. I'm still learning how to let go of imposter syndrome and step into my role as CEO. I know that my customers love the work I put into this business and I deserve to be next to, oftentimes, older adults and more established brands that sell during games. I've grown to like stepping into a new persona when I go on a new campus. 
I have learned a lot through this experience of being a vendor at HBCU homecomings. For every one success, there are 100 failures. My first time vending included just one table and some balloons, but I managed to sell out by being charismatic. Other times I have had a tent, two tables, lights and a clothing rack, but sold nothing. I try not to let this discourage me. There's also risk that comes from weather, and games being canceled, all while vendor fees are normally non-refundable. Luckily, there are larger organizations that support businesses. Recently I received a vendor grant from Black on The Block, a monthly pop-up shop market that supports Black entrepreneurs. With support like this, I can keep myself covered.
The revenue generated during these events can be substantial, but the best part is handing out my business cards and getting 100+ new followers after I leave. I hope my success as a vendor has a ripple effect, potentially inspiring others to explore entrepreneurship.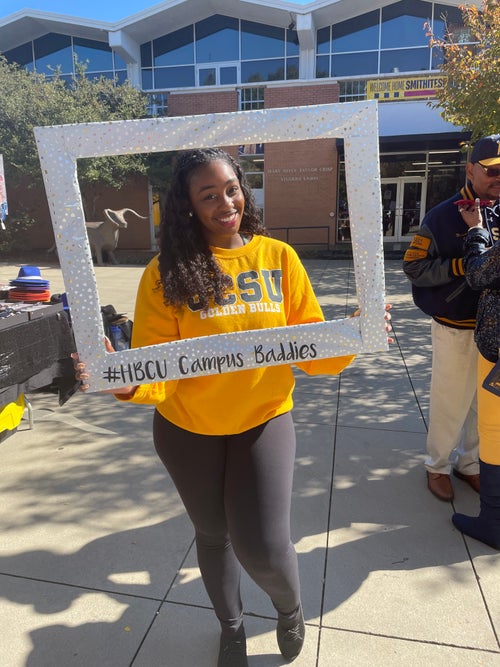 So far I've been able to sell at my alma mater North Carolina A&T, Johnson C. Smith, Benedict College, and other HBCUs in the South. I love seeing the spirits of students and fans at different campuses. My latest entrepreneurial venture is creating job opportunities for students. Hiring local students to assist with my vending operations helps support the local economy and provides students with valuable work experience. I'm grateful that they love the brand and want to participate in its growth.
The visibility I gain at HBCUs during homecoming season has translated into long-term success for my business beyond the football season, too. I hope to become a symbol of empowerment, showing them that they can achieve their goals and succeed in any industry. In addition to serving as an inspiration, I engage with female students interested in entrepreneurship, offering guidance, advice, and support. These mentoring relationships can be invaluable in helping young women navigate the challenges of starting and running their own businesses.
My goal is to become a familiar face, someone who contributes positively to the campus environment. I would love to speak at campus events about my entrepreneurial journey after graduating and inspire other college students. Over time, I know that people will recognize my presence and the contributions I make to their game day experience. Luckily, HBCU homecoming season isn't going anywhere anytime soon. Every year, there is a new group of alumni and current students that I can connect with. With 107 HBCUs across the U.S., I see myself eventually having booths at more than one school at a time and allowing girls across the country to become HBCU Campus Baddies. 
Vending at HBCU homecomings is not just about making a profit; it's about becoming part of a culturally rich experience that empowers individuals and communities. I have the opportunity to impact the campus culture positively, create job opportunities, and inspire the next generation of female entrepreneurs. So, grab your bestie or go by yourself, set up your vending booth, and be a part of the vibrant HBCU football season, where entrepreneurship meets cultural celebration, and dreams are ignited.