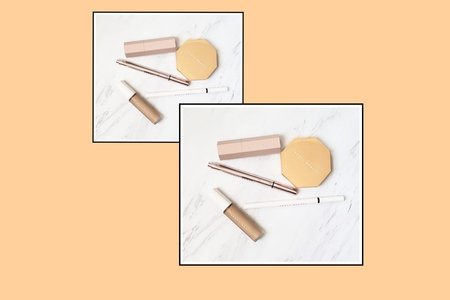 5 Things You Should Buy in Your First Fenty Beauty Order
Ever since the release of her makeup line almost two years ago, Rihanna's Fenty Beauty has earned a dedicated following for products that are high-quality, inclusive and aesthetically pleasing. The Pro Filt'R foundation made a splash with a wide range of shades for every skin tone, and every product since then has been one to rave about. Now, the cosmetic brand has blossomed into a complete line — with Rihanna still in the process of creating more new products to blow our minds. 
From the concealer to the bronzer to the setting powder, I've tried pretty much everything from Fenty Beauty. If you haven't already jumped on this train, you might be wondering where to start. Well, rest assured, I have tested and found my go-to faves that I know I'll keep coming back to once I run out.
There have been many new product launches in the past two years, so allow me to be your personal guide to everything Fenty Beauty and what you should shop your first time around.
This might seem like a steep price to pay for five products, but if you're into the high-end stuff and want some quality makeup, I'd say invest. A little goes a long way with these products, so trust me, they'll last you forever. Most of these also have a shelf life of over a year, so once you buy, it'll stick with you for a while. 
The Her Campus National Editors write about products we love and think you'll love too. Her Campus has affiliate partnerships, so we get a share of the revenue from your purchase. All products are in stock and all prices are accurate as of publication.