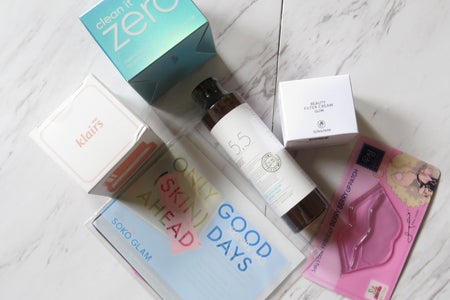 4 Products That Helped My Oily Skin Survive the Hottest Summer Ever
It's the tail end of summer, my favorite season of sun, sand and unfortunately, sebum. For those who don't know, sebum is the oil produced by your skin's glands which causes the shine buildup on your skin. Your skin naturally secretes sebum all the time, but during the summer, your skin produces waaay more of it due to the heat, just like how your body releases more sweat. It doesn't sound cute, I know, but this process is completely normal and there are plenty of products that can help to keep the oiliness at bay.
As a person with naturally oily skin, I can say that I have gone through my fair share of products for oil control, and I am happy to pass on recommendations of those that have worked the best for me. Hopefully, they will for you, too!
Having oily skin can be rough, especially when it feels like your makeup and skincare are melting off after a couple hours. But there are plenty of products like the ones I've mentioned that can help provide clean-yet-glowy skin, from summer leading into fall. Don't let the sweat, heat and oil stop you from having a good time. Instead, use the season to play with other products that work for oily skin. And please, LMK what you find so we can get through this season together. 
Just a heads up — this article may contain affiliate links. While a purchase through affiliate links doesn't impact the price you pay, Her Campus Media may receive a small commission. All products' prices and availability are accurate as of publication.