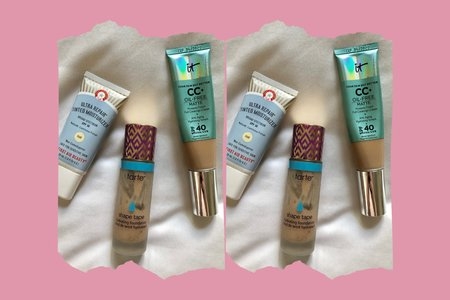 The Difference Between Foundation, Tinted Moisturizer, CC Cream & More Base Products
When it comes to base products in your makeup routine, it's difficult to choose which type is actually the right one for the look you're going for. With many different choices in the beauty aisle, it's important to take into consideration your skin type and how heavy you want the coverage to appear. Do you want a full-coverage, matte look? Or do you want a dewy, hydrated look? What if you have five minutes to get ready for class and need something to make you look more awake?
To help you distinguish between your options, I've provided descriptions of each base product, along with some specific recommendations based on what bases I love to use the most. 
Foundation
Typically used for the most coverage, foundation is your go-to for a flawless finish. It can be heavy, and it's good for hiding blemishes and evening-out your skin. Out of all your options for base products, it definitely takes the longest to apply because it needs blending, so it's ideal to use it when you have time on your hands. Some of my favorites are the Tarte Amazonian Clay Full Coverage Foundation and the Fenty Beauty Pro Filt'r Soft Matte Longwear Foundation.
Tinted Moisturizer
This is mainly for lightweight coverage and achieving that "no makeup" makeup look. It doesn't really provide blemish and spot coverage, but it does provide hydration and radiance to your skin. If you have dry skin, this would especially help you! I always shop the Laura Mercier Tinted Moisturizer and the EltaMD UV Daily Tinted Broad-Spectrum SPF.
BB Cream
BB, or beauty balm, cream has all the benefits of tinted moisturizer, plus more. The difference is that it has a little more coverage, plus usually some sort of SPF formula and primer. If you're looking for a natural, dewy look without buying multiple products, this one is for you. I'd say to start with the La Roche-Posay Effaclar BB Blur.
CC Cream
CC, or color corrective, cream focuses on fixing color issues in your skin. Its light formula can even out your skin, and also brighten it. My go-to is the Juice Beauty Stem Cellular CC Cream.
The next time you're shopping bases, just reference this guide for a quick reminder on how to narrow down your dream coverage product!