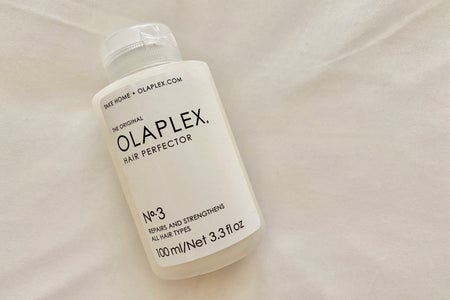 Original Photo for Her Campus Media
This Product Saved My Curly Hair When Stylists Could Not
There are few appointments I actually look forward to. The dentist frightens me, and so does the gynecologist. However, the hair salon is a different story. I eagerly await my appointment, hoping to emerge from the salon a new woman — but something always goes wrong. 
I have been to countless salons, from the Supercuts that my dad swears by, to my mom's expensive salon, to the notorious "Curly Hair Wizard" that my sister trusts with her life. One cuts it dry, one cuts it wet, one cuts it straightened. To say they have all disappointed me is an understatement. I once found myself looking like a cross between Jon Heder in Napoleon Dynamite and Justin Timberlake circa 2000. Each visit ended in tears and a visit to my local Dairy Queen.
The Problem
My hair troubles emerged long before my first visit to the salon. In kindergarten, my classmates and I would draw pictures of one another, and to my disappointment, every single student drew me as a stick figure with onion ring hair. The straight-haired girls got dimples, triangle dresses, and even earrings. I got nothing. This was when I realized that my curly hair is a curse — but also a blessing because you can see my untamed hair from a distance and just know it is me. It's cool that I'm recognizable with a standout trait, but my hair's high-maintenance nature is unfathomable.
My feelings stem from the fact that curly hair doesn't play by the straight hair rule book. I don't brush my hair for fear it will look frizzy from electrocution. Regular ponytails cause matted clumps and painful bald spots. When I take out my diffuser, my friends have no clue what it even is.
Although my curly hair issues have been ever-present, my problematic frizz, and therefore anxiety, escalated this past year. For as long as I can remember, DevaCurl products were my savior. I basically came out of the womb wearing their "B'Leave-In" Plumper. However, a few months back, curly people everywhere began claiming that DevaCurl products were causing hair damage and hair loss, and the company entered a major lawsuit. The DevaDamage lawsuit proved me right. My curly hair won't win. I was determined to find a solution. 
After futile attempts to tame and grow my hair, my hair resisted. In fact, it gave the appearance that it was getting shorter and shorter despite not cutting my hair. I returned home at the end of the semester with a different look. My friends stared at me with bewilderment. "You cut your hair." They smiled awkwardly. "I… um… really like it." Something was up. Perhaps one of my ex-enemies came into my room while I slept and cut off my curly locks? Or, just like a scene from Monsters, Inc., a monster crept out of my doorway to feast on my delicious smelling curls as they were disappearing without explanation.
Fortunately, I am blessed with two curly sisters (and a curly brother) who provide me with much advice. My sister told me that change was necessary. She introduced me to the YouTube channel that is Manes by Mell. I watched Mell's video titled "How to Grow Curly Hair That Doesn't Grow." The title itself filled me with relief. This was a real problem. 
Mell's video suggested Olaplex for my hair-growth woes. When I first read of Olaplex's power to work on a molecular level I was skeptical because companies have exploited my lack of scientific knowledge and desire for luscious locks before. But 12 minutes and $100 dollars later, I bought the Olaplex No.4 Bond Maintenance Shampoo, Olaplex No.5 Bond Maintenance Conditioner, and Olaplex No.6 Bond Smoother. 
The Solution
When my beautiful box finally arrived, I raced to the shower. The conditioner instructions said to leave the product on for three minutes (the length of one shower sing-along).
The results were not instantaneous, but now that a few months have passed, my hair is stronger, healthier, and happier — and I can see the difference. Yes, maybe it doesn't look like I have natural extensions, but I am on my way there. The secret is the H-word: hydration.
The life had been sucked out of my hair after years of bad salon visits and using the wrong product. Olaplex was a gallon of water I so desperately needed after 19 years in the Sahara.
Although Olaplex is expensive when you're on a budget, it has saved me money in the long run. I have yet to visit the salon for a major split-end hair cut, and I haven't splurged on countless products that don't work. A major plus: Olaplex products are vegan, color-safe, cruelty-free, made without sulfates, parabens, and oddly gluten. Most importantly, they are celeb-approved.
In time, my goal is for my hair to look like the child of Julia Roberts and Zendaya. (Personally, I don't think that is too much to ask.) So ditch the constricting gels and the yogurt hair masks, because Olaplex really works. Yes, it's pricey. But, I am on my way to looking like a trendy Goldilocks.