Feeling Overloaded with New Makeup Launches? Same, But Here's How I Navigate the Pressure to Shop
The cosmetics industry is huge, and there are loads of products on the market. Even for a seasoned makeup lover like myself, strolling through Sephora or your local drugstore can feel seriously daunting due to the sheer number of lotions and potions stocked on the shelves, not to mention the flashy displays for new releases. On social media, it feels like I'm bombarded with info and swatches for the latest launches, peeks into bloggers' extensive skincare and makeup collections, and products that are pitched not as luxuries, but as necessities. 
In the United States in 2018, prestige skincare sales totaled $5.6 billion, and prestige makeup sales totaled $8.1 billion, according to The NPD Group. The beauty and cosmetics industry also experiences a continuous rise in sales and is impervious to economic downturns, even the 2008 recession. (Anyone else as shook as I am about that?)
Consumerism – a tenet of capitalism that can be defined as a preoccupation with and an inclination toward the buying of consumer goods – can be detrimental and overwhelming. For someone like me, who doesn't receive products in PR gifting, seeing others flaunt all of the latest and greatest makeup "essentials" can cause me to feel pressured to keep up with all of the newest releases. And I'm not the only one who feels this way. Nicki Lisa Cole, Ph.D in sociology explains that, "rather than cultivating happiness, consumerism is fueled by and cultivates fear – fear of not fitting in, of not having the right stuff, of not being the right kind of person." Even though I have some core products I love and use every day, it still doesn't feel like enough. 
I personally end up buying a lot of drugstore makeup to inexpensively grow my collection and get more product for my dollar, but even that doesn't fill the makeup void. This dent in my budget means I'm left out from all the high-end launches. I feel compelled to buy a lot, but also to buy luxury. This unrealistic expectation, coupled with the financial burden of always buying new products, can turn makeup from a hobby to a hassle.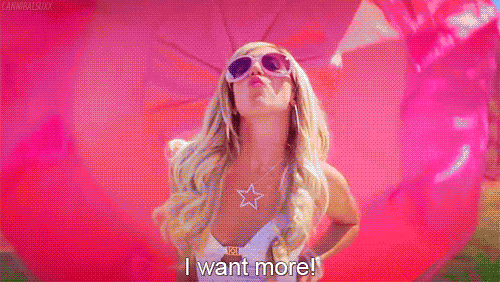 New and improved, or just new?
I think that a big driver of consumerism in the makeup industry in particular is the ephemeral nature of trends. As brands continue to innovate, new products are marketed as being improved products, or more ideal to achieve whatever look is "in." While the "new is always better" adage is sometimes true, it isn't always the case, but it seems as though brands and influencers want consumers to think it is. As Gretchen, a junior in college, explains, "As someone who didn't grow up wearing makeup [or] knowing much about it, I always felt like I had to buy the trendiest and newest products because I don't know how to tell what a good product is or is not." 
With new launches being hyped up, I get the sense that people perceive older products to somehow perform less effectively than they once did because they're no longer the hottest thing out there. Is my original clear Glossier gloss sticker, less shiny, and just inherently worse than it was three weeks ago, just because there's a red one now? 
Environmental impact
With every new, hyped-up release, makeup enthusiasts like myself may feel more and more dissatisfied and insecure with their current collection, and more inclined to keep buying, disregarding and even tossing older products that they might not have yet used up. This cycle of over-producing and over-spending discourages sustainable shopping. 
The global cosmetics industry reportedly produces more than 120 billion units of packaging. Cardboard packaging contributes to the loss of 18 million acres of forests each year. And, as National Geographic reports, a whopping 70% of plastic packaging waste (not just from personal care items) winds up in landfills. Makeup and personal care companies continue to churn out more and more products, both fueling and responding to consumers' unquenchable thirst for new stuff. Throwing out and decluttering old products because they're not "cool" anymore or to make room for new additions can generate a lot of environmental waste. 
And, of course, influencers and social media
Social media plays a huge role in the state of the makeup industry, because 82% of women believe that social media drives current beauty trends. My YouTube subscription feed is filled with "Full Face of First Impressions" videos and reviews of entire brands or product lines. But while product recommendation posts are supposed to be helpful, there's just so much out there that it can add to the confusion and pressure. Plus, many influencers are sponsored by brands or receive products for free. At best, their recommendations disregard the value of the product for the cost and don't take into consideration the habits of people who actually purchase their makeup, and at worst, their reviews are outright biased. College junior Mary says that, "YouTubers make it so hard to buy makeup! I always feel like I need to buy what they like."
Even in the case of YouTubers who don't receive PR gifting or talk about makeup they've purchased themselves, it's their literal job to own, review, and showcase makeup products, which is important to keep in mind when considering their recommendations or comparing your collection to theirs. 
Many beauty junkies and social media influencers are drawn to makeup because it is a form of self-expression. But I've noticed that, while the artistry had previously been recognized in sharing makeup tutorials or application techniques, the focus has now shifted toward reviews, flaunting products, organizing them by color, and laying them out in an aesthetically pleasing way.
I gotta say, I do love a good flatlay or shelfie; they're great inspo. But is that realistic for every college woman?
Of course, you can still participate in the beauty community without falling down the consumerist rabbit hole. Here are some of my tips for how to be a more mindful shopper.
1. Think about how you use makeup in your everyday life
Determine what steps you prioritize in your makeup routine and focus more of your purchases on products in those categories. For instance, I always incorporate some sort coverage product in whatever makeup look I create, so I try to have multiple foundations and concealers on hand to choose from. But because I rarely wear blush, up until around a month ago, I had only owned one blush, and that was plenty. Personally, the mere act of buying a product does not always incentivize me to actually use it. So purchasing more of the types of products you actually use, and less of the stuff you don't, will make your makeup collection feel bigger and more comprehensive than it actually is. 
2. Before buying, consider how a new product will fit in with what you already own
For instance, if you've already found your go-to neutral eyeshadow palette, you probably don't need to grab another one just because it's newer or from a different brand. When I feel the need to refresh my eye looks, rather than buying an entire palette, I'll purchase one or two single shadows that I use in conjunction with a palette that's already in my collection. This is a great way to play with new makeup while utilizing older makeup as well.
3. Set limits
Set a cap on how many new beauty items you purchase per month, or determine a budget for how much money you spend on makeup per month. This will allow you to save money, save space, and be more intentional with your purchasing choices. Also, spreading out your purchases over time will encourage you to use up what you already own, before product goes bad or gets forgotten about.
4. Be conscious of who you follow
There are so many beauty influencers with a wide variety of makeup habits and styles. While these internet-famous makeup artists and influencers are entertaining to watch, be mindful of who you actually take recommendations from, so you can purchase smarter, not more. 
Some things to consider: do they have the same skin type as you? Do they wear shades similar to what you wear? Do they go for full glam or natural looks? And most importantly: are they honest? 
And remember, just because a product gets a lot of hype on the internet or it looks really cute in instagram pictures someone raves about a given product or it gets a lot of hype on the internet, does not mean that it will work for you specifically.
5. Make (and stick to) a shopping list
Everyone knows not to grocery shop on an empty stomach, because you're bound to buy more food than you need. When it comes to makeup, my stomach is always metaphorically empty, and I will leave my local Ulta Beauty with products I didn't know I needed until I saw them on display. So I have adopted the habit of deciding what I want to buy before going shopping, as opposed to while I'm in the store. I determine where there are gaps in my collection as I'm actually doing my makeup and create my makeup shopping list based off of that. When I have a very specific sense of what makeup I plan on buying, I make fewer extraneous purchases. 
It seems to me like some brands launch new products every two seconds. And, to be honest, even I get stressed about all of the newness on the market and my holy grails becoming old news. So, it's important for me to remind myself that not every new launch needs to get added to cart, especially if it doesn't fit my vibe and/or budget, or if I'm just in a committed relationship with my current fave. 
Long story short: The ability to express yourself and your style through makeup should not be an issue of social class, and I think it's about time this changes. You don't need to own the most expensive products or the largest collection in order to be part of the beauty community.