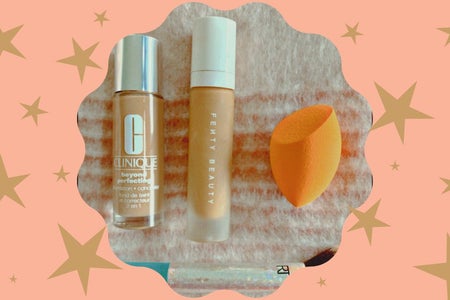 Your Crash Course on Choosing the Right Foundation Coverage
Foundation is the base upon which the rest of your makeup builds. If you have on the right base products, the rest of your makeup will be a lot easier to apply and blend. Because foundation is so important when it comes to creating beautiful, flawless looks, there is an extremely wide variety of options to choose from. Finding your perfect shade match is one obstacle to overcome, but how do you decide what level of coverage you actually need from your foundation? Some foundations are light and dewy, providing just a mist of coverage for a natural look. Others are long-wear and so heavy that you won't need to reapply throughout the day.
It can seem difficult to sort through each option in stores (and especially online), but I've come up with a crash course to help you choose your ideal coverage level for liquid foundations.
Sheer & Lightweight
If you dislike the feel of heavy product on your face, or if you're super into the "no-makeup makeup" trend, sheer coverage foundations are right for you. These include primarily tinted moisturizers, plus some BB creams and CC creams. Although this type of foundation won't give you noticable of coverage — you'll probably still be able to see a pimple through your base makeup — it can provide a cohesive finish on your skin. Many tinted moisturizers and cream formulas are intended to have a dewy shine, so if you're looking for a glowing outcome, lightweight formulas are your ticket. And if you're not sure what type of foundation coverage you need, sheer is always a good baseline to start with!
Medium & Buildable
A foundation with medium coverage allows you to blend in layers of product so that you can determine what finish you actually want. This is great if you change up your coverage depending on how your skin is doing each day. For example, if you're experiencing a clear complexion day, opt for less product, and if you're breaking out, try building up the foundation to conceal more spots and discoloration.
Full-Coverage
Ahh, the highest level of makeup coverage that one can achieve. Full-coverage foundations are ideal if you would like to conceal any skin discoloration, or you just love to wear a full face with a flawless photo finish. Be warned, this coverage type sometimes sits a little heavier on your skin.
I personally love full-coverage foundations, and I use a hydrating primer underneath to help blend it into a glowing finish on some days.
There are so many different types of foundations in the market today, so it can be daunting to find the perfect ones for you. I hope my guide to choosing your ideal foundation coverage type helps make the process a little easier for you! Just remember to use foundation to enhance your already gorgeous face, not to achieve "perfect skin," because there's no such thing. And as always, remember to cleanse your face after using any makeup, and let your pores breathe once in a while.
Just a heads up — this article may contain affiliate links. While a purchase through affiliate links doesn't impact the price you pay, Her Campus Media may receive a small commission. All products' prices and availability are accurate as of publication.