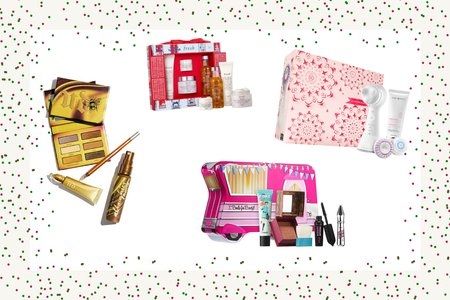 7 Holiday Gift Sets from Sephora I'm Already Adding to My Wishlist
The holidays are slowly creeping up, and after all the exhausting midterms I've finished, this is my official cue to finally breathe. Of course, I can't exactly wear huge coats, go ice skating, or have cozy, peaceful nights in quite yet (mind you, I still have finals to worry about). But, what I can do is browse through the amazing value beauty sets that Sephora blesses us with every year. 
So, if you want to make a wishlist, buy some gifts for your besties, or just simply shop because you love the holidays, then take a look at these gift sets.
This beautiful set comes with an eyeshadow primer, eyeshadow palette, eye pencil and a setting spray. The gold color scheme is perfect for the holidays, and I am absolutely in love. 
If there's one thing I love about bareMinerals, it's most definitely the lip products. I die for a good liquid lipstick that doesn't make your lips feel dry, especially when it comes in the prettiest colors. Definitely give this one a shot!
This set is all of Benefit's most iconic products put into one package, include a primer, bronzer, brow gel, and mascara. What more could you ask for? I am living for this set, so I think it's definitely worth the purchase.
Although I haven't tried it myself, I've heard amazing reviews about this brand and how well it cleanses your skin. This cleansing tool mainly helps with wrinkles, dryness, and pores, so it seems perfect for those who would like to take their cleansing to a whole new level. I can't wait to try this! 
Glosses have made the biggest comeback during this past year, and honestly, they're probably here to stay. Plus, Rihanna's glosses will have your lips looking juicier than ever. Definitely don't let this one go.
With a cleanser, moisturizer, face mask and toner, this set will make sure your skin stays hydrated and soft during the dry winter season.
Of course, I can't forget about hair. This set will ensure your hair will stay frizz-free and ready to go. It comes with a heated straightening brush, dry shampoo, finishing spray, heat protectant mist, detangling brush, and a hair clip.
This holiday season, there are beauty sets out there for everyone, including a treat for yourself!
The Her Campus National Editors write about products we love and think you'll love too. Her Campus has affiliate partnerships, so we get a share of the revenue from your purchase.