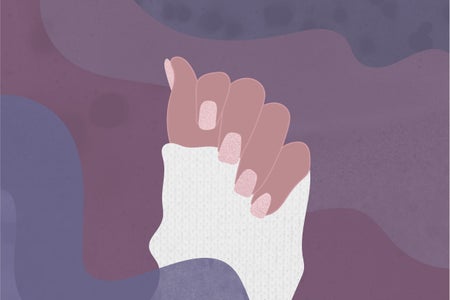 Megan Charles / Her Campus Media
6 Important Tips to Keep Your Nails Healthy & Strong
It can be easy to forget that your nails need care just like the rest of your body. The truth is, your nails go through a lot, and it's important that you take some steps to keep them healthy – you wouldn't just let the split ends in your hair continue to grow, would you? Here are some easy ways to get your nails back to their original, healthy state to keep them long and strong.
1. Don't cut or otherwise manipulate your cuticles.
While they may not be the prettiest part of your nail, cuticles are essential to keeping your nail bed healthy. Any attempt to get rid of or otherwise manipulate your cuticles may end up costing you, because their function is to prevent harmful bacteria from entering your body.
If you absolutely must push down your cuticles or trim them, do it gently with a warm cloth, which will make the skin easier to manipulate, decreasing the risk of infection. Also make sure to follow up with a moisturizer, to stop your cuticles from tearing further. 
2. Regularly moisturize the nail bed and cuticles.
Just like with your skin, an easy way to make sure your nails stay healthy and strong is to always moisturize around the nail bed and cuticle, especially during winter. Even something as simple as Vaseline will do the trick for this, but finding the right moisturizer and using it once a day can help protect against nail breakage. Too, it will help make your cuticles look better! 
Here are some of our top moisturizing recommendations:
Deborah Lippmann The Cure – Nail Cuticle Repair Cream Treatment ($24)
Full of luxurious ingredients, including raspberry stem cell extract, red algae and shea butter, this repair cream is sure to restore moisture back to your cuticles no matter how dry.
Trind Moisturizing Nail Balsam ($17.95)
Think of this product like a conditioner for your hair, except it's for your nails. Full of natural moisturizers in a water-based formula, this nail balsam is absorbed into all three layers of the nail, providing hydration you just can't beat.
3. Limit the amount of times you get professional manicures/pedicures.
As tempting as it is to always go out and get a professional mani-pedi, it's important to take some breaks, both to protect your nails and your wallet. The outcome of overdoing it with professional manicures and pedicures is dry, brittle nails. This is especially true for gel manicures or acrylics, which, while less likely to chip, are also much harder to remove, requiring layers of the nail to be worn away.
It's also important to make sure that the salon you are going to sterilizes all of their tools, including the pedicure spa, to avoid any risks of infection.
4. Follow the "Rule of Five."
Even when doing your own nails, you should never leave polish on for too long. Do yourself and your nails a favor by remembering the Rule of Five: five days of polish followed by five days without polish. And don't forget your toenails in all this.
We all know how easy it is to leave nail polish on our toenails for weeks, if not months, at a time. Unfortunately, this is what can cause those uneven, rough patches on toenails. And while they eventually grow out, it still makes us reluctant to wear cute summer sandals.
5. Avoid acetone-based nail polish removers.
While acetone may be amazing at taking off nail polish, it can strip your nails, leaving them dry and brittle. Here are some of our top non-acetone picks that are sure to take the polish off without ruining your nails:
Ella + Mia Soy Nail Polish Remover ($11.50)
This soy-based nail polish remover includes vitamins A, C and E, as well as lavender essential oil, all of which helps moisturize, rather than strip, your nails.
Cutex Non-Acetone Nail Polish Remover ($5.92)
Free of acetone and enriched with coconut oil, this nail polish remover is both good on your wallet as well as your nails. 
6. Use cleaning gloves.
Both water and the ingredients found in your basic cleaning supplies, such as bleach or vinegar, can lead to weak nails, even if you're using natural cleaners. Have no fear! There's an easy way to fix this problem. Just pick up a pair of rubber gloves from your local grocery or dollar store and make sure to use them when washing dishes or cleaning around the house. Another good trick is to keep a bottle of lotion next to the sink, so that you can easily moisturize after washing your hands.
Keeping your nails healthy doesn't have to be a strenuous process full of different, expensive products. Just follow these simple tips, and before you know it, you'll be a nail care expert. 
Now that you know the basics, go out there and wow everyone with your strong, healthy nails!