The #stressed Senior's Guide To Self Care
If you're anything like me, you are spending far too much time refreshing your many email accounts, checking various internship, job and personal social media accounts you're logged into, managing too many projects, taking too many classes and adding on too many extracurricular activities. Your internet browser always has 10+ tabs pulled open, someone is always asking you a question (that you often have no answer for), and breakfast is often black coffee and a lot of it.
You're a student leader, acer of tests, go-getter and all around badass. All nighters are regular nights for you. Your LinkedIn profile summary includes the line "detail oriented and motivated." Graduation is approaching and you feel like you have to take on the whole world before you walk across the stage. You're focused on landing your dream job and sometimes, you forget to focus on taking care of yourself.
Here are a few tips to swear, live and hustle by for the #stressed senior.
1. Plug the phone in at night (and leave it alone)
Studies show that falling asleep texting or scrolling through Facebook has detrimental effects on your health by ruining your body's Circadian Rhythm. Pick a time each night to plug in your phone and leave it there. You don't need to fall asleep scrolling through your discover feed on Instagram, creeping on Pete Wentz's child's birthday party or that girl you knew in high school's engagement photos. Try cracking open a book to help fall asleep and get lost in the world of fiction instead down the late night social media rabbit hole.
2. Choose tea
I know that second (or third or fourth) run to Starbucks is tempting in the middle of a 12 hour work/school day. But instead of ordering another venti mocha caramel frappe that probably costs as much as you make in an hour at work, try a cup of tea instead. There are tons of different types of tea to choose from and some do not even have any caffeine at all!
3. Treat yo self
Sometimes, you need to order that cute skirt or tapestry for your room. While you're probably broker than broke and are obviously trying to provide a happy future for the dog you're adopting after graduation, once in a while, treat yourself. Buy the shoes, eat the cupcake, see the play, order the cosmo. You work hard, you deserve it.
4. Take a mental health day
Weeks, semesters and years all get stressful and busy. When life starts feeling out of control and overwhelming, take a break. There's no prize for pushing yourself to the point of no return. If you're crying in the bathroom in the business building (honestly, guilty), it's probably time to go home for the day. Take a Netflix and chill with yourself day. Bake all day. Set up camp at your favorite coffee shop and read the book you keep saying you'll start. While an off day may set you behind, not taking time to appreciate and focus on yourself can hurt you a lot more than a few missed attendance points.
5. Surround yourself with the right people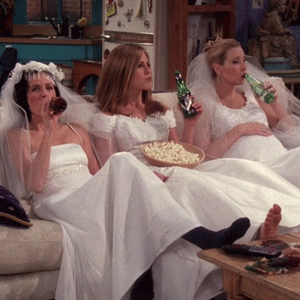 As a senior, your time for anything remotely, purely social is scarce. Don't waste it on negative people. The friend who is giving you grief for staying in and studying? You don't need her. The friend who makes fun of the sweater you're wearing to the bar? You're cozy, and you still don't need her. Surround yourself with people you lift you up, laugh often and love you for who you are. These are the people to end your crazy week with, not the people who bring more crazy into it.
Don't wait until you're awake at 4 a.m. cramming and planning to practice self care. Senior year is the best and worst year ever. All four (or three for you over-achievers or five for those victory lappers) years of college are packed with stress, too much work and a lot of responsibilities. Keep in mind the responsibility that you have to yourself to put you first. If you're feeling overwhelmed and broken down, reach out to your friends, family, teachers and campus counseling resources. You've got a lot of people in your corner who want to see you succeed this year. Make sure you're in that corner, too. Practice self care, collegiettes.