As collegiettes, we know the value of time. We're all juggling different combinations of classes, extracurricular actives, internships and part-time jobs while attempting to maintain some semblance of a social life. When you finally have a moment to spare, climbing into bed is probably a lot more enticing than lacing up and heading out for a run. Luckily, there's good news for all you multitasking, overachieving collegiettes out there: there are ways to break a sweat and build muscle while you catch up on your chem reading. With these six moves, you'll be deskercising with the pros.
Lower Body
The Glute Squeeze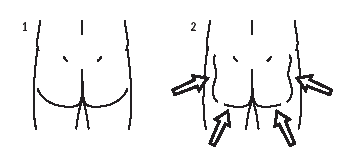 The glute squeeze is one of the most inconspicuous exercises, which means that you can do it pretty much anywhere—in your room while reading a textbook, in the library while going over flashcards or in the classroom while taking notes.
To do this exercise, mimic the squeezing motion shown in the image above while seated. Wherever you're sitting, just squeeze your gluteal muscles as hard as you can and hold the contraction for 10 seconds. Relax briefly. Repeat 10 to 20 times to work on filling out your fave booty shorts while you go over your flashcards.
Chair Squat
Typing a paper but still trying to keep your legs and butt looking tight and lean? Try this chair squat move, which works all the major muscle groups in the lower body and, as a bonus, activates your core and raises your heart rate, helping you torch major calories during those all night essay-writing sessions.
While typing, stand in front of your desk with your feet flat on the floor. Keeping your back as straight as possible, press your weight into your heels and squat down until your butt hovers just above the seat of your chair. Hold for five to 10 seconds then sit back down. Repeat 10-20 times.
Pages
You Might Also Like...