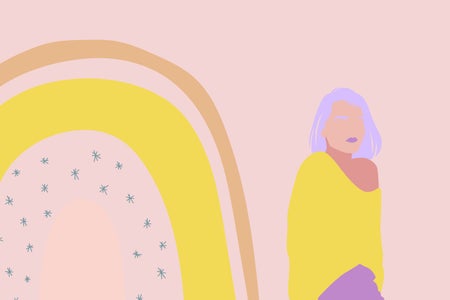 Original Illustration by Gina Escandon for Her Campus Media
It's National Eating Disorders Awareness Week: Here's Everything You Need to Know
According to the National Eating Disorders Association (NEDA), roughly half of elementary school girls are concerned about their weight or about becoming too fat. 62.3 percent of teenage girls and 28.8 percent of teenage boys report trying to lose weight, while 58.6 percent and 28.2 percent of teen girls and boys respectively are actively dieting. Between 35 and 57 percent of adolescent girls are estimated to engage in behaviors like crash dieting, fasting, self-induced vomiting or the use of diet pills and laxatives.
There's always been a need for better education and awareness about dieting, weight, eating disorders and health, but as these statistics demonstrate, this need is more urgent now than ever.
Enter National Eating Disorders Awareness Week, NEDA's annual week of spreading awareness on social media and in the journalism community about the effects of eating disorders and how to help ourselves and others work towards healthier and unrestrictive relationships with food and body image. 
The awareness week extends from February 22 to February 28, and its theme this year is "Every Body Has a Seat at the Table," a nod to NEDA's focus on diversifying the conversation surrounding those affected by eating disorders while emphasizing that everyone deserves the opportunity to freely enjoy meals. The purpose of the awareness week is simply to help inform others of eating disorders' impact on a significant part of our population. Throughout this week, NEDA will be publishing myriad blog posts, live-streaming roundtable discussions about pertinent topics in disordered eating, and sharing infographics on social media to aid in this mission. 
I strongly encourage you to explore and take advantage of the numerous resources that NEDA will have available during this very important time of awareness, but in the meantime, here is some general advice for being aware of disordered eating behaviors in yourself and in others:
Throughout the course of this NEDAwareness Week, I hope that you continue to learn more about eating disorders and how to combat this serious mental illness. Always remember that your body is beautiful and that a desire to obtain optimal physical health should never become obsessive or come at the expense of your mental health!