Let's be honest — Valentine's Day is not everyone's favorite holiday, and a lot of the time it's because of an ex. Whether you've recently broken up or are still recovering from the relationship, Hotels.com is giving you the perfect way to let go of that trashy ex, and potentially do something great for yourself in the process. 
Through Friday, February 12, you can reserve a dumpster for your ex by telling them why your they deserve to be "dumped." Don't forget to include your dream vacation when you're sending them to the dumps, because Hotels.com will even enter you to win a $300, non-expiring gift card – what better way to get over your ex, right? 

Even though the ex in question won't literally be in a dumpster (as much as you want them to be), it's a good way to get some much needed space from the breakup and, hopefully, close that chapter.
Once you enter, keep an eye out for the confirmation email, detailing all of the horrible amenities they're in for, and maybe even that gift card – just in time for Valentine's Day weekend.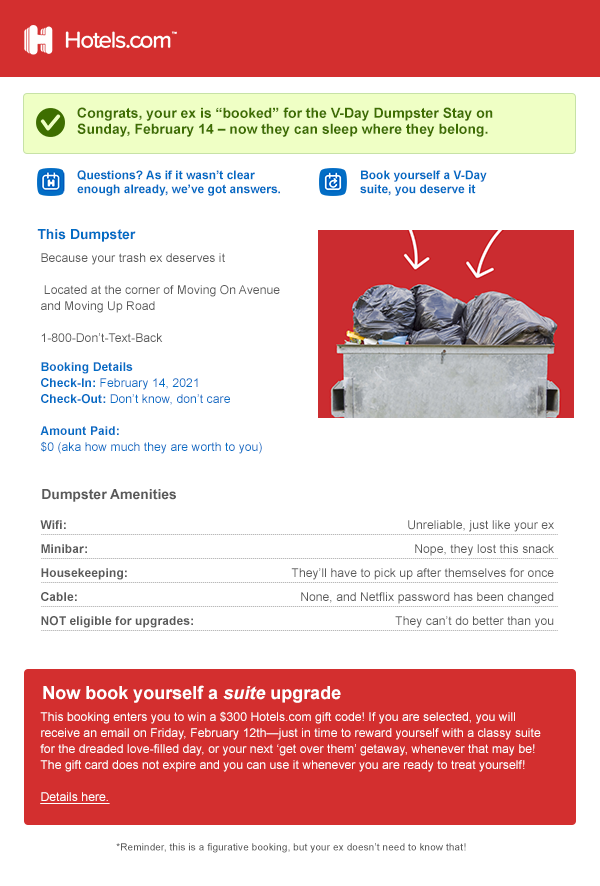 Let Hotels.com help you get over your ex this month, and have a Valentine's Day you'll never forget.