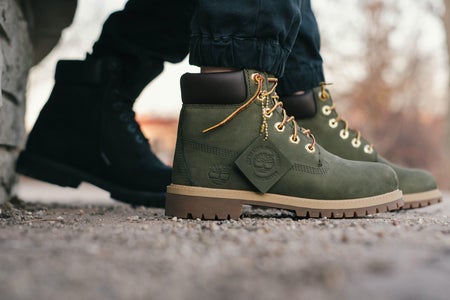 4 Reasons to Be Proud of Your Long-Term Relationship
You've been in a loving, committed relationship for months now. You couldn't be happier, except for all the hate you receive for it. Your peers tell you you're missing out on the full college experience and the dating scene, so much that you sometimes come to question your own relationship—even though you know deep down that you're perfectly happy. We talked to a dating expert and collegiettes to remind you why you should be proud of being with your SO, and what to do to silence the negativity.
The situation
The hookup culture has become so ingrained in campus life that what used to be a goal for many collegiettes—a committed relationship—is now almost taboo.
Haley Jenkins, a sophomore at the University of Texas at San Antonio, has been dating her boyfriend since sophomore year of high school and often faces criticism. "I have girls saying all the time, 'college is the time to have fun, you need to branch out' or 'how do you only make out with the same one guy all the time?'" Haley says.
Dismissive comments about collegiettes' relationships are so common that some women begin to internalize the negativity. "I LOVE my boyfriend. I'll say it!" says Lauren McClure, a senior at the University of Wyoming. "But I'm not gonna lie, I have purposely not posted an Instagram or put up pictures on Facebook because I'm worried that people will think I'm 'showing off' and being 'that' couple."
So why exactly do we get embarrassed about being happily coupled up? For DeAnna Lorraine, a dating coach, peer pressure—direct or indirect—could be to blame. "I think some women may be embarrassed by [their long-term relationship] because most of their friends and peers are dating around, casually hooking up, and playing the field, so to speak, and they might be pressuring them to do the same," Lorraine says. "They might feel really conservative or old-fashioned telling their friends and peers that they are choosing to stay in their committed relationship, since that isn't the norm."
It's all too easy to see your single friends and wonder whether you're missing out or doing something wrong, but just because they are happy exploring their options doesn't mean that you would be too!
Why you should be proud of your relationship
1. It makes you happy
This is self-explanatory: if your SO makes you happy, then of course you should stay in the relationship. Alexandra Blessing, a senior at Millersville University, has been dating her now-fiancé for four and a half years. "People always ask me why I've been with him for so long," Alexandra says. "The answer is simple: we are in love. Why look for something else when I'm already happy with what I have?"
Haley feels the same way: "I ONLY want to kiss this one guy," she says. "I want to marry him, I can't imagine my life without him. I'm so blessed to have a real man that is my best friend, I honestly see the guys here in college and at parties and it only makes me more proud to be in my relationship!"
So if your relationship is healthy and fulfilling, you have every right to be loud and proud about it!
2. You are NOT missing out
Being committed to another person in no way means that you are boring or that you are not growing as an individual. In the same way, not giving into the hookup culture doesn't mean that you're not getting the full college experience. Such assumptions are insulting and wrong.
"People have tried to hint that I'm missing out on a lot by not being single, but I don't think that's true," says Catherine Brackett, a sophomore at the University of Nebraska at Lincoln. "My boyfriend and I experience a lot together—we travel, try new things, test our limits and learn from each other."
Besides, only you should get a say in your dating decisions. "I'm always ready to prove people wrong about serious relationships in college," Catherine says. "I'm also very supportive of anyone's decision to stay single though. You have to live your life for yourself—especially in college." We couldn't agree more!
3. You have a healthy balance
Some of your friends might argue that you spend too much time with your SO to make the most of college, but this is usually not true! "I'm completely obsessed with our relationship and sometimes think I'm too involved," Catherine says. "But we definitely have a healthy balance. We only hang out on the weekends and keep the week dedicated to studies and other obligations."
For Katianna Tron, a senior at the College of William & Mary, there is no question that she is making the most of her undergrad years. "[My boyfriend and I] definitely are committed and in love, but we are both so independent and so involved, that we have been able to truly enjoy our college experiences, with the added bonus of being together through it all!" Katianna says.
4. You are growing up together
Growing up and finding out who you are is one of the most important aspects of college. If you can do that with another person, even better! "We have both grown and changed throughout the past four years, but I think what has been truly amazing is the fact that we've grown together, as opposed to some long-distance couples that grow apart," Katianna says. "While entering the real world is scary for the both of us, it's so incredible to be entering into it with someone who has been by my side through my most formative years."
Whether it's entering the real world together like Katianna and her boyfriend, or getting married like Alexandra and her fiancé, having someone with you every step of the way, big or small, is something to be proud of, not embarrassed about.
How to respond to criticism
The best way to counter intrusive questions about your relationship is to know exactly why you are in it, which you probably do anyway. "If a woman is making the decision to stay in a committed, exclusive relationship with her partner throughout college, then she should be very clear on the reasons why she is choosing to stay committed to him, and what joys and value she is getting from that," Lorraine says. "Then, knowing her reasons, she should be very strong, confident and clear on them when other people try to nay-say about it or pressure her to date around, and stand by her convictions proudly."
Lorraine suggests saying something along the lines of, "This is my choice and I'm proud of it. I love this person, I am positive I want a future with him [or her] so I don't have the need or desire to 'shop around' or look elsewhere, or to casually hook up. I'm happy and fulfilled in my committed relationship and I don't judge you or pressure you for your decisions." That should show 'em!
All this to say, you are strong, individual and capable of making your own decisions. If your relationship is balanced and lifts you up rather than bringing you down, you have every reason in the world to be super proud of it—whether this means posting pics on social media or silencing the haters. Your relationship will only come out stronger.