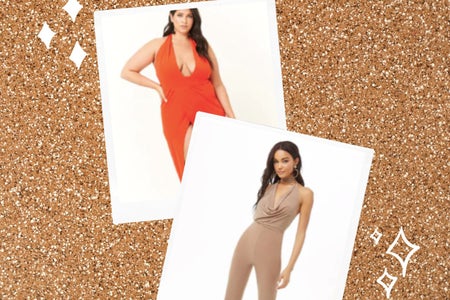 How to Shop for Your College Formal Dress, From Dress Codes to Coordinating With Your Date
There's just one rule to college formals: you're not at prom. Your parents won't insist on snapping a zillion photos before you head out the door, your geometry teacher won't be there to chaperone, and you definitely don't need to wear your prom dress.
We've got the scoop on how to make the best-dressed list at your college's dance or Greek formal this year.
Make a decision: short or long?
The most important decision about your formal dress is the length. If the invitation says formal or it's held by a frat or sorority that's known for dressing up, consider going long. But if the invitation calls for semi-formal or you don't expect it to be a black-tie affair, a short (but fabulous!) dress is the way to go.
Dress codes vary from school to school, and even from dance to dance. So if you're not feeling totally confident in your outfit choice, don't hesitate to ask whoever's in charge of planning your formal. "Chances are the planning committee has a very clear image of what they want people to wear, and would be more than happy to share that image with you," explains Shaye Winer, a junior at the Fashion Institute of Technology and a member of the planning committee for her school's formal.
If you know someone who attended the same formal last year, Facebook stalking their formal photos is a great way to get a feel for the appropriate dress code. If you're attending a fraternity formal, ask your date what guests are expected to wear.
If you're going for a short dress
From a lace mini to a glitzy jacquard party dress, you can never go wrong with a cocktail dress moment.
If you opt for a long dress
The ideal long dress for formal should be a little less flashy than your high school prom dress and can be pulled out of your closet for weddings for years to come.
If you want to pull off the stylish jumpsuit
Jumpsuits are the new formal dress, TBH. They look super formal and chic, but also waaaay more comfortable. Bonus points if you find one with pockets!
If it's a themed formal
Imagine your typical themed frat party – just way more fun. Don't be lame and skip the theme; embrace it! Just like you don't want to be over-dressed or under-dressed, you also don't want to be the only one who didn't dress like everyone else.
Make sure you coordinate with your date
If you're going with a date, they might appreciate a few fashion tips, too. They should start with the basics – a collared shirt and dress pants or a coordinating dress with matching shoes.
Styling makes all the difference
Prom and formal can have similar dress codes, which is why styling is so crucial. An elaborate updo with curled tendrils screams prom queen, while soft curls or a sleek pony are much more appropriate for formal.
Flashy, fake jewelry like chandelier earrings or anything involving rhinestones verge too far into prom territory. Instead, go minimal – a simple strand of pearls or a gold or silver pendant you love – or amp up the volume with a bold statement necklace or cuff.
Do all you can to avoid a wardrobe malfunction
Nothing can ruin a night more easily than an outfit that just doesn't work. Whether it's a dress that slips down every time you dance or a pair of killer heels that literally kill your feet, a distracting outfit steals your focus from a night of fun.
Pull a few quick dance moves in the dressing room to see if your dress is too constricting to let you pop, lock, and drop it – or, you know, breathe. To avoid a Janet Jackson moment, wear a well-fitted strapless bra and try it on with your dress before the big night.
Know when to splurge and when to save
It can be tempting to drop a ton of cash on an oxblood sequined dress with cut-outs – can you say amazing? But a super-trendy item like that won't be in style by next year. If you're going to splurge, opt for a dress that you'll get a ton of mileage out of, like a classic LBD or a flattering cut in your favorite color. Between formals, family events like weddings and holidays, and glam birthday parties, you'll be able to wear the same dress over and over again with different accessories for different looks.
Don't over-stress about the dress code
The dress code is simply a guideline. If everyone else goes for long dresses while you rock your favorite short frock, don't stress! It's no big deal. You'll make a statement. And next time formal season rolls around, you'll know exactly what to wear.
Now that you're all dolled up in the right dress, go have a blast at formal!
Just a heads up — this article may contain affiliate links. While a purchase through affiliate links doesn't impact the price you pay, Her Campus Media may receive a small commission. All products' prices and availability are accurate as of publication.