We Just Found 5 Leggings You Need in Your Closet Now (& Yes, They're Affordable)
Year after year, our love for stretchy pants lives on. There's no denying leggings are the comfiest pants a girl can own. But, come on, it's 2018 — we all know that leggings can be just as fashionable as they are comfortable. 
Leggings are practical and perfect for busy days when you really just want to feel comfortable AF, whether it's in the office, on campus or even out on the town. Here are five ways to wear leggings all winter long:
1. For work
Yes, you can wear leggings to work! By picking a pair that borders more on the pants side, you're sure to stay office appropriate. 
Pair with: a blazer and a polished blouse 
Work Pant ($50), everlane.com
2. For a first date
According to Who What Wear, leather leggings are the hottest legging trend of the season. They're perfect for wearing in place of basic black skinny jeans. 
Pair with: a sweater and ankle boots 
Faux Leather Leggings ($49.50), express.com
3. For class
The perfect pair of black leggings is hard to find. This basic high-rise pair received rave reviews for avoiding our biggest fear: see-through leggings. 
Pair with: an oversized graphic tee and sneakers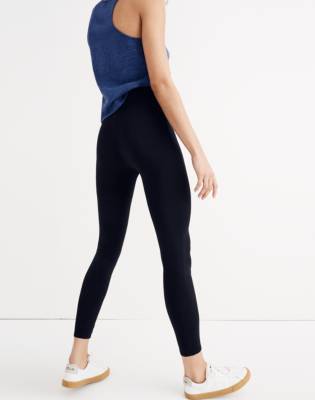 High-Rise Knit Leggings ($34.50), madewell.com
4. For a night out
Make a bold statement by wearing a pair of textured or patterned leggings on your next night out. The best part is they're stretchy enough to let you get down on the dance floor. 
Pair with: a black bodysuit and a faux fur coat 
Sparkly Velvet Leggings ($35.90), zara.com
5. For lounging
Athleisure is LIFE. We all have those days when we can barely make it to class, let alone put on real pants. Choosing a great pair of jogger style leggings means you can look cute, even on your laziest days.
Pair with: a hoodie and sneakers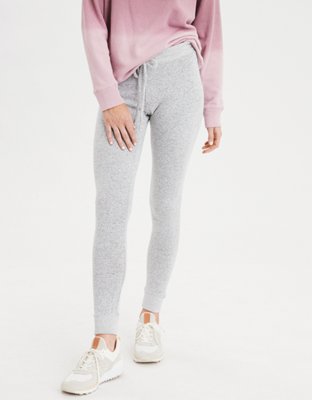 AEO Plush Fleece Sweater Leggings ($39.95), ae.com
There's no shame in reaching for your favorite leggings on days when you need a little comfort. With these picks, you'll avoid that just left yoga class look and stay comfy all winter long.