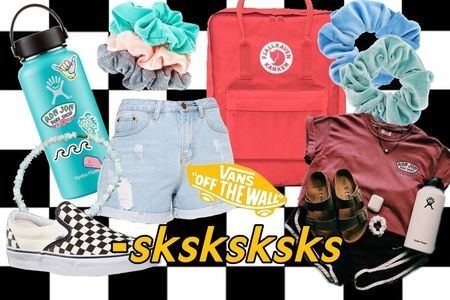 Want to Achieve the VSCO Girl Look? Here's Our Official Style Guide
Just the other night, rather than doing homework, my roommates and I took a trip down memory lane. We were listing the most popular style trends during our teenage years (like, were you really a cool kid if you didn't shop at PacSun?). The nostalgia made us cringe and question our previous fashion choices. As we got to talking about today's youngins, one of my roomies used the term VSCO girl.
Wait, what? So, we called her younger sister to educate us on the newest style aesthetic. That's when it hit me: the VSCO girl is the 2019 version of the Tumblr girl. All the flashbacks of me being THAT Tumblr girl started coming to me. My roomies and I felt so old and so out of the loop, but our young expert gave us the best insight on how to be a VSCO girl — especially what to wear. Sksksk, let me show you how to keep up with the youngins.
VSCO girls are the livelier version of Tumblr girls — and that's so cute! They're embracing and owning the aesthetic. It makes me happy to see have fun with their style! G-Eazy has paid a tribute to the OG Tumblr girls, so I could only hope this new wave of girls get their very own song too soon. 
The Her Campus National Editors write about products we love and think you'll love too. Her Campus has affiliate partnerships, so we get a share of the revenue from your purchase.