In Her Campus' series Closet Check, we're getting a look inside the closet of a college student and learning all about how they put together their favorite outfits. In this piece, we talk to Ariana Martinez, a senior at UCF who's all about leaning into their genderfluidity when it comes to fashion.
Name: Ariana Martinez, 21
Year: Senior
School: University of Central Florida (UCF)
Where do you live? Off campus in an apartment
These responses have been edited and condensed for clarity.
The Closet Check
I've never had a closet I could walk into before, so this is really exciting and special. I've always loved clothes more than jewelry or shoes, so being able to set up my closet and have more space is fun. I definitely hang multiple things on one hanger to save space, but I probably could find some more efficient solutions. (By the way, my closet doesn't always look this organized LOL.)
Creating The Fits
As a genderfluid person, what I wear depends on how masc or feminine I feel that particular day. I typically start with what kind of top I want — a loose T-shirt or something more form-fitting — and then I go to colors. I love dressing in funky colors and styles. If I'm feeling passionate I'll experiment with textures and patterns, but if I'm feeling more low-key I'll wear a T-shirt and jeans.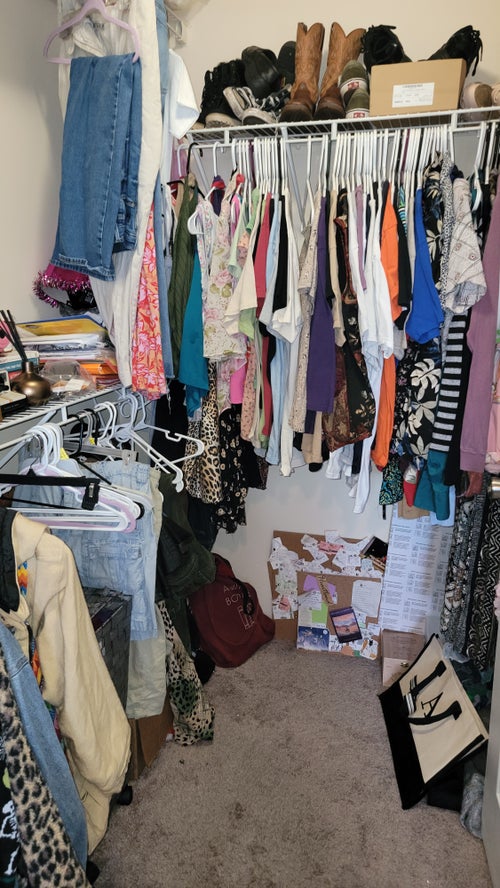 What I'd Wear To: An Internship Interview
My black turtleneck tank is a go-to for interviews. It's sleek and professional, but can be dressed up, so that's when I add a button-up blouse. I have three blouses that I keep to the side for interviews. Most interviews have been on Zoom, so picking pants for this outfit was a bit harder, but I chose these trousers that add some color but have a professional cut and style. Some simple gold hoops and a ring just to dress up the look in a casual way. I think it's a more androgynous, professional outfit to look clean-cut but still have some personality.
What I'd Wear To: A Valentine's Day Date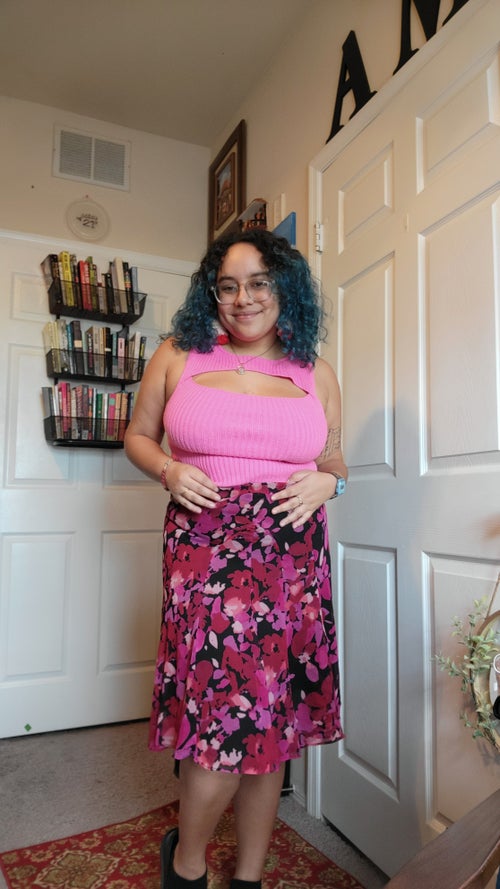 This is an example of mixing up textures and patterns. This knit pink top is something I bought for a '60s-inspired costume. It's become a staple piece in my closet, so I definitely wanted to bring her out because of the vibrant pink. The skirt keeps the pink color scheme while adding more dynamic range in colors. I paired it with my promise ring and a rose quartz heart necklace gifted to me by my partner, since it's a day to celebrate love and those pieces are special to me. I'm also wearing some fun earrings that actually have a heart at the top, and a pink heart ring, so it's just a really festive look.
What I'd Wear To: Class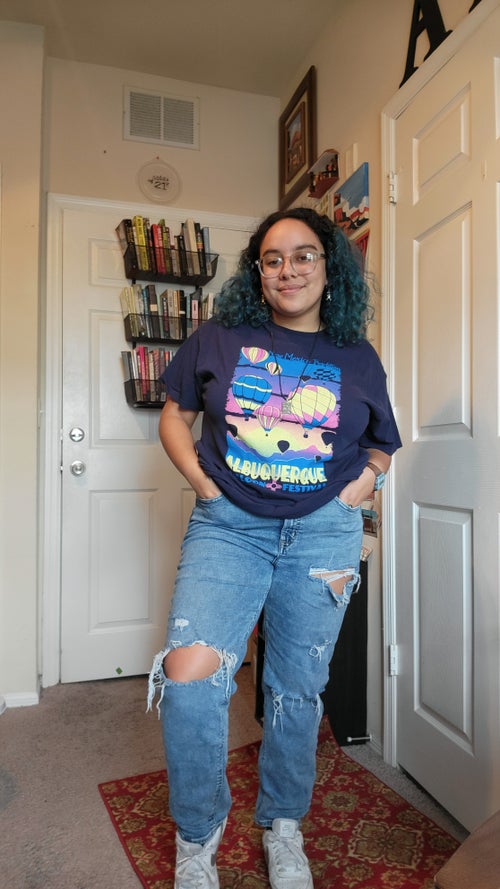 My everyday outfit typically includes a country or state gift shop T-shirt. This one is a favorite, gifted to me by my friend Sofia when she visited New Mexico. Walking from the shuttle to class in shorts isn't always comfortable, so jeans are a go-to. My jester earrings, fool tarot card necklace, and blue Casio watch are my favorite pieces to wear daily, and I consider them extensions of my personality. It's a casual, comfortable look I know I'll feel good in.
What I'd Wear To: A Weekend House Party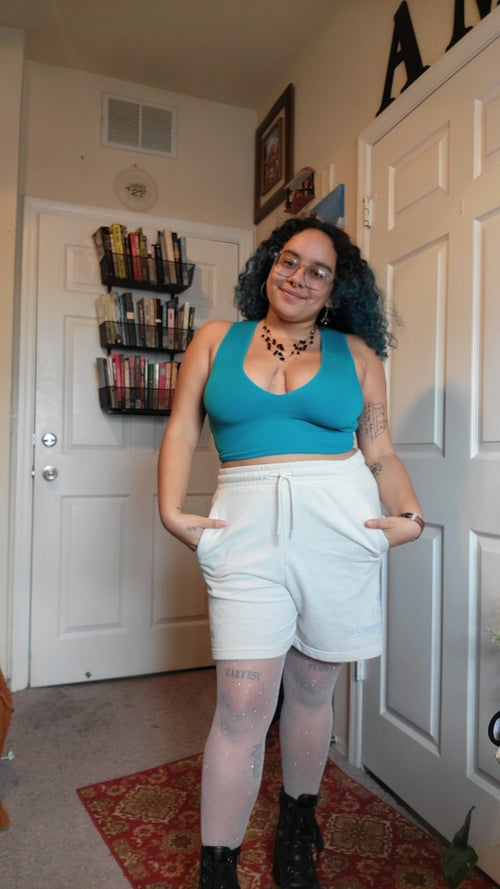 This is a top my mom didn't want anymore, and it's one I love to wear for a night out. I dressed it down with some shorts since it's a house party and not downtown clubs, but I added the sparkle tights because they're always a great accessory. I like to mix up earrings, especially when the other one in the pair is broken, so I did that and added a staple necklace to fill in what the shirt didn't cover. These heeled boots are what I always wear going out because they make me tall and confident but they're still comfortable.